Molab AS
---
Making industry safe
Since 1989, Molab has been conducting comprehensive and detailed material testing for a variety of metallic materials, mainly steel but also titanium, aluminium and other metals and alloys.
The testing of welding procedures has become of increasing importance and the company is able to meet all known national and international standards. Molab also supplies services in chemical analysis for organic and inorganic chemical matrices such as water, soil, sludge, sediments, emissions, coal, coke and ash, as well as oxides, while sampling and analysis regarding environmental issues is a further capability. In 1990 Molab started its provision for conducting measurements and monitoring regarding environmental and occupational issues, assisting in the sampling, analysis and reporting of emissions to air and water, noise, odour and other harmful substances such as asbestos, fallout dust and particulate matter. Its greatest capability is with the qualification of steel and welding procedures on onshore installations, while the management of laboratories for customers such as Yara AS, a Norwegian fertilizer company, is a growing area.
Indeed, last year Molab invested heavily in a new laboratory facility in the south of Norway, as Eigil Dåbakk, marketing manager of the organisation explains: "Porsgrunn is the home ground for the Norwegian onshore industry and we decided to inject a great deal of money into the establishment of a new facility here, which became operative this spring. Predominantly this will be used for carrying out services within inorganic analytical chemistry using state-ofthe- art techniques. Our equipment is capable of quantifying elements in most types of matrices from major concentrations down to ultra-trace levels and finding atoms where there are barely any. We also have state-of-the-art equipment for the identification of crystalline phases in solid materials, and we carry out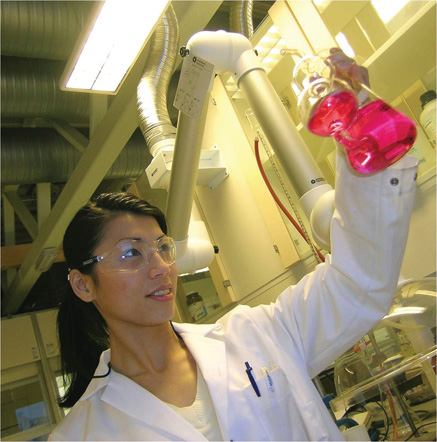 testing and qualification of substances for many different customers, whether in the industry, private or in public sector.
The organisation's R&D focus has centred around the onshore industry since 1989 and whilst the company has carried out services to the offshore industry for the qualification of welding procedures to ensure the security of constructions, moves are being made to cater for offshore analysis. The chemistry side of the oil and gas industry is a developing sector for Molab particularly in the analysis of processed water and oil, as well as the assessment of substances and chemicals associated with the production process. "We are looking to all aspects of activity in the offshore sector, as well as applying our experience and expertise to new emerging markets," Eigil notes.
He adds: "Our flexibility comes from our desire to please our customers and maintain strong relationships with them. Rather than offering a standard range of products to pick from, we go to our customers and ask 'what do you need?' This is demonstrated by the fact that we have run successful laboratories for a number of onshore companies that have come to us defining their requirements, and in return we have put a profitable customised solution together. We co-operate closely with our customers as that way of working enhances the quality of the overall work."
Molab's dedication to quality is another factor that sets it apart from the competition. As an EN ISO, IEC 17025 accredited company it meets registered standards while running a very transparent organisation. This gives customers the freedom to contact the company at any point and to follow up and liaise with the actual analyst that carried out their work. Short delivery times, a fast turnaround on orders and adaptability to client demands are key elements of Molab's provision.
Despite the economic crisis, which has had a major impact on a number of industries throughout the globe; materials testing has remained a lucrative area of business for the company. In fact, Molab has seen its sales double in this sector over the past two years, aided by its new laboratory facility and the move into offshore analysis. However, it is predicted that the number of available contracts for 2010 will reduce and competition will be fierce as the market begins to shrink. Eigil explains: "We are in a very strong position at the moment and feel highly competitive in terms of price, service and quality. Though the market is predicted to shrink, we should be able to maintain and even grow our overall share."
He concludes: "We know that we are one of the major players for materials testing in Norway, but we want to expand even more and add further to our arsenal. We are exploring alternative areas and we are looking to gain further capabilities, perhaps also in the international market. In regards to chemistry, we would like to deliver to one or more of the offshore companies in Norway on a regular basis and pride ourselves on being one of the few laboratories that can offer such a tailored range of services. I am very optimistic about Molab's future."
Molab AS
Services: Testing and analysis
---