Montrose Port Authority
Issue 08 2011
---
The quay to success
Situated at the mouth of the river Esk on the East coast of Scotland, between the key hubs of Aberdeen and Dundee, and connected to excellent road and rail links, Montrose Port Authority provides and arranges port services including round the clock pilotage, road tanker bunkering and waste removal.
Incorporating a number of storage facilities, Montrose harbour lies within a mile of open sea and stretches for almost half a mile. Able to offer 1000 metres of riverside quay and unaffected by tidal restrictions, the North Sea oil and gas industry is today well established within the port, playing a key role in its trade activities.
Responsible for the development of the offshore supply base, Montrose Port Authority works to successfully combine commercial and offshore operations, providing greater flexibility to the port's customers. The extensive storage facilities comprise both open ground for general storage, fabrication and repair work, and warehousing for long-term use. With a history that can be traced all the way back to the twelfth century, the port was one of the first to develop a specialist oil support base and, to this day, continues to build upon its reputation of being a centre for international trade and distribution.
"What the company offers today are, in some ways, niche services to the oil and gas industry," states John Paterson, chief executive of Montrose Port Authority. "The main forms of support provided by the company include the leasing of storage facilities for oil and gas equipment, the import and export of products and various oil well stimulation services, many of which have been present here since the early 1970s. It was in that decade that the port was modified to become a truly purpose built location to be fully utilised by oil and gas companies in the region."
The company also finds itself on the cusp of embarking on new business ventures with the planned unveiling of its new deep water berths at the end of July 2011: "The primary reason for this £8.5 million investment is to allow the company to accommodate much larger vessels than it has ever been able to before," John continues. "This is just one of the plans Montrose Port Authority has to further increase its ability to service and supply all of its existing clients and branch out further into new fields."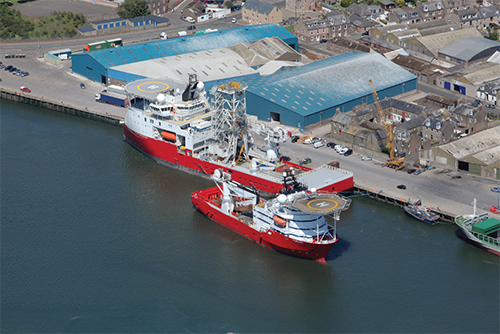 As John states, another area experiencing a steady rise in activity is the decommissioning sector: "Decommissioning has definitely become a more regular feature of Montrose Port Authority's involvement with oil and gas companies. In the early days of the industry the port witnessed a lot of fabrications taking place on its quaysides, which in turn were taken out to operate in the North Sea. Now some older structures are returning to the port to be taken out of service, or in some cases refurbished or modified."
A very cohesive organisation, which is passionate about teamwork, Montrose Port Authority has built a reputation over the years for offering customers a high degree of flexibility. This is achieved through the port's spacious quays, extensive storage and modern cargo handling facilities, which ensure a swift and trouble-free turnaround and help cut costs as well as time. Utilising its extensive knowledge of the region and the industry, Montrose Port Authority's management team is dedicated to anticipating and satisfying the requirements of all port users, whilst always providing friendly attention to detail, quick response times and optimum cost effectiveness. In order to continue providing a first-class service, the port remains committed to investing in the expansion of its surrounding facilities. Recent conversion of the port's warehousing units has provided additional capacity, both on the South Quay and the North Quay.
Moving forward, the North Quay will see a heavy increase in work, which John believes will play a part in helping Montrose Port Authority grow as a port: "Currently the North Quay hosts a number of much older berths and inevitably these will require some substantial upgrading in the near future. This modernisation programme represents just one element of a master plan the port has been developing over the years to maintain sustained growth."
With modernisation and decommissioning work coming to the forefront of the port's activities and its core role as a port service provider remaining buoyant, all the ingredients are present for Montrose Port Authority's plan to achieve lasting success to become a reality.
Montrose Port Authority
Services: Port authority
---