MRC Transmark
---
Single source of supply
MRC Transmark is a major international distributor of valves, instrumentation and ancillary flow control equipment, providing technical solutions and added value services through a worldwide network of 45 distribution and service facilities and alliances.
The company has locations in United Kingdom, The Netherlands, Belgium, Finland, France, Germany, Italy, Australia, New Zealand, Dubai, Abu Dhabi, Oman, Thailand, Singapore and China. Today, the company is one of the very few valve distributors able to supply valves both on a European and global basis. MRC Transmark's principal clients include major international companies in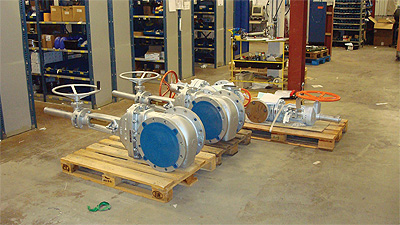 the petrochemical and refining, chemical, power and energy, pharmaceutical, shipbuilding, sewage and water and HVAC industries.
Quality is a key ingredient for the business and all of its operations comply with international standards. The offices in Australia (February 2009) and Belgium (April 2009) were the first to be awarded the new ISO 9001:2008 standard. The new standard is centred on simplifying the existing arrangements and will therefore be welcomed by those whose role it is to ensure compliance.
MRC Transmark was created following the acquisition of Transmark Fcx by McJunkin Red Man Corporation in October 2009. McJunkin Red Man Corporation brings added products and services to the market along with the knowledge and expertise of over 3500 employees. Exclusively geared toward the distribution of PVF products to the energy and industrial sectors, McJunkin Red Man Corporation serves the oil and gas, chemical and petrochemical, refining, power, manufacturing, and mining industries, just to name a few.
As supplier of flow control equipment MRC Transmark has been involved in distribution logistics for a number of years, incorporating both comprehensive market know-how and definite project experiences in managing the distribution chain. With an established track record, the company's dedicated project management teams source products, manage supply logistics and offer technical back-up for major new builds, MRO contracts and key accounts worldwide.
Through its strategic stock locations it is able to supply most products on short lead times, and the diversity of valves in stock and its ability to source a valve that is not in stock are two of the company's particularly strengths.
To save customers' time in multiple sourcing, most locations have machine workshops, which allow in-house modifications. It also has supply agreements with some of the world's most prominent oil, gas, petrochemical, pharmaceutical and marine companies. This allows MRC Transmark to work in partnership with its customers delivering identifiable, tangible benefits.
It is interesting to look more closely at MRC Transmark in The Netherlands, as this location wishes to play a leading role in what it refers to as 'the valve world'. The starting point is a full range of carefully selected products. In putting it together, the company endeavoured to strike an optimal balance between top products from the leading western manufacturers and more favourably priced but good quality products from Eastern Europe and Asia.
Nevertheless, no matter how good the products in the range may be, MRC Transmark Netherlands acknowledges that it is individual employees who determine the true added value of the company. To a man they are committed professionals who have the necessary technical expertise in the form of education, experience and continual training. This approach creates added value on which clients can depend.
When it comes to specific products, across the MRC Transmark Group the organisation is able to supply a comprehensive range of cast and forged gate, globe and check valves together with bellow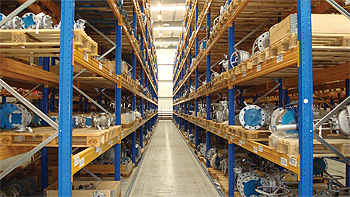 sealed gate and globe, ball butterfly and metal seated valves. In addition it is able to supply new actuator systems and also assemble and supply a whole range of control valves as well as steam and other process products.
One of the interesting products available from MRC Transmark is the EZee Tag. This unique system offers the ability to accurately track valves and associated equipment throughout their life cycle from initial supply and installation through maintenance phases to ultimate replacement. This is a key requirement for engineers seeking to optimise the use of their limited maintenance resources.
EZee tag takes the collection, storage and use of data to a new level and incorporates the proven technology of RFID (radio frequency identification data) and combines it with WiFi, GPS (global positioning system) and handheld devices to deliver a powerful yet flexible and cost effective solution.
Key benefits of the EZee tag system include:
Unique identification
Electronic 'key' to access individual valve/plant information
Electronic 'DNA' for valves & associated equipment
Proves that equipment has been visited (scan of tag)
Improves quality of data held by the valve management system
Instant visibility of valve availability & location on site
Quickly find valves (using GPS technology)
Potential to reduce plant shutdown window
Easier replacement valve procurement process
It is through creating such innovations that MRC Transmark has achieved its turnover of 260 million euros. In order to maintain this standard of service, MRC Transmark will continue to work hard alongside its customers – continually reviewing specifications and creating valve solutions that deliver a high standard of performance and safety.
MRC Transmark
Services: Valves and flow control equipment distributor
---