Noreco ASA
Issue 12 2010
---
Industry insight
Noreco ASA is an independent Norwegian oil and gas company with a focus on exploration, development and production activities in north-west Europe.
Since the company was incorporated in 2005, Noreco has grown rapidly through licence rounds and acquisitions. Operating within three core markets of Norway, Denmark and the UK, Noreco employs a team of over 100 oil and gas professionals. With a growing portfolio of seven producing fields, 16 discoveries and more than 50 exploration licenses, exploration forms a central part of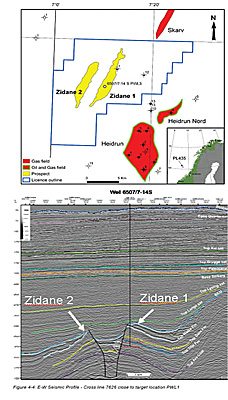 Noreco's operations.
Drawing on its five values of courage, respect, professional, innovate and challenge, Noreco's vision is to provide additional value across all aspects of the business for both its clients and its stakeholders. This vision is achieved through the company's optimised portfolio, which builds upon the core areas of the business, and Noreco's ability to identify opportunities to grow the business. In line with this is the company's strategic focus on the north-west of Europe, where Noreco has expertise and there is substantial exploration potential and the supporting business infrastructure is in place. Scott Kerr, CEO of Noreco, describes the key strengths of the business: "At Noreco we believe there is value in being part of the whole upstream supply chain. Our business model is to reinvest profits from our producing assets into the overall growth of the company through exploration, developments and acquisitions."
Certainly Noreco's approach to its exploration programme is a lucrative one, with the company achieving a high ratio of successful discoveries to exploration wells. Knowing which wells to drill, and which opportunities to not pursue, plays a large part in this with Noreco using a base of thorough geoscience work and economic evaluations to make informed decisions. This selective method to exploration enables Noreco to focus on wells with the potential for large value creation. "Out of 17 exploration wells, we have made 12 discoveries including the recent Zidane-1. Exploration is clearly the main focus of our business and over the next 12 to 18 months we are planning to participate in more than ten new exploration wells. These are mainly based within Norway, but there is also one in Denmark. At the same time we will continue working on our portfolio to generate new attractive drilling opportunities," explains Scott.
Recently Noreco secured a contract to use the Sevan Voyageur floating production, storage and offloading (FPSO) vessel to develop the Huntington field, which is a key asset of the business. Scott elaborates: "The Huntington Field was first discovered in 2007, so the signing of the contract to use the Sevan Voyageur represents an important milestone in the development of the field. Currently the FPSO is leased for five years, with options for further extension. The total development cost is estimated at £320 million, with production facilities reaching a capacity of 30,000 barrels of oil per day and natural gas exported via a pipeline through the CATS system. Huntington will be Noreco's first producing field within the UK, and will be a significant contribution to the company's overall production from 2012 onwards. The field represents a stepping stone for further exploration activity in the UK, where Noreco has built an exciting portfolio of exploration targets."
Other recent developments include the Gygrid oil discovery, which was made in 2009. "The plan is to develop Gygrid as a subsea satellite to the Njord field," describes Scott. "The final development plan will be submitted in the first half of 2011, and the first oil production can be expected in late 2012 or early 2013. This type of development forms an important part of the future of the Norwegian continental shelf, as they contribute to extending the economic life of existing infrastructure and therefore also contribute to increased production from other reservoirs.
"Field developments are one way of realising the value of a discovery, the other way is to divest. This year we have been able to sell three assets – the Grosbeak discovery which was made in 2009, the Oselvar field which is currently under development, and the producing field Enoch. These sales provide the company with a strong cash flow, and at the same time they release resources that we can then utilise on new growth opportunities."
In terms of health, safety and environment policy, Noreco is recognised as a leading company and strives to achieve its overall vision of zero accidents, incidents and long-term impact to the environment. Scott highlights how Noreco maintain this reputation: "All employees within the company are responsible for developing and maintaining the management system, developing HSE
plans, and promoting HSE work across our operations, development projects, license and consortium work. We have also established our own emergency preparedness organisation (EPO) including building an emergency response room. All involved employees have been trained in the newest technology and strategies within emergency preparedness, with regular updates scheduled. Drawing on its in-house organisation, Noreco can control and influence each situation directly, whilst creating ownership and building competence within the company. This means that Noreco is trained and capable of handling incidents in a professional way."
Reflecting on the current conditions of the market, Scott comments on the opportunities for the further progression of the business: "Although we do not try to predict its short term movements, we are generally positive with regards to the oil price. When it comes to our growth opportunities, we still see a lot of exploration potential both within our own portfolio, and in ongoing and upcoming licensing rounds. Certainly we do not see ourselves being constrained by a lack of opportunities in the foreseeable future. We have also recently announced our decision to conduct a strategic review. This initiative will examine all possible alternatives, including sale of assets or a sale or merger of the company in an effort to unlock the full value of Noreco's portfolio. We believe that there is sufficient interest in the market to initiate a dialogue and will consider all possible options in order to create additional value for all our stakeholders."
Bearing this is mind, it seems that Noreco is on course to fulfil its vision of creating exceptional value through expertise and competence in each of its key business sectors, whilst remaining a leader player within the market. With the company able to support sustainable growth in both its portfolio and capabilities, Scott concludes with his aspirations for taking Noreco forwards: "I believe that our exploration strategy will result in a significant set of new discoveries for the business. Some of these will be sold, whilst we may keep others and bring them forward to development. Looking at the years ahead, we expect to remain a financially robust company with higher production capabilities from more fields than today, and with continued high exploration activity."
Noreco ASA
Services: Exploration, development and production
---