Norsap AS
Issue 10 2010
---
In the driving seat
Norsap was founded in 1969 as a one-man company working in the design and engineering of aluminium products.
During the 1980s, having grown its workforce, the company began specialising in the manufacture of helmsman and operator chairs for which it is known today. Though headquartered in Kristiansand, Norway, it has dealers and sales agents located in over 20 different countries throughout the world.
Having spent over 30 years in the industry Norsap has built for itself both wide-ranging experience and an excellent reputation in aluminium engineering, in the process becoming one of Scandinavia's foremost producers of boating equipment. With its helmsman chair range comprised of six different models and its deck rails range offering eight different choices, the scope of choice make it an ideal partner in outfitting wheelhouses.
Øyvind Berntsen, managing director of Norsap, explains why its chairs have become a popular choice for yachters and boaters across the world: "We have developed chairs for use at sea and which can withstand the sometimes very tough usage that come with the territory. Product quality is of the utmost importance to us, and we design chairs to last for years."
Though its chairs can be used in almost any environment, the company's products are primarily utilised by a wide cross-section of the marine industry including fishing vessels, supply ships, passenger ferries, cruise ships, offshore rigs and navy vessels. "We sell to companies providing bridge solutions," Øyvind remarks, "as well as ship owners, shipyards and remotely operated vehicle (ROV) operators. Most of our customers are within the marine industry and we work closely with them to produce bespoke or customised solutions. By having our own production team we are able to be flexible to clients' needs."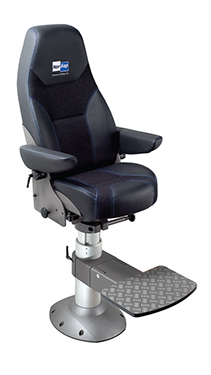 One handy feature the company offers on its website is a custom-build preview tool, allowing potential clients to get a basic idea of not only of what a Norsap chair might look like when finished, but also the vast amount of personalisation options that are available including arm rest accessories, various seat column models, and pattern and dual colour choices.
The company regularly works with major names in the industry providing a range of solutions including custom-built offshore supply winching chairs, bespoke offshore platform driller chairs and captains chairs and driller chairs. The company also offers vessel components such as the columns for chairs and tables, seat brackets, yacht stairs and ladders as well as deck rails and the brackets that hold them.
Norsap also services a number of onshore industries with aluminium-related products and services. This includes aluminium doors for warehouses and power stations, as well as high quality rails for use on stairs and balconies. With dealers and agents in countries as diverse as Argentina, Faroe Islands, Singapore and Turkey it is no surprise that 50 per cent of Norsap's products end up being exported around the world.
In developing and manufacturing products, cutting edge tooling equipment and CAD software is used to ensure high quality in the final item. Just as important as the fabrication itself, however, is the research and development behind each product. Øyvind highlights the concerns of design by looking at a recently launched chair and deck rail: "The Norsap 2000 is a newly developed chair with a softer look based on cutting edge technology, designed with a focus on ergonomic standards and comfort. The Basic deck rail is a light, subtle deck rail for manual travel, suited to high-class yachts as well as offshore vessels. Due to its simplicity, it is an extremely affordable option."
The affordability option is an important move for a market that continues to feel the effects of the financial crisis. Nonetheless although Norsap experienced an impact to its business, and though investment and other financial activities are slow to return, the company is well positioned to ride out the storm.
Øyvind concludes with a positive outlook on the company's future prospects: "Firstly we will have to make it through the economic and market changes that have resulted from the crisis. Because Norsap is AAA-rated by Dun and Bradstreet, and because we have a lot of financial strength, I believe we will make it through this period without much worry. We are doing a lot of development projects, and when the market returns to strength we expect to see the effects of this work."
Norsap AS
Products: Marine vessel fittings
---