Norshore
---
A sure start
Norshore was founded to provide cost saving, innovative solutions that are based around operational safety, environmental preservation, quality and efficiency.
As an independent Norwegian offshore business, based in Bergen, Norshore is a young company that has developed a patented mobile drilling and lifting concept, which successfully merges old and new technology.
Outlining Norshore's remit, CEO Petter Tomren reveals: "We formed in 2007 because we saw huge potential for oil companies to make savings by using smaller and lighter equipment for parts of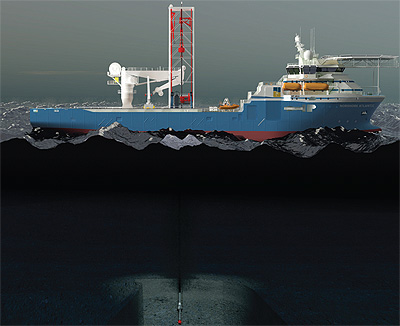 their operations. They use very expensive drilling rigs or drill ships, costing between $400,000 and $500,000 per day for deeper water, and for part of that operation they don't need that heavy equipment. For this reason, we are building a smaller vessel to take part of the expensive operations away from the drilling rigs, which means we can actually carry out part of their operations for 50 per cent of the previous cost."
The unique drilling and lifting concept, dubbed the MDL Concept, has many advantages over more traditional derricks, and is tailor-made for installation on offshore support vessels with a moonpool. It will enable the operator to conduct riserless drilling and coil tubing from a smaller and less expensive unit, compared with a standard drilling rig. The units will also be capable of conducting riserless light well intervention and subsea construction work. The vessel will also be prepared for slender well drilling using 13-5/8" BOP and 15" riser, as well as for heavy well intervention work with riser installed.
Speaking about the building of its new riserless drilling vessel, Petter says: "We started construction on the first vessel about a year ago and it's being built at the Batamec shipyard in Indonesia. The vessel, called Norshore Atlantic, is a high-tech vessel, created according to Norwegian regulations. It has DP3 capabilities and is very well equipped from a drilling point of view, meaning that we have a high pumping capacity and a very high lifting capacity in terms of drilling power.
"It'll be completed in the middle of 2011 and we also have an option for a second vessel at the same shipyard. Construction is on schedule – everything is going well and the drilling package is from National Oilwell. It's very well equipped to meet both harsh environments and deepwater, and can operate in water depths of between 70 and 3000 metres."
Norshore's target market is major oil firms, with huge savings being typically made in field developments. "We are in close discussions with major oil companies and they all like our concepts very much," Petter confirms. "We expect to sign the first contract by the middle of this year, and we are targeting oil companies like Petrobras, Shell, BP, Total, BG Group or Statoil."
Norshore Atlantic represents the first vessel of its type ever built and will enable the three-year-old company to attract considerable attention in the marketplace due to its remarkable offering. "Thinking about the way it is equipped for top hole drilling, which is the upper part of any oil or gas well, we can finish that at 50 per cent of the cost compared to the drilling rigs and ships," Petter asserts. "Other vessels in the market are focused on well intervention; they have much less capacity for the drilling side compared to our offering. We have a broader market perspective because our new vessel can undertake both services. That is the differentiator and why the oil companies will choose us over our peers. In fact, we have a one to two year leading edge over our competitors when it come to this type of equipment and technology."
The developments Norshore has under its belt are integral to the success of the business and constructing the new vessel had to go ahead, despite the global financial problems. Petter recognises the challenge but looks beyond the current situation: "There is always a risk involved in any construction of big projects but it's something we have under control. It's going to be challenging to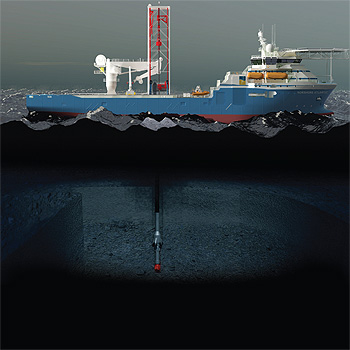 build more vessels, as we have planned, due to the finance market being in difficulties but we can clearly see improvements in the financial sector. These days, there is always a question mark over financing new projects but we have all of the bank financing sorted and most of the equity in place for the first vessel."
Norshore has focused on international markets, even though it is building its new vessel according to Norwegian regulations, because the business expects Norshore Atlantic to be contracted out of the North Sea at first, especially in deeper water as that is where the benefits of its offering are appreciated most. With the build in full swing, the organisation's attentions have turned to staff. "We are hiring people to follow the construction project and to fill the front positions in the company, so we're hand-picking the best people right now," Petter states. "As we're building an international company, we will focus on international manning. I think it's quite easy to find good people because being a new company with an interesting concept is attractive to prospective employees."
Once a crew is in place, the vessel can look forward to a prosperous flurry of activity as oil companies seize on its potential to save them money. Speaking about the coming period, Petter observes: "In terms of new technology, we already have patented solutions, so we'll wait to see if additional technologies are necessary. We're very close to making a decision on the second vessel and our aim is to have at least five vessels within the next three years."
Continuing, Petter shares his positive outlook for Norshore's future: "The past year has been slow but we can see there's much more activity in the market with regards to tendering and the oil price is stabilised at a good level, so conditions are improving and we're optimistic. Oil companies are still looking to make cost savings however and our concept will certainly benefit them in so far as that is concerned. Our primary selling point is our ability to cut costs."
He concludes: "Our aim is to be a key player, possessing a combination of drilling and well intervention, on a worldwide level. Our vessels are mobile and the cost savings we offer will be very beneficial for customers. Therefore we are proud to sail under our slogan – 'Bringing the future one step closer'."
Norshore
Services: Offshore drilling and well intervention
---