Norwegian Deck Machinery
Issue 03 2010
---
Global ambition
Whether it's an anchor winch, a mooring winch or a custom designed winch, Norwegian Deck Machinery (NDM) can make it.
NDM as we know it today was founded in 2003, but the company can trace its roots back to a well-known supplier of deck machinery. It turned out to be a very challenging time to enter the market – almost no orders were signed by the shipyards and NDM did not sell a single winch the first year. When the offshore boom took place in Norway a little bit later it became easier for the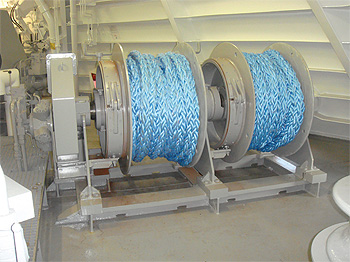 company to sell its products.
"Thanks to many of the Norwegian Yards and the contracts they have awarded us, we have been able to have a steady growth since 2004," explains Arnt Soevre, general manager of NDM. Since then, the company has grown to have full order books and lucrative relationships with major customers. Its wide range of expertise covers winch design, manufacture, operation and worldwide service. The range of winches are suitable for almost all kind of vessels and all winches can be delivered either electric or high pressure hydraulic. The company does have a standard range, but each winch must often still be customised to specific vessels' specifications.
In 2007 NDM knew that the market in Norway had reached its peak, meaning it had to enter new markets in order to grow. To be prepared for the future challenges it decided to open a branch office in Shanghai. On 1st January 2008 the office opened and has since become an important part of NDM. The business has witnessed a notable increase in business from China and the Asian market is starting to take up the bulk of its order book. Such a notable employment follows on from a number of impressive projects over the past two years.
So far this year NDM has signed four new contracts in Asia. "We are also working on a lot of promising projects that hopefully will provide us with some more orders in the near future," comments Arnt. "Our core strength lies in the fact that we have very low overhead and production costs, meaning we are able to relay cost benefits to our customers throughout the world. Sales, design, project management and service are controlled from the main office in Os, Norway. Production is carried out in Poland and Croatia, China and Korea.
"Up till now the offshore market has definitely been our biggest and most profitable area of business. In China we tend to deal mostly with standard equipment for merchant vessels as well as
specialist ships such as chemical tankers. We are also looking into countries like India and Vietnam for future growth in the Asian region."
While the organisation tracks down potential in foreign climates, its dedication to the Norwegian and European market remains equally strong. Recently NDM secured another contract with one of its long-standing customers, Simek Shipyard for the provision of a supply and rescue vessel for Havila Shipping in Norway.
Scheduled for deliverance in the second quarter of 2010, the company will supply a double combined electrical anchor windlass winch, two electrical ten tonnes tugger winches, two electrical eight tonnes capstans and four hydraulical cargo-securing winches. Currently NDM is exploring the potential of new winch designs for use on bigger vessels utilised within the oil and gas industry. "Our ambition is to facilitate the needs of larger progressive operators," reveals Arnt. "This aim, however, is a long-term vision for the company. Our main target is to maintain steady growth in order to deliver quality products and provide our customers with the best possible service. We are continuously upgrading our skills, building up our staff of qualified designers and project engineers in order to take on heavier product development tasks and more orders.
"We are a relatively small company that entered the industry at a low point in the market. We have grown comprehensively and are proud of what we have achieved in such a short period of time – but even if we tripled in size we would still be smaller than some of our closest peers. As such, we look to remain dynamic by developing new products and taking advantage of our successful penetration into emerging markets. In China we have benefited greatly from the experience of our people, some of whom have worked with winches and technical equipment in the marine sector for decades. Over the coming years we hope to increase our turnover by becoming a recognised worldwide supplier of winches and deck machinery, while remaining competitive in the home market," concludes Arnt.
Norwegian Deck Machinery
Services: Winches
---