Oceaneering
Issue 11 2010
---
Plumbing the depths
Oceaneering is a global provider of engineered services and products primarily to the oil and gas industry, focusing on deepwater applications.
It also serves the defence and aerospace industries through its use of applied technology expertise. Since its beginnings in 1964, Oceaneering has grown through a combined strategy of internal research and development and acquisitions, into a diverse applied technology organisation. The company is involved in a number of areas including remotely operated vehicles (ROVs), mobile offshore production systems, subsea hardware, inspection and installation services and engineering and project management.
Through its many different divisions Oceaneering is able to offer its clients a comprehensive range of services. This includes its specialised Deepwater Technical Solutions (DTS) division, which focuses on two key areas – subsea engineering, and intervention tool design and rental. This sector of the company provides cost effective technical solutions and services to customers with operational needs in harsh environments. As well as working with ROVs, the DTS division is also heavily involved in emergency intervention tooling. This includes various pipeline repair tooling devices such as retrofit clamps for sand detection monitoring. It also develops pressure clamp removal tools, which are designed, built and tested from scratch in just three weeks.
DTS offers full service provision to its clients, from the early stages of planning right through to commissioning and beyond. Dave McKechnie, Oceaneering's DTS eastern region manager based in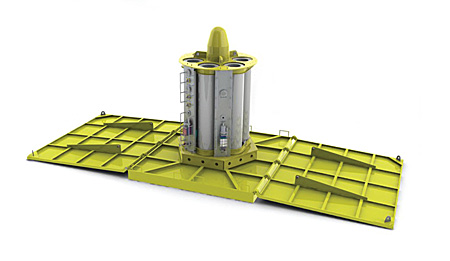 Aberdeen, describes some of these clients: "Through the different Oceaneering divisions we pretty much cover the full spectrum of companies operating in the oil and gas industry, from the major operators such as BP and Shell through to contractors like J P Kenny."
Certainly these different divisions enable Oceaneering to act as a one-stop solution provider with each individual department able to address specific needs, as well as having the capacity to draw on the vast resources and support from the company as a whole. "This set up is a real benefit to the company as we are able to take advantage of the strengths and knowledge of each division where necessary throughout a project. Cross-division international communications are very common and enable each division to stay informed of certain activities and progress, which ensures our clients receive the best possible service. Although we all work as different departments each of us considers Oceaneering to be a single entity," explains Dave.
Oceaneering's expertise and vast capabilities have enabled it to continue to develop its operations abroad as demonstrated by Oceaneering DTS' new base in Takoradi in Ghana, which became fully operational at the end of October 2010. The facility compliments others operated by the company in Africa, including the SONILS Angola and Port Harcourt bases. Dave comments on the investment: "This was DTS' first individual attempt to install a base in a location such as this, so it has been a great learning curve for the division. The support on a local level has been excellent and naturally we've been able to draw upon the resources of Oceaneering if required. We're incredibly pleased with the results and are already actively involved in umbilical support and offshore projects in the area, as well as near shore schemes. We're looking at developing our national team to make sure that the local technicians are brought up to speed with the equipment and are familiar with our operations. This means that as the offshore industry in Ghana grows we will have a strong foothold supported by trained experts capable of undertaking these projects."
Over the last few months Oceaneering DTS has seen an increase in operations, some of which has been in response to the Gulf of Mexico incident early in the year. Certainly the impact of this incident has been felt across the industry and has prompted a greater focus on regulations and contingencies for preventing a similar disaster in the future. "We have been working closely with our customers to ensure they are aware of all the options available to them for meeting their new requirements following any changes in legislation and recommendations. This is in terms of supporting clients with their contingency needs and configuring their current equipment to interface with these measures," highlights Dave.
Bearing this growth aspect in mind Dave concludes with Oceaneering DTS's other initiatives for the years ahead: "Although this has been a difficult time for everyone, we have had a consistent year with steady levels of activities and the opening of our new base in Ghana, which is a substantial investment for the future. Moving ahead we are looking at moving into emerging markets such as renewable energy to compliment our current oilfield operations. Although oil support services will remain our focus there are other areas where we can apply our accumulated knowledge and technology to great effect. Oceaneering is continuing with its growth strategy, which is primarily organic growth around our current activities supported by acquisitions, which will expand our portfolio and strengthen our operations."
Oceaneering
Services: Deepwater applications and solutions.
---