Oceaneering Rotator
---
Setting the standard
Oceaneering Rotator is doing its part to make deep water subsea oil wells flow.
Founded in 1959 in Kristiansand, Norway, Oceaneering Rotator began as a traveling repair business to the shipping industry. Today, 50 years later, the company has evolved into a premier designer and manufacturer of subsea and topside hydraulic control valves, subsea chemical injection valves, control panels and systems to the international oil and gas industry.
Since 2004 Rotator has been a wholly owned subsidiary of Oceaneering International Inc. Oceaneering International is one of the world's leading suppliers of advanced sub-sea and space technology, undertaking major assignments for NASA and the US navy as well as customers in the oil and gas industry. It is a global group with 7,900 employees at 66 locations in 18 different countries.
The challenge for most of Rotator's customers is providing reliable and environmentally friendly production of oil and gas at the lowest possible cost per barrel. Rotator has a proven record of overcoming the technical challenges presented by its customer's deepwater installations. An uncompromising focus on quality and safety is integrated into every step of the manufacturing process.
To ensure premium quality products, the company retains in-house control of all aspects of its technology, from product development and design through engineering, manufacturing, testing and delivery to customers. As stated on Oceaneering Rotator's website, this dedication to quality translates into a policy of building products that are 'clean from the very start'. Every subsea valve is carefully processed in a positive-pressure, clean room environment and continuously inspected during the manufacturing process before final testing and delivery.
In addition, Rotator is ISO 9001 quality assurance certified, and employs a highly skilled staff, many with the necessary safety certifications for offshore installations.
Its experienced team of craftsmen and engineers continuously develops advanced products and solutions specially designed to endure pressures up to 1380 bar (20,000 psi) in depths up to 4000 meters (13,120 feet) with a 25-year service life. Rotator's key products include:
Subsea (and topside) hydraulic directional control valves
Subsea chemical injection throttle valves (CTVs)
Ballast control systems
Wellhead control systems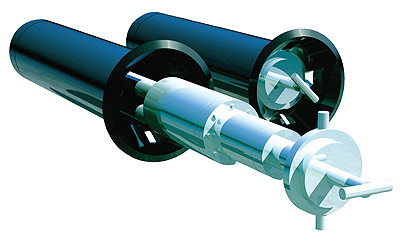 The Rotator team has designed and manufactured over 50,000 hydraulic directional control valves (HCVs) for both subsea and topside applications. Its customers include leading subsea Christmas tree manufacturers, such as FMC, which the business has partnered with for over 15 years.
Rotator's hydraulic directional control valves are manufactured for both topside and subsea control modules. The control modules consist of hydraulic systems to operate the process valves controlling the oil or gas well flow.
The company's control valves are designed according to the metal-to-metal shear-type-seal-principle. The valve's main advantages are that they have negligible internal leakage and are highly contamination tolerant with outstanding corrosion and wear resistance. All Rotator control valves are qualified through a comprehensive test program in accordance with the latest international environmental standards.
Rotator also provides control systems of various types, designs and sizes. For almost 50 years the company has delivered systems for remote control of hydraulic and pneumatic valves to FPSOs, floating and fixed production installations, drilling rigs and more than 300 ships all over the world. It delivers complete hydraulic control systems, including in-house manufactured components such as control valves, restrictors, hydraulic locks, manifolds and explosion proof panels.
A more recent and especially important addition to the Rotator product line is the chemical injection throttle valve (CTV). These specialised subsea valves allow operators to more efficiently inject various flow assurance chemicals via one supply umbilical to multiple sites (trees and manifolds) in a subsea project. As subsea developments move to deeper waters further from shore, this design provides substantial savings in capital expenditures.
Rotator has the widest product range and the largest installed base in the industry. To date the company has sold over 600 CTVs, with customers using the CTV solution including Statoil, Total (Usan), FMC, Aker Solutions and more recently ExxonMobil (Kizomba satellites).
CTVs are available in many different configurations, such as ROV/diver retrievable units or for fixed mounted in a subsea xmas tree or manifold. The CTVs can be ROV/manually or electrically remote operated.
The VisCom CTV, provides accurate, repeatable flow, with a turndown ratio of up to 100:1. The valve is viscosity compensated to assure accurate flow measurements as chemical viscosity changes. The VisCom CTV is designed with large internal passages, which allow fluid contamination up to SAE AS45059 class 12B-F. It requires no subsea filters and incorporates a mechanical self-cleaning feature that further minimizes the risk of clogging. There are no moving parts during operation of the VisCom CTV.
The chemical throttle valve for Mono Ethylene Glycol (CTV-MEG) provides the highest flow rates in the Rotator product line and is used primarily on subsea gas wells. The unique feature of the CTV-MEG is an accurate, repeatable, dynamically monitored flow adjustable up to 240 litres per minute. The CTV-MEG is capable of automatic flow regulation, remote data download/upload, and consumes very little power (3w while idling). It is currently being utilised on subsea gas projects such as Ormen Lange, Vega and Pluto.
Rotator is well positioned and eager to meet the challenges of future subsea developments worldwide. It will continue its commitment to provide high value, quality services and state-of-the-art products to satisfy its customers' specific needs. Furthermore, it is apparent that deepwater subsea projects in Brazil, West Africa, the North Sea/Arctic and the Gulf of Mexico will most certainly present fantastic opportunities for Rotator in the coming years.
Oceaneering Rotator
Products: Systems and equipment
---