Offshore and Trawl Supply (OTS)
---
Strong connections
Utilising one of the most high-tech factory facilities in Norway, Offshore and Trawl Supply (OTS) is a leading manufacturer of synthetic fibre ropes for operational installations in the oil and offshore market.
The company's unrivalled experience and expertise in the supply of ultra-strong ropes has led it to develop some of the leading solutions in the industry. Its ultra-modern factory based near Aalesund is fitted with the latest production line to aid the company in realising the best from high-tech fibres and producing ropes up to 350mm in diameter. Well tested and proven products are a mainstay for OTS, while close relationships with key material suppliers such as DSM ensure it stays at the forefront of the market for innovation.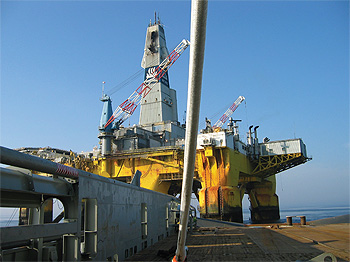 The diversity of its offering, which exploits the properties of Dyneema, Polyester, Nylon and other relevant fibre types enables the organisation to supply premier mooring systems for rigs, FPSOs and shuttle tankers, towing systems for seismic vessels, permanent buoy assemblies and special ship mooring solutions to a wide variety of clients. The differentiating element of OTS' rope product is a fitted protective jacket element that is proven to protect the rope from abrasion far better than any other rival system. This jacket concept offers customers a much longer service time and therefore much better value, while its high quality levels are unquestionable.
Runar Paulsen, managing director of OTS updates European Oil and Gas on the company's activities since October 2009: "The last year has been challenging for everyone in the market with regards to the financial crisis, and many companies have faced a reduction in sales or turnover. We, however, had the best year ever with both sales increases and higher profit. This success can be put down to the fact that our product has become essential to many customers in terms of its operational value and promise of longevity. Since we last spoke, industry trends have turned even more to deeper waters and harsher conditions, resulting in higher demands for equipment that can handle greater loads and depths."
Introduction of Dyneema XBO
Deeper conditions pose a great challenge for rope manufacturers, as traditional steel wire rope buckles and breaks under its own weight, while winch friction creates too much heat for effective operation. The organisation's closest supplier DSM has developed a new fibre product known as Dyneema XBO, which is based around an existing product of two grades, SK75 and SK78. This new fibre utilises an innovative coating layer that reduces friction between fibres and therefore heat, while being substantially more flexible. "We are taking this new fibre and manufacturing ropes to the necessary size for various loads, and adding our proprietary coating, which not only gives the rope a colour but enhances the properties of the fibre itself. We still maintain our original jacket concept, which will enable us to combine the improved internal properties of the rope with external protection from wear and tear," Runar explains.
The new rope concept brings considerable advantages to offshore operators as its extreme low density means it bears no weight in water and no tension on winching systems. Entire payloads can therefore be put down to any depth without winch capacity having to be compromised, resulting in vessels being able to use smaller winches or transport heavier loads. To the extreme, this revolutionary product could even change the design of construction or offshore supply vessels as rope capacity in terms of weight can be reduced by up to 85 per cent. OTS is hoping to move the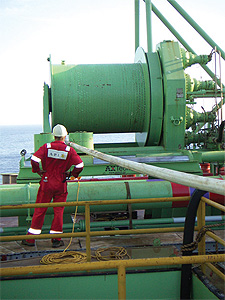 market away from traditional steel wire to fibre concepts as the benefits for the industry far outweigh any shortcomings. Indeed, its ease of use and handling brings huge health and safety advantages for operators in terms of reduced injuries onboard vessels.
Runar outlines the company's vision: "New development in the oil and gas supply industry needed to come from the deeper and more challenging water arena, and as such I believe this is going to become an essential growth sector. We have a chance to grow alongside the market, while to a certain extent substituting existing steel wire use with superior fibre solutions. There is no doubt that we will have to convince the more conservative members of the sector that this is the way forward and we have a great deal of marketing and educating to do in the engineering environment. This is an unknown concept for many and rope and fibre manufacturers will have to work together to build up the necessary databases so that engineers can employ fibre rope based on established facts rather than assumption."
OTS' factory facility, which was extended two years ago is not only the most modern of its kind in Europe, but is also designed to handle tremendous growth. The company's overall goal is to triple turnover through the growing recognition of the low-density rope concept. "There is huge potential for us to convince participants in the deep water segments to change entirely from wire ropes to fibre ropes, and when this happens we will obtain the tonnage we are looking for to fill up our factory capacity," Runar concludes.
Offshore and Trawl Supply (OTS)
Services: Synthetic rope fibres
---