Oilgear Towler
Issue 103
---
Global support
Since it was founded in 1921 Oilgear has earned a reputation as a trailblazing contributor of hydraulic/electric systems and equipment within the oil and gas sector and beyond.
The Towler brand (Est, 1935) was added to the business when the Oilgear Company of Milwaukee acquired Towler Hydraulics during 1985. Since then the company has continued to grow and diversify into new markets to become a truly global provider of engineered hydraulic solutions. In 2008 Oilgear acquired Olmsted Products, a world leader in high flow/high pressure valves and in 2009 it added Clover Industries, a designer and manufacturer of integrated cylinder systems, both complimentary to the original Oilgear value proposition.
Today Oilgear employs 750 people worldwide, including fully-integrated production, service and training facilities throughout Europe, the Americas, Asia Pacific and the Middle East, each with a mission to serve customers as "One Oilgear". While high-performance hydraulic power solutions have been central to the company's business since 1921, Oilgear's partnership with the oil and gas industry began in 1957 when Bethlehem Steel commissioned Oilgear to design and build the hydraulic drive and control systems required for the jacking system used on its 'Mr. Gus II' and other similar jack-up rigs. Owing to the robust design and production of the Bethlehem rigs, many of them remain in operation today with the original Oilgear Petrodyne system still providing a reliable service.
Oilgear understands the need for reliable equipment that can withstand the harsh conditions found in many of its niche markets. Its products have earned a reputation for quality and durability in challenging applications throughout the oil and gas, marine, military, metals and civil markets. Within the oil and gas sector Oilgear's experience includes high-performance hydraulic technology for jack-up systems, sea floor breakthrough detection and control, platform leveling, deep sea mooring, rig tensioning, anti-recoil systems, mast rising and land based rig walking systems. Oilgear Towler believes many more of its designs transfer easily to the offshore oil and gas sector, highlighting its proven range of high pressure valves and piston pumps that operate up to 1000 bar, its marine winch, steering and propulsion systems and its patented 'Transfer Barrier' technology that is currently used in high-pressure variable flow applications and offers great potential within oil and gas for extreme pressure injection, mud/slurry and dirty water pumping and hydraulic fracturing.
This Oilgear technology represents an engineering breakthrough that out performs existing less efficient alternatives. "We can leverage the engineering capability and global footprint of the Oilgear Group with additional Towler products and systems to create solutions and product offerings unlike any other company in the world," observes managing director Kieran Doyle. "We are excited about oil and gas and believe Oilgear will play a much broader role in this market moving forward."
Oilgear global holdings are divided into several divisions that deliver products and services across the world. In addition to regionalised branches of the Oilgear name, such as Oilgear China Co. Ltd, the company also incorporates the Clover Industries and Olmsted Products brands. Clover is a highly experienced designer of robust hydraulic cylinders and integrated cylinder systems with inclusive tensioner systems. Based in the US, Clover is also able to offer a number of manufacturing strengths including state-of-the-art CNC and multiple-axis high-speed machining centers, manual and automated welding equipment, multiple medium and large CNC lathes, heavy duty material handling capabilities and paint booths equipped to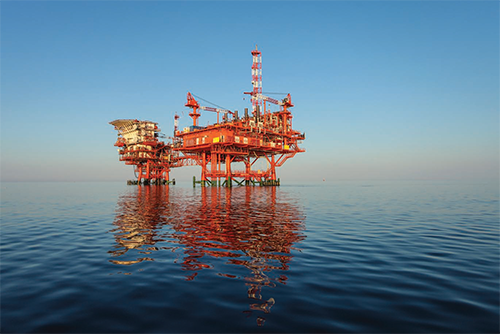 handle an unlimited variety of exterior finishes. Clover provides solutions for a range of end user applications including land based oil and gas rigs, where it offers mast raising and rig walking solutions. Its unique Clover Walker Rig System comprises specially designed hydraulic shoes driven by AC power that are built directly onto the rig to become part of it's overall structure. Clover's extensive testing capabilities allow it to test cylinders up to 30 inches in diameter with lengths up to 64 feet and pressures of up to 20,000 psi. Its testing facility allows it to deliver world-class hydraulic cylinders, accumulators and intensifiers. Clover Industries operates a strict material traceability programme to ensure its welders and welding procedures are all certified. The division takes great pride in its ISO 9001:2008 and ASME certification and reliability
Olmsted Products is also based in the US with facilities in Traverse City, MI and is an industry leader in valve technology for offshore motion compensation. The division specialises in high flow, high-pressure hydraulic valve solutions, which have applications in many complex offshore areas including subsea jacking and tensioning systems. Its range of hose rupture valves for hydraulic and pneumatic hose systems are designed to offer protection against discharge and hose whipping during major hose failures. Valves are available for hose sizes of two inches and larger and have a pressure compensated flow shut-off rate where the shut-off rate is relatively unaffected by change in air density due to pressure change. These valves have a nearly instantaneous closure speed, require no external electrical pilot signal, are available in inline or 90Deg body configurations and are DNV and ABS approved. With 40 years of experience in fluid dynamics and multi-physics simulation and a unique testing facility capable of testing flow rates in excess of 80,000 lpm, Olmsted is able to offer its clients valve solutions at exceptionally high standards including a range of high pressure ball valves designed for subsea environments and a line of velocity fuse valves to protect against excessive flow through hydraulic systems.
Oilgear's global presence in hydraulic valve technology extends beyond the design and manufacture of its valves and other products; it also offers lifetime support for its customers' systems and is dedicated to keeping this equipment running as efficiently as possible. Its aftermarket services cover all areas of assistance including service, repair, retrofits, upgrades and training. Oilgear operates a customer support centre that is staffed by trained professionals who are on hand to answer customers' questions and to arrange repair returns, process parts orders and schedule field servicing, meaning that its clients can rely on expert support at all times.
Furthermore, the company's global coverage allows it to remain close to its customers and provide target services, as Kieran explains: "The Oilgear geographical foot print provides our customers with peace of mind and security in the knowledge that our worldwide coverage includes servicing and training facilities in 50 countries around the world. Oilgear's capacity to design, engineer, manufacture, test and install electro-hydraulic specific solutions to the complete satisfaction of our clients provides the reassurance they need when placing high value capital equipment orders. Essentially, Oilgear reduces its customers' risk.
"Our business evolves out of a customer need for a quality, reliable hydraulic solution," Kieran elaborates. "For example, National Oilwell Varco (NOV) designed an Ideal Prime Rig to handle the harsh conditions of the desert environment using Oilgear pumps in its hydraulic power units (HPUs). However, Oilgear's business is generated from a broad range of sectors; notably we are very proud to have Oilgear equipment included on the CNV-78 USS Gerald R Ford Aircraft Carrier."
As 2014 approaches, Oilgear is committed to expanding its technical innovation to deliver improved solutions to new and existing markets. Its focus on continued innovation is underpinned by a philosophy of 'right first time manufacture, on time delivery and listening to our customers'. With this culture and its wealth of experience and global support driving it forward, Oilgear is confident that it will maintain its vision of being the first choice for customers seeking hydraulic solutions to demanding worldwide applications.
Oilgear Towler
Services: Hydraulic fluid control technology
---