Pacson Valves Limited
Issue 05 2012
---
Setting the standard
Pacson Valves is a key supplier of high integrity valves to the world oil and gas market, and is a leading developer for severe service and highly critical applications.
A privately owned company with its headquarters and modern 50,000 sq ft manufacturing facility in Dundee, Scotland, Pacson Valves also maintains a global presence with sales offices in every major oil and gas producing country in the world.
Pacson Valves Limited began trading in 1990 having secured the UK distribution rights for Autoclave Engineers Valves and Fittings range, which complimented its own design of high quality subsea cartridge needle valves, and double block and bleed needle valves. Over the next few years the company experienced steady growth, to the point where it decided to focus solely on its own products. With the in-house ability to develop manufacturing to suit valve products, Pacson Valves began to introduce additional types of valves to compliment its original range, including through conduit gate valves, ball valves, and check valves in smaller bore sizes. From here the size range began to increase to include larger bore main piping valves, resulting in a complete valve package.
Through this offering, Pacson Valves has dealt with all of the major oil companies, EPCI contractors and wellhead manufacturers over the last two decades. The company's valve products are supplied to all major subsea oil producing areas including the North Sea, Gulf of Mexico, and West Africa. In particular, the scope of this supply sees small bore valves going to wellhead manufacturers in the UK, Norway, US, and the Far East, and large bore pipe and manifold valves to EPCI contractors and oil companies worldwide.
"We pride ourselves on the quality of products and services, with a total in-house capability for the manufacture of bespoke surface and subsea valves, and pressure control products of up to 16 inch/400 mm bore, or 25,000 psi working pressure. This range consists of ball, gate, needle, and check valves. All design and engineering activities are performed in-house, and supported through significant investment into manpower, training, hardware and software. Our in-house machining facility is capable of processing a wide range of valves and equipment components in standard or exotic materials, before assembly and testing," describes Derek Mason, business development director.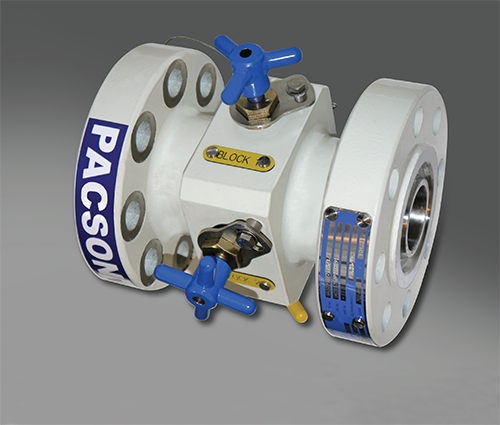 Particular improvement investments include the latest 3D modelling packages, which allows for accurate modelling and design of valve components, as well as complete assemblies. Pacson Valves' manufacturing department's CNC machines also operate with the latest tooling technology, which enables the company to remain at the forefront of machining techniques. This results in the highest quality components and most cost-effective machining processes.
Product and process compliance is monitored by the independent Quality Assurance and Quality Control departments, with the company's own expectations of quality set to meet and exceed all relevant customer and international specifications. This is ensured through on-site facilities for hardness testing, liquid penetrant and magnetic particle inspection, as well as two CMM measurement arms for highly accurate dimensional measurement of machined components. Pacson Valves' latest acquisition in the quality segment is the capability to carry out positive material identification (PMI) of raw materials, which further satisfies its customer's needs.
"As Pacson products are of a highly engineered nature, we feel it is important to discuss the customer's specification at the earliest opportunity to ensure they are getting exactly what they want," notes Derek. "As an example, we are in regular discussion with our customers regarding changes and updates to international specifications and how these changes affect valve manufacturing."
However, this doesn't mean that Pacson Valves is without challenges in the market, as Derek continues: "There is a far higher emphasis on product validation testing, which ultimately increases the costs of the product and lead times. We have our own in-house testing facilities and can accommodate a customer's special requirements but clients don't always appreciate that any one vendor can fully qualify their entire range just waiting for an order. Some customers also ask for material specifications, which are very difficult to actually achieve in the market place. Therefore we always try to advise and guide the customer to ensure the best product is achieved, based on a relationship of mutual understanding and trust."
Today the subsea sector of the oil and gas market is of major focus for Pacson Valves, as demonstrated by its presence at key industry events such as the Subsea UK 2012 exhibition. "We predominantly manufacture bespoke subsea isolation valves as currently approximately 30 per cent of world production comes from offshore. This percentage will increase over the years as more subsea fields become economically viable due to improvements in drilling technology and the like. The market for subsea isolation valves is buoyant worldwide and there is an upswing in projects gaining approval. This can cause constraints within the supply chain in order to cope with a surge of requirements, however Pacson Valves has built a strong supply base over the years which allows competitive lead times," enthuses Derek.
The company's order book reflects this optimism, as since March 2010 Pacson Valves has seen its forward orders starting to rebuild, signalling the end of the recession for the business. By October 20102 the order book was back to the same level as before the recession, and by July in the following year was significantly higher than October 2010 or pre-recession. Likewise, over the past 24 months Pacson Valves has increased staffing level by 18 per cent in key areas such as sales, quality, purchasing, production and engineering, aligned with increased investment in machinery. As such, Derek is confident about where the business will go to next: "So far in 2012 we expect to meet, and possibly exceed, our targets for the year. There have been significant project awards this year and more are expected to follow in the second quarter. With the ongoing growth in subsea oil production and demand, we see opportunities to further expand the business worldwide, and will continue to invest in people and equipment to meet that challenge."
Pacson Valves Limited
Products: High integrity valves
---