Petrotank
Issue 10 2011
---
Handled with care
Although reports about the steady decline of the world's fossil fuel reserves are rife, it is undeniable that petroleum remains one of the single most important sources of energy, as a raw material for many heating and engine fuels and many other applications.
In recognition of this, the various divisions of Pusback u. Morgenstern Petrotank have been active for over 30 years in the provision of products and services for all aspects of 'the earth's energy'. Equally, as the importance of alternative fuels from renewable sources has risen due to environmental and political pressures, so have the Group's activities in these areas.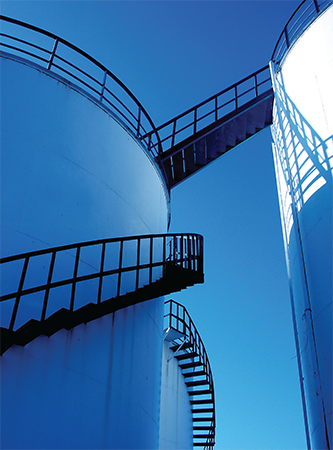 Petrotank's role within this corporate commitment is to provide a link in the production to consumption logistics chain, as an independent national storage company for petroleum products and other liquid trans-shipment across Germany. This includes tank capacity at the Blexen seaport, as well as 23 inland tank points. The exact specifications of services offered vary from facility to facility. Petrotank is able to handle the transhipment of goods including extra-light heating oil, diesel fuel, petrol, gasoil, and bio-diesel fuel between inland tanker vessels, ocean-going vessels, tanker wagons and tanker lorries.
In 2007, Petrotank acquired further storage tank plants in Hannover, Dortmund, Cologne, and Marktredwitz, from Shell Deutschland Oil GmbH. At the same time, the company also bought Shell's share in its MVRhäsa joint venture. This expanded Petrotank's capacities to the 23 locations it continues to operate today, at a total combined volume of approximately one million cubic metres.
At Hannover, Petrotank operates both a north and south tank storage plant – each with shipping and rail connections and sidings for the storage of liquid transhipment goods in tanks for transfer to tanker lorries. In terms of the goods themselves, the two sites differ in their handling capabilities – Hannover North takes extra-light heating oil, bio-diesel fuel, flux oil, heavy oil, and rapeseed oil, whereas Hannover South is tailored to extra-light heating oil diesel fuel, and petrol. Essentially, within its asset portfolio Petrotank is able to handle almost any type of liquid fuel and therefore considers itself to be a natural partner for the operators in this sector.
In recent months, Petrotank has experienced a considerable internal shift as the result of a new owner partnership between VTTI B.V. and ArcLight Capital Partners. This has seen VTTI purchase a 50 per cent interest in PetroLux, which is the indirect owner of a majority interest in Petrotank, from an affiliate of ArcLight. This ArcLight affiliate will remain the owner of the other 50 per cent stake in PetroLux. Therefore, Petrotank is now owned indirectly through various entities – 44.2 per cent by VTTI, 44.2 per cent by ArcLight, ten per cent by Kuhne-Janssen and 1.6 per cent by aeos energy GmbH. As partners, VTTI and ArcLight will continue to support Petrotank in its activities as an independent terminal operator, and more importantly, will provide the company with the capital to pursue high quality growth opportunities within Germany and the rest of Europe.
Petrotank
Services: Tank storage facilities
---