Plexus Holdings Plc
Issue 10 2011
---
Seal of approval
Last year's blowout in the Gulf of Mexico served as a reminder of the inherent dangers involved in modern oil and gas exploration.
E&P is increasingly moving to remote areas, deeper waters, and to formations, where higher pressures and temperatures (HP/ HT) can mean that well control safety becomes even more essential.
While it is not yet possible to exactly determine why the BOP failed to close, the incident has clearly highlighted the issue of how casing hangers are installed in subsea wells.
Close analysis of drilling operations has uncovered the habit of installing subsea casing hangers in the well without being locked down in the wellhead body. Many experts have related the failure to lock down the Macondo well casing hangers to the extended period which was required to kill the well, and it is believed that in direct response to these concerns the US Department of the Interior decreed that in the future all subsea casing hangars must be locked down into the wellhead system as soon as cementing operations are completed.
While these new requirements will represent a challenge for the wellhead companies, who over the past 40 years have failed to provide dependable hangar lock-down solutions, for one business – PLEXUS Holdings Plc – the new rules provided the opportunity to invest further in and develop its unique and groundbreaking POSGRIP® friction-grip wellhead technology.
Although initially applied in wellhead designs for jack-up exploration drilling projects POSGRIP technology holds a number of unique and technical advantages that set it apart from anything else on the market. These features are best illustrated in situations where surface wellheads require some adjustability for the casing hangars, and where metal-to-metal sealing for HP/HT conditions is essential.
In all its applications POS-GRIP technology features instant hangar lockdown and metal-to-metal sealing capability, which renders this patented technology ideal to meet the new standards now required for wellheads.
At the request of a number of international operators PLEXUS has begun to study the possibility of developing POS-GRIP solutions for subsea applications. As part of this process the company has conducted a range of in-depth investigations to ascertain the extent to which a joint industry project ('JIP') to apply friction-grip technology in subsea applications would be supported.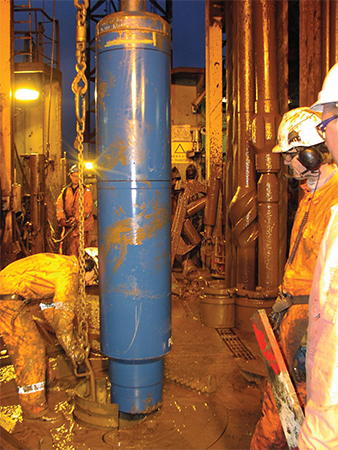 PLEXUS CEO Ben van Bilderbeek, an accomplished and successful engineer and entrepreneur who has over 30 years' experience in the industry, and the man responsible for inventing and developing POS-GRIP explains: "Because conventional lock down solutions were found to be insufficient, a major US independent operator (IOC) requested that we consider applying friction-grip subsea prompting our investigations.
"We used the various discussions with a range of international operators to learn whether there were additional areas of concern in respect of the capability of existing technology," he continues. "Our findings reveal that in addition to the requirement of instant hangar lock down, the ability of conventional technologies to maintain seal integrity throughout and beyond the life of the well is also in question."
As Mr. van Bilderbeek explains, operators were able to voice a number of concerns that helped PLEXUS understand better as to how its technology is ideally suited to address a range of key concerns and issues raised both by the industry itself, and regulators, particularly BOEMRE in the US: "We also found that operators wanted true metal-to-metal seal solutions that can be held rigid throughout the life of a well, particularly for subsea applications where remedial access is limited. Furthermore, we discovered that for some time there have been a range of issues based around sustained casing pressure ('SCP') problems and incidents in the subsea industry, with operators resorting to the use of rupture discs in intermediate casing strings in order to deflect potential SCP damage to the less critical part of the well architecture. In fact, the current remedies available to deal with SCP have actually turned out to be inadequate and can contribute to the aggravation of blow-out incidents."
In keeping with its pioneering approach, PLEXUS believes that the time has come to initiate a JIP to develop subsea friction-grip technology, which is capable of meeting the emerging requirements for subsea wellhead systems as demanded by international regulators.
As Mr van Bilderbeek elaborates: "Supported by a number of major IOCs participating as consulting partners, the JIP team will work to develop a new class of subsea wellhead system, which will also include the ability to monitor, bleed and access annular spaces in the well, without the need for penetrations through the wellhead body, which is currently a requirement under API rules.
"We will tailor our technology to be uniquely capable of dealing with hot and high pressure wells by including the ability to tension casing strings remotely."
During the 18 to 24 month project and development programme two prototype systems will be developed, for which PLEXUS is investing some £2 million and looking to employ additional staff to form a core, experienced and highly skilled execution team. "We are developing the prototypes" says Mr. van Bilderbeek, "which at some stage will be used on a test well that we anticipate will be drilled by one of the participating IOCs."
The JIP, also has its own dedicated online discussion forum (HGSS Forum) so that industry insiders and interested parties can track project objectives and progress, which will help initiate a number of developments at PLEXUS. The business, which has its main facility in Aberdeen employing over 100 personnel, also has offices in London and Kuala Lumpur, has leased additional office space in Aberdeen's West End to form a central meeting space and development hub for staff to meet with consulting partners for the duration of the HGSS project. "After the successful completion of the project, and subject to customer interest, we also hope that members of the JIP team will form the core of Plexus' newly formed Subsea Division, which will eventually be headquartered in Aberdeen," Mr. van Bilderbeek explains.
While the JIP will undoubtedly provide a number of challenges and issues that need to be solved, Mr. van Bilderbeek is confident that POS-GRIP subsea wellheads will represent an enormous leap forward for the industry: "The PLEXUS board is aware that some of the project objectives are formidable, and that it will require a sustained effort to meet all the goals we are setting ourselves. As CEO of PLEXUS I am confident that our patented friction-grip technology can be delivered subsea, and that with the introduction of our unique HGSS subsea wellhead system, the JIP team will move on to develop subsea production trees based on the enabling features of POS-GRIP technology.
"Our extensive experience with HP/HT drilling operations around the world, for which PLEXUS has developed a reputation for delivering unique yet deployable solutions, gives us confidence that friction-grip technology will ultimately prove to be a safer and expedient subsea wellhead option in the years to come," he concludes.
Plexus Holdings Plc
For further information about PLEXUS and POS-GRIP please visit: www.posgrip.com
---