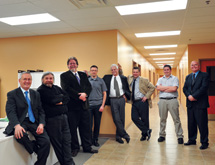 Precismeca Limited
Issue Fall 13
---
Visitors to Precismeca Ltd.'s 55,000-square-foot manufacturing facility in Wallaceburg, Ontario, are often impressed with the quality of the equipment there and the overall cleanliness of the site. "We have the latest equipment that is designed specifically for our customer's needs," President and CEO Joe Hartney says. "Our industry has become extremely competitive, and without the best equipment, the best materials and the best people, we'd be lost."
Precismeca's manufacturing staff uses automated equipment to produce high-quality conveyor idlers, pulleys and other conveyor products for customers in the mining industry. Much of the company's experience is in oilsands, potash, iron ore, aluminum, copper, coal, gold and nickel; all markets that require only the strongest and most reliable conveyor equipment available.
"The quality of our products gives us the honest advantage – we are the Cadillac of the idler business, and no one makes conveyor product as strong (or large) as we do," Hartney adds. "With the knowledge we have we can downscale to handle lighter duty applications. Our competitors who serve this lighter duty end of the business can not necessarily serve the medium and heavy duty markets."
The company's equipment is designed and developed by its own engineers in conjunction with the University of Windsor. The manufacturing facility is ISO 9001:2008 and Canadian Welding Bureau certified, and Precismeca is a member of the Conveyor Equipment Manufacturers Association.
Products and Solutions
The manufacturing facility plays a large role in helping Precismeca meet its goal of providing "engineered solutions, manufactured excellence and demonstrated performance," which is also the company's motto. Precismeca serves customers in Canada, the United States and Chile, Sales Manager Todd Mason says.
Precismeca's newest products include an anti-runback system for conveyor rolls, which prevents conveyor belts from rolling back in the event that a belt breaks. This minimizes equipment downtime, spillage and damage, while greatly decreasing the chances of injury or death, Mason adds.
The company also recently introduced a differential speed belt cleaner designed to work in the harshest operating conditions, where countless others have attempted to clean these belts and failed. These and many other Precismeca offerings were on display during the World Mining Congress 2013 in August, and will also be featured at the Conexpo Con/Agg in Las Vegas in March 2014.
In addition to manufacturing products, Precismeca offers training and support services to its customers. "We don't just sell you a product; we want to know all the particulars of the operation, from location and run-times to maintenance habits and operational expectations," Hartney says. "We want to know the real-life operating conditions and give them the products and services that best meet those conditions."
Strong Backing
Although the majority of Precismeca's customers are located in Canada, the United States and Chile, the company has the ability to reach a global customer base by drawing on the resources of the entire Rulmeca Group Precismeca Limited has been owned since 2000 by the Rulmeca Group, an Italy-based manufacturer and supplier of rollers, motorized pulleys and other bulk material-handling equipment, with a global reach of 10 manufacturing companies.
Precismeca in January 2014 will change its name to Rulmeca Canada Limited to achieve greater synergy with its Rulmeca Family around the world; the Precismeca name will remain as a top quality brand name, Mason says.
One thing that won't change about the company is the dedication of its employees. "We have a great staff here," Hartney says, noting the company has a low turnover rate. "Our people work long and hard and are extremely knowledgeable of the industry."
---