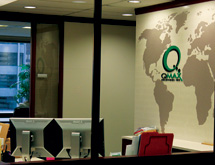 Q'Max Solutions Inc.
Issue Fall 13
---
Q'Max Solutions takes it name from an engineering term for the maximum flow from a wellbore, and since its inception the company has striven to give the maximum effort to its customers in the oil and gas sector. Since 1993, Q'Max has provided oilfield services in nine countries, including Mexico, Colombia and Ecuador, through nine self-sufficient business units. Even though the company faces some stiff competition from some of the biggest names in the industry, President and CEO Chris Rivers says Q'Max succeeds because it has the skills and capabilities to maximize value for its customers.
The company was founded to provide drilling fluids and technical services to oil and gas producers in western Canada. The company says it immediately set itself apart from the competition through its "growth partnering" approach. Under this approach, Q'Max works with customers as a partner, rather than the sometimes-adversarial customer-vendor relationship of other business models.
Thanks in large part to that approach, Q'Max has grown steadily over the intervening years, with more than 1,400 employees spread around the world. Rivers says the company plans to continue that growth well into the future, and has every confidence that as long as the company adheres to its values, it can accomplish that goal.
Full Service
Rivers says one of the most important components to Q'Max's success has been its people and the level of service they provide to customers. "I think our competitive advantage is our people in their ability to solve the customers various problems that occur in drilling oil and gas wells.
Technical Manager Len Baltoiu says the reason Q'Max's employees work so closely with customers is because of the company's understanding of the value drivers of customers' operations. This understanding makes it easy for Q'Max employees to see exactly what its customers need and deliver it. "Our goal is to provide this value to the customers, exceeding their expectations," Baltoiu says.
Beyond fluid systems and products, Q'Max provides added value for its customers through its technical training seminars and studies. The company also provides two-to-five-day drilling fluid schools that instruct customers' staff members and engineers about issues such as wellbore stability, borehole cleaning and mud-related drilling problems. For its Canadian clients, Q'Max also offers comprehensive fluid testing and research services from its fully staffed laboratory at its Calgary headquarters.
Staying on Top
Rivers says it's hard work staying on top of the oilfield services industry, and Q'Max has to remain vigilant in light of rising costs and constant changes in the marketplace. For example, he says, finding people with the right skills and knowledge to maintain the high level of service Q'Max is known for can be a significant hurdle to overcome.
"I think the challenge for a service company is always to find the right people and match them with the right opportunities around the world," according to Rivers.
Q'Max also works hard to keep its technological edge, which can be difficult at times because of the way the industry can undergo monumental shifts. Rivers says oil and gas shale drilling has had a tremendous impact on where drilling operations are established and the level of services they require. "We need to constantly evolve with those challenges," he says.
Shale drilling has changed the way Q'Max does business because it is fundamentally different from other forms of drilling and requires a different set of standards. "The shale drilling revolution is less about exploration and production because you know where the asset is," Rivers says. "It's more about drilling the well as efficiently as possible at the lowest possible cost."
The services Q'Max provides to customers involved in shale drilling are more about logistics and managing assets because operations don't move around as much.
"It's more of a continual process, so you're managing people and equipment going to the rig," Rivers says, adding that Q'Max has the skills and abilities to help its customers manage their shale operations more effectively.
For example, Baltoiu says, Q'Max's unique technology has made a substantial impact for shale customers in the use of water, which has become a highly valued commodity in shale drilling operations. The company's mud stripper technology can be used with almost no environmental footprint when drilling wells, he adds, and the company has developed technology for use in Canada's tar sands areas to take greater advantage of the opportunities available in those regions.
Growth Ahead
For the foreseeable future, Rivers says, Q'Max is focused on building revenue through providing additional services beyond those typically associated with drilling fluids. He says the company has started to expand its offerings in its Colombia and Ecuadorian operations, and has plans to do the same in other markets in the near future.
By developing its international operations, Rivers says Q'Max will have a strong platform from which to strengthen its position in the marketplace. The company has high hopes for its future, and Rivers says he believes it has good reason to do so.
"[International markets are] where our growth is going to come from," Rivers says.
---