Red7Marine Limited
Issue 07 2011
---
Well engineered
Born out of the merger of diving company Anglian Marine Services, and marine construction management company Haven Ports, Red7Marine Limited has been establishing its own market presence since 2008.
During this time, the business has quickly become recognised as a leading provider of offshore, maritime, and inland subsea engineering and marine construction services. Whilst Red7Marine may be relatively young as an entity, both founding companies have been operating in their own right for over ten years, giving the business a long industry heritage.
Today, Red7Marine retains a wide and varied client base within the offshore oil and gas, marine renewables, framework, public, and private sectors. These activities are supported by a number of strategic bases within the UK – Great Yarmouth, Ipswich, London, and Exeter, as well as Red7Marine's head office in Wrabness, Essex.
Although its service offering has understandably developed following the merger, Red7Marine has retained its core businesses of inshore and coastal commercial diving, and marine construction activities within coastal and fluvial environments. The company has continued to expand all existing areas to achieve a strong foothold in the civil diving industry. This, along with the accelerated growth of the company's offshore diving and ROV activities has helped position Red7Marine as the largest UK based combined inshore and offshore diving company in the industry.
The merger has also served to strengthen Red7Marine's marine plant hire division, where it is the UK's leading provider of classed self-elevating platforms and coastal flat top barges. Having made considerable investment in this area through acquisition of former companies operating in the UK, Red7Marine boasts a portfolio of five jack-ups, ten flat top barges, ten tugs, and a comprehensive fleet of interconnecting road transportable pontoons, dredges and floats.
In order to support its progression into the offshore sector, Red7Marine has recently acquired its first offshore support vessel – DP Reel, bringing with it a host of new capabilities, which Mike Jones, director of subsea diving at Red7Marine, is keen to elaborate on: "As a fully-mobilised DP2 class vessel, the DP Reel gives us the flexibility to offer our existing and expanding customer base a competitively priced diving and ROV capability. This brings another area of control into our service offering, as opposed to being more vulnerable to the prices of vessels in the spot market. By positioning ourselves to provide a complete service from the vessel we are able to undertake emergency works as required, alongside offering our offshore and subsea services to the planned inspection, repair, and maintenance (IRM) market."
Measuring 91 metres by 18 metres, the DP Reel is fitted with a comprehensive offshore diving system and survey suite, in line with International Marine Contractors Association standards, as well as a hydramarine heave compensated subsea crane, and work class ROV skid. The DP Reel can operate in water depths as shallow as six metres, and with the option of a four-point mooring system can support diving activites in near shore locations, which makes it ideal for the cable-laying market. The vessel is also well suited to diving operations in water depths of ten metres and above, and with its powerful propulsion systems is capable of handling aggressive and unpredictable tidal flows around the UK territorial waters.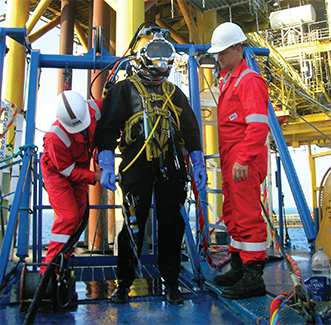 This is part of the company's overall strategy to offer a one-stop-shop, in-house service. As a company, Red7Marine subcontracts very few of its activities, preferring the level of control and service achieved through providing a complete work scope of engineering and design, vessel management and supply, delivery, commissioning, and specialist capabilities from an in-house source. "Decommissioning is another sector where we've seen a lot of interest in the services that we can provide. We have particular skills in subsea dredging, explosives, and downhole ultra high-pressure cutting techniques, having gained experience not only from our construction activities, but the wider expertise of our offshore personnel," comments Mike.
In this respect, Red7Marine is effectively able to offer a lifecycle service through its involvement in all stages of offshore engineering and marine construction projects. The business has maintained an appetite for growth and investment into new equipment and fulfilling high industry standards, as demonstrated by its recent achievement of the ISO 9001 standard, and IMCA Diving Services membership. Driving much of this activity has been the company's long-term ambition to operate in the offshore oil and gas sector. However, by targeting this market Red7Marine has also found itself well placed to work within the expanding offshore renewable market, which in many cases now dictates that companies meet these same standards.
"The main contract of note within this sector is the Greater Gabbard Offshore Wind Farm project, where we have been working with Fluor," notes Mike. "We have now been on site for just over two years, working on a 24/7 basis, and as a result have clocked up in excess of 2500 dives. Due in part to this contract, we have now developed a multi-disciplinary workforce, which means that personnel are able to undertake diving activities, as well as working at height and access requirements, where we are assisting with topside installations and commissioning works."
As the second largest UK jack-up operator, Red7Marine prides itself on the maintenance and management of these assets. In this respect, the company is currently implementing a replacement programme for its entire inshore and coastal tug fleet. However, having been unable to find a vessel with ideal specifications in the market, Red7Marine has chosen to add another dimension to the business by building its own tugs.
This work is being undertaken by Taska Marine – a joint venture between Red7Marine, and Challis and Sons. Mike comments on this strategy: "Many of our investments revolve around self sufficiency, and if there is a gap in our services we prefer to buy or build our own equipment rather than subcontract, in order to maintain overall control within our own management systems. Our first tug, built through Taska Marine, was launched earlier this year at the Seawork exhibition where it received a huge amount of interest from other operators. Based on this success, going forward we intend to continue to replace our own fleet, whilst also building new tugs for external clients."
Certainly, it seems that Red7Marine's inherent experience and knowledge of the demands of its targeted markets has enabled the business to adapt and expand its services accordingly. The company still sees potential to progress further though, as demonstrated by its recent addition of cable repair capabilities to its already comprehensive portfolio. As a result, Red7Marine anticipates that it will soon be undertaking its first project in this area with the installation, burial and tracking of inter-array cables for the renewable energy market. This forms just one part of the company's overall strategy to gain a greater market share in the specialist subsea service and tooling sector.
Red7Marine Limited
Services: Subsea engineering and marine construction
---