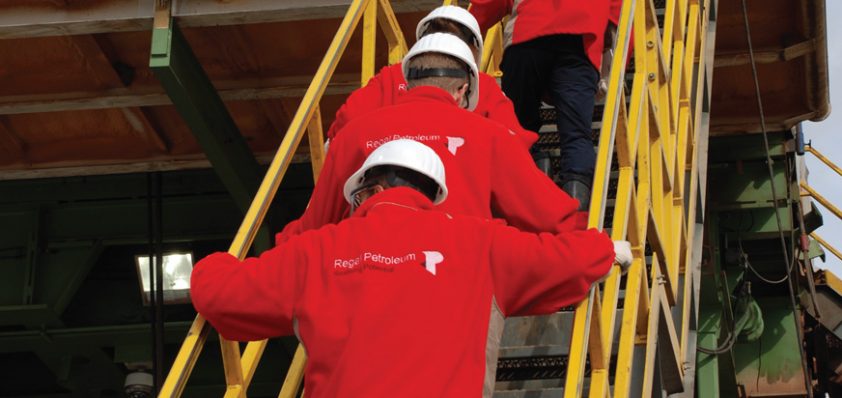 Regal Petroleum
Issue 01 2010
---
Regal effort
Over the past year, Regal Petroleum has been taking great strides in its bid to become the most highly valued and respected, mid-tier oil and gas exploration and production company in the London market.
Thanks to a new board and management team, the independent specialist in drilling and production has strengthened the company's asset and resource base. In fact, the changes have proved so successful that to say Regal Petroleum's revenue has increased significantly doesn't quite convey the magnitude of improvement seen in its figures.
Chief executive officer, David Greer, spoke to European Oil & Gas Magazine to explain how Regal Petroleum aims to become a powerhouse that delivers best in class results and maximum shareholder value and returns. "As a result of our new board and management team coming on board in November 2007, we've spent the last two years effecting phase one of our transformation plan, which is now largely complete," he begins.
"The elements of the plan comprised rebuilding the reputation and good governance of this company because a couple of unfortunate historical events resulted in a loss of shareholder confidence. We set out to address the governance of the company, our expertise and external advisory expertise, financing, core assets, regulatory issues and technology. Those have been dealt with and there's nobody on our new board who isn't a recognised industry performer in their own right – and with that comes the good governance you'd expect to see in any mid-tier oil and gas production company."
Besides re-staffing Regal's teams in London and Ukraine, the company has concertedly chased additional financing. Indeed, its recent efforts have paid dividends, as David reveals: "In terms of financing, when I joined the company we had $6 million in the bank and $9 million of debt. Now, two years later, we have raised $310 million on international markets, which has provided a financial platform for our work. In respect of our core assets, we let go of Greece and Liberia, deciding instead to focus on Ukraine, Romania, and Egypt – with Ukraine being our main focus as it's the jewel in the crown. Romania offers shallow gas exploration and we have a joint venture in Egypt with Apache from the US."
In terms of Regal's assets and activities, the company owns two adjacent blocks in Romania; one that Regal wholly owns and one that it shares on a 50-50 basis with its partner, Aurelian. "In late 2007 we discovered shallow gas in our blocks at only 800 metres depth, so the wells are relatively low cost," David notes. "However the gas accumulations are quite small pockets in a large area, so the challenge is to find a combination of small pockets that can
be daisy chained together to provide a commercial development."
The credit crunch meant Regal had to concentrate resources on parts of the business that offer greater potential, so it decided to slow the pace down in Romania whilst concentrating on Ukraine, which has greater transformation opportunities based on what the business has discovered. David elaborates: "We're looking at small accumulations as a possibility for a gas-to-wire development, wherein gas accumulations could be used to generate electricity. We would sell this electricity straight into the grid."
Discussing its activities in Egypt, David continues: "We have a 25 per cent stake with Apache, which is the third largest oil producer in Egypt, and in the Gulf of Suez there was a discovery at just over 5000 feet. It flowed at 1900 barrels at day from the reservoir – however, it is a tough reservoir that requires further appraisal work to prove the value of the area. With Apache, we're looking at drilling a further well in our bid to fully appraise Egypt."
As previously outlined, Regal's chief interest is Ukraine – a country that has endured a tough time historically. Historically, there has been a huge increase in the dependency of Ukraine on Russia and other CIS states for hydrocarbons; 80 per cent of the gas consumed in Ukraine comes from Russia or other CIS countries. Speaking about the region and the way it affects Regal, David observes: "There's a growing number of majors and small independents going to Ukraine to try to enhance the domestic production of the country, which will help it shed some of its gas dependency on Russia. And that's what we're trying to do – we want to contribute towards maximising domestic production for the benefit of Ukraine's growth."
Continuing, David adds: "Russia recently started to remove the discount on the gas prices in the country and force Ukraine to pay annual increases. In other words, the revenue base has continued to increase due to a removal of the discount that the country formerly enjoyed as a sister country to the Soviet Union. It helps us enormously in the economics of what we're doing, but it remains to be a hot political item.
"An election started in Ukraine on 17th January as a two-stage process, with the second round coming on the 7th February. Will Ukraine continue on its path towards Europeanisation or will it look more towards Moscow, as it did in the past? Either way, our business will remain relatively unaffected, so for that reason we will continue in our mission to maximise gas production for the benefit of Ukraine's domestic industry."
Now that the first phase of its transformation has been completed, Regal Petroleum's board and management team is keen to set about making further improvements. Stage two will look to take the company further forward and deliver results, which is where technology comes into the equation. "The technology has two channels," David comments. "There's a sub-surface element, which is the 3D seismic programmes that we've concluded in the field. They have resulted in an in house estimate of 860 million barrels oil equivalent of in-place resources.
"To realise that, we need surface technology and state-of-the-art drilling rigs, which is where Saipem comes in, as we contracted Saipem to import two 2000 horsepower top drive drilling rigs. These rigs are currently drilling in the field and breaking all Ukrainian records; whereas the Ukrainian rig fleet typically takes 12 to 18 months to reach 5500 thousand metres, our rigs have already completed two wells in excess of 6000 metres in just six months. It's a breakthrough performance, attributable not only to the rigs but to the crew's increasing familiarity with the technology, The support from our valued contractors and our improved understanding of the correct drillbit and drilling motor combinations in order to cut through the rock down there have also been vital. As a result of this activity, our production has increased from a low of 400 barrels oil equivalent per day to the current level of approximately 2100 barrels oil equivalent per day each day."
In terms of where Regal will go from here, there's work to be undertaken on Regal's two completed deep wells, as well as the completion of two further deep wells in the near future. The company will continue to drill at very deep depths and test the viability of continuing with past practice as opposed to applying normal technology.
"We are developing a technique called abrasive jetting to improve our connectivity with the reservoir at depth," David says. "This has allowed us to increase production dramatically and it's the thrust of what we're trying to achieve – we want to move into a new world of perforation using this technique. Abrasive jetting is a rather old technology but we're using it in a new way, so we're making the most of its history by revamping it to suit our current needs. As a company, we're very much focused on the deployment of technology to realise potential."
Potential appears to be a quality Regal has in heaps, as the group has the largest booked reserves of any AIM company on the alternative investment market (AIM). "I think we're the most undervalued stock on that market in terms of enterprise value relative to reserves," David asserts. "We have a strong board and leadership team. There are over 100 stocks on AIM and many of those are solely focused on high-risk exploration. We, on the other hand, are a production and development company– our business is all about extracting the gas we know is in the ground. It's now time to move on from AIM to the bigger aquarium on the stock market."
With thoughts turning to how to achieve the huge success Regal is on course to grasp, David reveals that the organisation has four short-term catalysts, with the first being production. "We have broken the 2000 barrels a day threshold and we have two wells that are now going to be worked further," he says. "We have two other wells nearing completion. The combination of those wells and the enhanced perforation programme will ramp up our production this year. We'll also drill another two wells after we complete these two wells in Q1 2010."
The second catalyst is resources and Regal has hired an independent contractor to verify its own reserves, so that a resource report can be produced at the end of the first quarter. This will serve Regal in its intended move up to the main market. The third catalyst is the establishment and confirmation of this year's gas price, which is imminent. The final catalyst is the aforementioned election.
Drawn on Regal's upcoming developments, David says: "Our future is to ramp up production in the field. Thereafter, we're looking to move to the main market, when we'll be looking to further grow, both within Ukraine and more generally. We have a very strong team and the capacity to seize opportunities. As part of that move, I'd like to broaden our portfolio by complementing that central focus on Ukraine with other growth opportunities, in Eastern European and elsewhere."
Unsurprisingly, David is feeling extremely optimistic about Regal's position in the coming years, in no small part thanks to the burgeoning upturn in the world's markets. "Last year we were experiencing a very different January – the banking world was about to collapse, there was no debt available and our stock had fallen from a high of £3 to 30p. Since then, there's been economic easement and more liquidity, so we're confident that in 2010 we'll be able to secure an element of debt to complement the equity we have in the company in order to realise our full potential."
Regal Petroleum
Services: Drilling, well services, production and maintenance
---