RESON AS
Issue 06 2012
---
The reason for success
A name synonymous with sonar equipment, transducers and hydrophones, RESON's reputation in its field of expertise has come as a result of close to four decades of experience.
In the time since its formation in 1976 the company's SeaBat sonar system has become an industrial standard, while almost all of its 1600 multi-beam echo sounders sold globally continue to
operate perfectly after 20 years of service.
The first choice for leaders of expeditions and hydrographic surveys the world over, RESON is a company that is always striving to grow and expand into new markets: "Headquartered in Copenhagen, Denmark, the company also has offices in Santa Barbara in the US, Aberdeen, Rotterdam and Singapore," states Kim Lehmann, chief executive officer of RESON. "From these locations the company is able to serve the global oil and gas community. To this day, the majority of this business still comes from Europe, however the Americas and the Asian Pacific region continue to grow in value, becoming ever greater areas of activity."
Utilising the experience it has gained over the years. RESON is continuously maintaining and expanding its portfolio of multi-beam echosounders, adding further innovation and competitive features into the product range. The product range consist of a full portfolio of sonars ranging from compact ultra-high resolution portable systems for shallow water to portable medium ocean depth echosounders to large vessel mounted echosounders for oceanographic solutions. Within the oil and gas sector, in particular the SeaBat 7125 is a highly demanded and regarded system, and it comes in both a surface mounted version and a depth rated version for ROV, ROTV and AUV platforms to 6000 m. water depth. Recently, with the increased activities for exploring in deeper water areas, also the survey systems for ocean range find their way to the market, and in this segment RESON is very competitive with its full product range from one supplier and based on a common platform.
"So far in 2012, RESON has experienced significant sales to offshore rental companies, including the first purchase of its vessel specific SeaBat 7125 SV2 system," Kim continues. "In addition,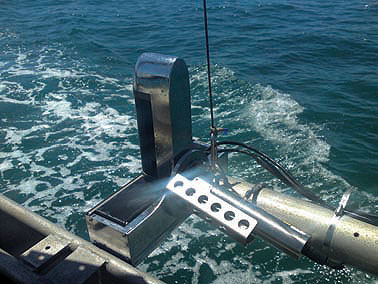 further purchases of the ROV mounted model continued, while the much anticipated release of FlexMode has helped put the SeaBat 7125 ROV2 firmly in the position of market leader.
"Since the release of the 7125 ROV2, RESON has sold nearly 30 systems to rental suppliers such as Ashtead Technology, DPS Offshore, GSE Rentals, Seatronics Group and Unique Systems in 2012 alone. Furthermore, with specific new market applications for offshore survey companies within the renewables sector increasing, a strong capability to either rent or purchase RESON technology exists."
For the oil and gas sector, a number of strong features are adding extra value to the RESON product capabilities, among these are the most popular feature FlexMode, which gives the user an extra high data density among a selected area below the Echosounder. FlexMode is especially suitable for pipe surveying, as it will give just sufficient data for the outer perimeter of the track, and extremely high-density data on the pipe itself in the middle of the track. For the post processing process, this is a huge advantage and typically gives significant efficiency gains and increase in reliability for the pipe detection.
"The year 2011 was a fantastic 12 months for RESON, with the company growing by 38 per cent compared to 2010," Kim enthuses. "This year the trend has continued with growth being recorded at a further 20 per cent compared to that achieved in the first six months of 2011. The vast majority of this growth comes from the oil and gas industry and the many different aspects of its value chain, from seismic surveying and exploration activities, oil well management to pipeline laying and inspection.
"At the same time that this growth has been achieved the company has spent the last two years focusing very much on improving quality throughout the business. Capitalising on every opportunity to better the performance and stability of its products, what RESON has done is solidify its position as the foremost provider of first-class solutions. For RESON's customers, having this level of quality is so important, especially given the fact that the sonar equipment they are using is just one element, albeit a crucial element, of what is a major operation."
Going forward the primary goal for RESON is now to achieve a growth rate of approximately 15 per cent year-on-year: "With its oil and gas work representing the second largest segment of its business it is of huge importance that the company remains a strong player in this sector, developing new application areas and products that continue to provide safety and efficiency of operations," Kim explains. "This will be achieved through the development of tools and solutions that will not only help reduce the amount of man hours spent conducting operations, but also ensure the continued prosperity of all parties involved in this side of the market."
RESON AS
Services: Sonar and navigation systems
---