RollDock & Roll-Lift
Issue 03 2012
---
Lightening the load
Now entering its sixth year of operations, RollDock's business model has always been based on flexibility, and therefore adaptability to client demands.
This has made the company an advanced player in the heavy lift shipping market with extensive knowledge and insight into the challenges of sea transportation of heavy and voluminous cargoes.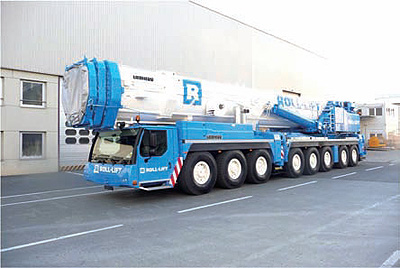 RollDock & Roll-Lift are based in the Netherlands, with main shareholder Frans van Seumeren, ex owner and CEO of Mammoet, holding the position of chairman of the Board.
Flexibility has been built into every aspect of the business – beginning with the RollDock fleet, which consists of identical, and therefore interchangeable, multi-functional heavy transport vessels. With a shallow draft of 5.6 metres, the vessel can even call into ports with limited water depths, and the height of cargo is virtually unlimited due to the open hold capability of the vessel.
Furthermore, each RollDock vessel offers a combination of three loading and unloading modes to accommodate a wide variety of client circumstances. Two heavy lift cranes of 350 tonnes lifting capacity each, or 700 when working in tandem, enables cargo to be lifted on and off the vessels, whilst the semi-submersible nature of the ships means goods can be floated in and out of the hold. Finally, RollDock can Liftdeliver the more traditional roll-on/roll-off cargo by means of a ro-ro ramp, which is adjustable to cope with the various different quay heights.
At present the company's fleet consists of two operational vessels – the RollDock Sun and RollDock Sea – but, as managing director Wout van der Zwan elaborates, further vessels are on order: "Initially we had placed an order for six vessels with a shipyard in India, the first two of which we are currently sailing, however the remaining delivery schedule has been subject to numerous delays. As such we don't expect to see the third vessel, RollDock Sky, in service until the end of 2012. In the light of these circumstances we are in negotiations with a number of other yards to transfer the remaining vessels awaiting construction, which we hope would see a further two vessels delivered by end of 2013."
Whilst RollDock's core client base, which consists of a wide range of international industries such as oil and gas, offshore, power, engineering and dredging, has remained consistent there is no denying that the market itself continues fluctuate. "The market was very weak throughout 2011, but we expect this to slowly pick up during the course of 2012, particularly with the Gorgon Project coming on stream, which will absorb quite a lot of tonnage. We also see some other projects following starting at the end of this year and 2013, so the market looks to be potentially better going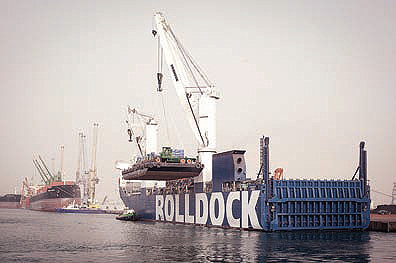 forward," describes Wout.
Regardless of the general tone of the market, the last few months have been a hive of activity for the business following the launch of its sister company Roll-Lift in the autumn of 2011. Shedding further light on the new venture, Wout reveals that such a development has been brewing for some time: "As RollDock we are a transport engineering company, and as such in the back of our mind we have always had the notion to extend this beyond only sea transportation into more of a door-to-door service. However, with the Seumeren family still involved with Mamoet this posed a moral obstacle to this step into land transportation.
"Last summer though the family stepped out of Mammoet, and at the same time the directors of Mammoet in Brazil and Russia came to us having felt uncomfortable with this change. This enabled us to set up the first branches of Roll-Lift in Russia and South America and to fulfil our ambition to offer more expansive heavy transportation services. Having established partners within those markets has also been a key factor in the fast growth of the business, which today operates a fleet of around 40 cranes and 60 axle lines of hydraulic drivers," he explains.
This number includes a mixture of crawler and telescopic cranes in the range from 80 tonne to 1350 tonne lifting capacity. This higher end of the spectrum is represented by the Liebherr LR 11350 crawler crane, which includes a new lattice boom making it possible to lift the 1350 tonne capacity to higher heights with more outreach. This crane is expected to join the Russian fleet. Along with the axles lines the cranes are deployed across these geographical locations, with Roll-Lift already hard at work on projects in Uruguay and Brazil.
The inception of Roll-Lift looks to be a very positive step for RollDock in terms of bringing greater scope to the business, but as with its other activities flexibility remains at the heart of this concept. "We are a service provider," notes Wout. "Therefore if the client requires we can engineer a door-to-door heavy lift transport solution, but equally this does not necessarily have to be with our own equipment. If a customer comes to RollDock we can also offer land services, and vice versa with Roll-Lift, with our equipment or using that of another company because we have the knowledge and expertise in house to operate this. We appreciate that it is through having the right skills and people that we have been able to succeed as these are the real strength of the company."
With Roll-Lift very much still in its start-up phase, and given the large investment RollDock has placed into the business, in the short term the company sees this as an opportunity to consolidate its offering in order to continue to progress in a sustainable manner. In a market defined by well established equipment and modes of transport, there seems to be a trend towards enlargement of scale and the desire to transport ever-greater volumes, a challenge that RollDock and Roll-Lift, two names but one company, have the strength to rise to.
RollDock & Roll-Lift
Services: Heavy lift shipping and transportation
---