Salt Separation Services Ltd
---
Stream of innovation
Independent water treatment company, Salt Separation Services Ltd specialises in the design, manufacture, installation and commissioning of water treatment systems.
Working predominantly in the offshore oil and gas industry, the company also serves the marine – both naval and commercial – and industrial markets, concentrating on membrane separation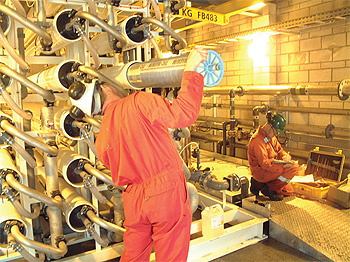 processes, in particular reverse osmosis (RO) and nanofiltration, to desalinate water for drinking, process and industrial purposes.
As a leading water treatment specialist, Salt Separation Services' experience covers a wide range of plant types, from low-pressure RO for the treatment of tap water up to highpressure seawater RO desalination for fresh water production onshore, as well as onboard ships and offshore platforms. The business can manufacture plants of all sizes, from a 1m3 per day desalination plant through to custom-built packages, which can process up to 2000m3 per day and can be installed on-site. Plants can also be designed and constructed inside standard ISO containers or even trailer mounted, which allows for quick hook-up and commissioning.
This year the company celebrates its 20th year in operation. Looking back to the early days of the business, Daniel Shackleton, director of Salt Separation Services, describes its development over the past two decades: "We've grown considerably since our establishment in 1990 from a spares and service orientated business to a full-scale plant manufacturing company, though we still offer our original spares and service support. Over the years we have been fortunate enough to see great success in our main business areas and we have gained a strong reputation for producing high quality and reliable equipment."
Salt Separation Services' design capability plays a crucial role in the success of every project it undertakes. Using an in-house process, the company combines process, mechanical and electrical engineering expertise to design all types of plant, such as complex bespoke water treatment packages that suit a specific space envelope, as well as stand alone units. In addition to this the company ensures it always uses the latest engineering software packages to aid the design process.
Daniel describes in more detail the service range offered by his company: "We design and manufacture new plants, refurbish existing plants and we offer servicing of our own plants and equipment as well as competitors' equipment. The plants themselves produce freshwater from seawater as well as producing process water from a variety of sources. The process involves degrees of pre-treatment, pre-filtration and chemical dosing, and the RO process itself requires fairly high pressures of between 60 and 80 bar to desalinate seawater, until it is nearly pure. Then the water is re-mineralised and chlorinated, both for palatability and to prevent contamination. This process is used primarily for drinking water, but also for other applications.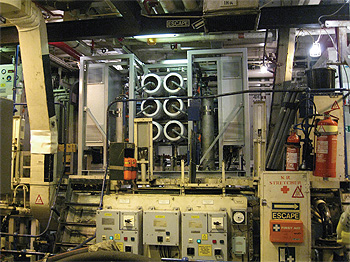 "Alongside this service, we also maintain very large sulphate rejection systems in the North Sea. These are similar to large RO plants, but instead of rejecting essentially everything, the membranes are ion selective and only reject sulphate, which is used for re injection into wells. We look after the largest sulphate plant in the North Sea belonging to Marathon Oil. It was the first sulphate rejection plant to be built anywhere in the world, so we are proud to be in charge of its upkeep."
Providing a range of plants for hire, the company operates a number of contracts with large oil companies. Daniel describes this area of the business: "We have a range of hire plants, and one of these is currently on hire on a Taqa platform in the North Sea. The plant on Cormorant Alpha platform is on long-term hire and produces 60m3 per day. We've been offering this type of service for the past few years, and we really see hire plants as a growing market. As there are a lot of assets in the North Sea that are very old and a lot of the utility equipment needs upgrading or even replacing, there is a huge market for hiring out replacement equipment, either in the short or long term.
"Offering hire plants will continue to be a big part of the service we offer. I would also like to highlight that we can supply spares and service for other manufacturers' equipment as well. This is an important service, as there are a lot of original manufacturers in the North Sea that have fallen by the wayside over the years, and as a result end users can struggle to find the correct place to purchase spares or obtain service and technical support. We pride ourselves on being able to offer this support for other manufacturers' equipment."
Finally Daniel outlines the future plans for Salt Separation Services: "I like to think that in the future we will be a stronger company in the North Sea oil and gas business. I also hope that we will make an impact on the worldwide market. The main opportunities for us at the moment are in the North Sea, so we will continue to expand here, but there is potential in the worldwide markets too, and I'm making moves to try and grow that potential."
Salt Separation Services Ltd
Services: Water treatment systems
---