Sanco Shipping AS
Issue 102
---
Deeply knowledgeable
Founded in 1996, Sanco Shipping AS purchased its first vessel in the very same year, which was rebuilt to act as a modern support ship for the seismic industry.
From such a beginning, Sanco Shipping AS is now primarily engaged in the worldwide operation of purpose-built seismic ships from its head office in Norway.
Speaking previously to European Oil and Gas, CEO Ivar Slettevoll confirms the company's approach: "Our key market is the seismic marine industry. We have seismic support vessels and seismic vessels for both towed streamer and bottom cables. Our fleet of seven vessels are currently working in the Far East, Brazil, Africa, Canada, and the North Sea. All of them are on fixed contracts with different leading seismic companies around the world such as Dolphin Geophysical, PGS, CGGVERITAS, and GEO/RXT."
It is Sanco Shipping's aspiration that it be known for quality and soundness, create value for its customers, and have a reputation as a business partner that can be trusted and relied upon. Connected to this the company ensures that it has a well qualified staff base that can meet stringent requirements, and to be a competitive force amongst ship owners serving the same market area.
Operationally, Sanco Shipping takes care of ship management, including day-to-day operations as well as fleet renewals, financing and management of long-term time-charter contracts in accordance with the board of directors of the different shipowning companies. "Overall the satisfaction of our customers is the basis for our business philosophy," outlined Ivar.
"We will always be attentive to the challenges of our clients, and strive to find optimal solutions to their needs. We aim to be identified as a professional and sound business partner, and will actively seek to establish strategic and commercial alliances. Expansion of the company will be from continued strength in what we do, and by taking one step at a time. Our goal is to remain financially strong with a sound liquidity, basing our investments on long-term returns. By following our philosophy and reaching our objectives, we aim to be one of the leading shipping companies within our niche."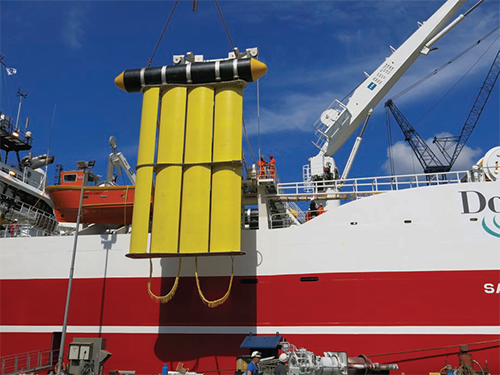 Earlier this year Sanco Shipping saw its new build vessel, the Sanco Swift, delivered from Kleven Maritime. This purchase saw a close co-operation between local companies on the north-west coast of Norway with Kongsberg Evotec contributing the back-deck handling system for the vessel, which will be operated by Dolphin Geophysical. Quality and on-time delivery are key concerns for Sanco Shipping so the company was thrilled to find this being provided in its local area.
The Sanco Swift was officially christened in July, before immediately commencing operations. This purpose-built high-end 3D seismic vessel further boosts Dolphin Geophysical's fleet capabilities, equipped as it is with the ability to tow up to 16 seismic streamers. Each of these streamer cables could be up to 12,000 metres in length, and feature state-of-the-art technology in terms of system design and control.
Since this time Sanco Shipping has exercised the option for a second sister vessel, which will be known as the Sanco Sword. Also built and delivered from Kleven Maritime's Myklebust Verft shipyard, the vessel will help answer the continuous need for new tonnage that Sanco Shipping sees within the seismic market, particularly in tropic and colder waters. At a length of 96.15 metres, breadth of 21.5 metres and capacity of 2700 dwt, Sanco Sword will be able to accommodate up to 60 people on its deliver in first quarter 2014.
Ahead of this date though, the vessel has already been committed to Dolphin Geophysical on an initial charter of five years, with options to extend for an additional three two-year periods. This also serves to strengthen Sanco Shipping's relationship with the Dolphin Group. The Sanco Sword is characterised by a high transit speed, and industry leading bollard pull, which will enable it to undertake both large and wide tow configurations. The design also takes into account new regulations with the newest engine technology being incorporated to offer greater fuel efficiency and reduced emissions.
Alongside the vessels within the fleet, it is Sanco Shipping's employees that the company considers to be its most valuable resource. All major personnel have been working in the seismic industry for many years, some starting as far back as 1981. As such, the level of expertise and professionalism displayed by the staff is second to none. Sanco Shipping's employees also have a part to play in the company's Safety Management System (SMS), which is a continuous improvement process. To this end, each member of staff is actively encouraged to participate in the process.
In contrast to the shipping industry in general, which continues to see some difficult trading conditions, the seismic market seems to be growing in strength. This may be due to increasingly challenging nature of offshore developments, which means accurate data such as 3D seismic is more valuable than ever in the planning and execution of these.
Sanco Shipping believes that in general the offshore market always offers new possibilities. As such, although seismic will remain a focus over the coming years with the company continuing to invest in the sector, it is likely that Sanco Shipping may also look into other segments for the future. Regardless of where it is working though, the company will retain its commitment to professionalism, quality, and co-operation with customers.
Sanco Shipping AS
Services: Seismic vessel operator
---