Scana Offshore Vestby
Issue 01 2011
---
Concept design
Norway-based Scana Offshore Vestby traces its roots back to 1953 when it operated under the name Brødrene Johnsen AS, before being purchased by Scana Industries ASA in 2006.
A supplier of advanced products and systems to customers in the offshore market, for over 20 years the company has designed and built oil and gas related equipment for subsea, topside, drilling and production operations. Based on its significant skills within design, engineering, manufacturer and materials, the company has developed and delivered systems and components, and carried out maintenance and upgrade projects. With customers that include companies such as National Oilwell, Aker Solutions, Sevan, Seadrill and FMC Kongsberg, Scana Offshore Vestby's attention is currently focused on the markets of Norway and Brazil.
Over the years Scana Offshore Vestby has designed, manufactured and supplied a variety of equipment including – linear anchor winches and other mooring systems for floating production and storage units, offloading systems such as hose reels and hawser winches, pig launchers, disconnectable riser buoys (DRB), riser tension systems, gas-tight swivels, arctic swivel, flow line connections, remotely operated vehicle (ROV) tools, and subsea skids. In terms of what defines Scana Offshore Vestby within the market, Per Kristian Gabler, sales and marketing manager, says: "Our engineering concept is to realise the customer's ideas through from detailed design to finished product. Having both engineering and fabrication capabilities under one-roof makes the process of start-up, follow-up, and any changes faster and more cost-effective. Many of our projects often start at the customer's initial concept, and perhaps only with a hand-drawn sketch. It is from this point that our ability to complete a functional product that sets us apart from many of our competitors."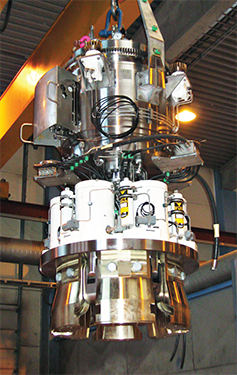 One of Scana Offshore Vestby's core competencies is in material technology, particularly thermal coating, where it is a world leading expert. "In the course of our investment in thermal coating, we have built up a genuine expertise in material technology, which we apply to products such as gates and seats, and riser tension rods," highlights Per. "Through an engineering theoretical and practical approach we can produce the coating with the desired properties in wear, corrosion, and friction helping to extend the lifetime of various components. Over the last two years we have invested around five MNOK (million Norwegian krone) in new thermal coating equipment enabling us to offer coating services on products up to 25 metres long. We have our own in-house metallurgists working in this area, as well as approximately 20 metallurgists at the Scana material technology centre in Jørpeland supporting our work with services such as corrosion testing."
Certainly the company sees this technology as increasingly important in line with the evolving demands of the oil and gas industry. "We are adapting rapidly along with the market and following the needs of our customers. If you consider the trend for deeper drilling and consequently the pressure being placed on products in deeper areas all over the world, material knowledge plays a vital role in the development of new products," elaborates Per. In these activities, as with all others, Scana Offshore Vestby is supported by its parent company, Scana Industries. "As part of the Scana Industries network, both we and our customers have the advantage of a single point of contact for the provision of the whole chain from raw materials supplies and design to fabrication and final assembly. Other Scana companies are represented in other areas around the globe, so we are able to draw upon their local knowledge and expertise if required," adds Per.
Given its reputation in concept design, when Scana Offshore Vestby was approached by a major North Sea rig operator regarding the issue of onboard tensioning systems, which are often complicated and time consuming to disassemble and demobilise, the company immediately began working on a solution. This has resulted in the developments of an offshore, or on-site, honing machine capable of honing cylinders from 200 mm to 600 mm internal diameter. The machine is constructed to be clamped on to the outside of the cylinder housing, and is easily adjustable to fit the different cylinders. By enabling the honing ukand repair of large cylinders to take place on-site, this machine greatly reduces the cost of this maintenance in terms of rig downtime.
This project is just one example of Scana Offshore Vestby's expertise in engineering custom solutions from idea to final delivery in a relatively short time frame. Although the market has faced difficulties following the economic downturn, this approach continues to stand the company in good stead for the future. "Whilst there is no doubt that there are still challenges within the industry, over the last few months we have received positive signals from the market. Particularly some of the larger projects released by Statoil last year are now starting to materialise and are moving from development into detailed design and fabrication in the first half of 2011. Alongside this we are looking to expand outside of our primary North Sea market, to become a major player in the Brazilian and Asian markets. Our overall ambition is to be amongst the preferred suppliers within detailed engineering and concept design, with a commitment to creating progress for our clients around the world," concludes Per.
Scana Offshore Vestby
Services: Design, engineer and manufacture offshore equipment
---