SeaBird Technologies
Issue 05 2011
---
Exploring the niche
As the research and manufacturing arm of SeaBird Exploration, SeaBird Technologies AS is key to delivering most of the Group's comprehensive range of multi-component seismic services.
Having been active in the market since 1996, SeaBird Exploration is a professional supplier of 2D, source, shallow water 2D/3D and ocean bottom 4C/4D services to oil companies and contractors worldwide. Additionally SeaBird Exploration provides feasibility studies, modelling, survey planning and acquisition, processing and interpretation of seismic data.
Known as the CASE system, SeaBird Technologies' 4C/4D seismic data acquisition system incorporates autonomous node technology. Each individual node contains a seismic sensor, which is planted into the seabed in order to acquire and record 4C, or four-component, seismic data. "Traditionally seismic data is carried out from the surface of the water using cables, but through our node system we are able to acquire not only higher quality data, but also additional data information," explains Eivind Berg, business development manager and inventor of this node technology.
"This means that alongside recording the pressure waves as in conventional surface seismic methods, we also acquire shear wave data, which brings with it added value. By combining these two different sources of information we achieve a much more effective reading of the oil reservoir than from traditional seismic data." Even still a niche technology, the market for 4C seismic node systems is very much still emerging, with traditional 3D surface seismic techniques continuing to dominate. At present its main use is within reservoir mapping and monitoring, where the technology can follow any seismic changes in the reservoir's behaviour based on production of oil and gas. However, the potential of the system in the utilisation of both shear and pressure waves extends to larger fields in both shallow and ultra-deep waters, as well as more complex mapping challenges where accuracy is vital.
"Our seabed nodes provide full azimuth point measurements of data individually without any cables between them. As such they are very efficient for work around and underneath platforms, FPSOs, and other complex infrastructure offshore. Having worked on this technology for many years, research and development has been very important to the business. Whilst we're still continuing to look at developing more efficient operations, we are focusing on the processing of shear wave data, as this is still an immature field in the industry," notes Eivind.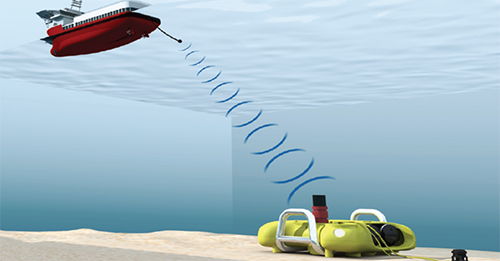 One key advantage of the node system is its flexibility, which enables it to be utilised across a number of different environments, including the harsh Arctic climate. "Given the individual nature of each node component we are able to actually swim down under the ice and place the sensors on the seabed wherever they are required," highlights Eivind. "Whilst there is always a balance between the number of seismic shots and receivers, in an arctic environment it's not always possible to shoot more because of the ice. Normally seismic vessels have to shoot in a specific pattern, but the flexibility of our system means that we can compensate for a lack of shots with a denser spacing of nodes, or more receivers, in order to achieve the same quality of data."
With the benefits of this set-up already being utilised throughout its two years of operations SeaBird Exploration has found its node technology in almost continuous demand. Working with major international oil companies such as BP, Total, Chevron, Shell and Permex, the company has cultivated many of these relationships over extended periods of time. In fact in the case of Chevron's activities in Nigeria, SeaBird Exploration's node system has proven to be the most feasible solution, after trialling more traditional methods. More recently, the company has begun a major survey project at the Rosebank oil discovery west of Shetland, also on behalf of Chevron, which is due to continue throughout the summer.
Certainly, it is apparent that market demand for these services is continuing to grow as oil companies begin to see the results, and subsequently the advantages, of the node system over traditional methods. Whilst at present the system is more expensive per square kilometre than surface seismic techniques, along with the transit costs of moving the vessels and equipment between locations, SeaBird Technologies' anticipates that this will be reduced as volumes increase.
With this in mind, Eivind outlines his ambitions for the business: "I hope that we can emerge from this very niche area to gain a much greater share of the seismic data market. In order to achieve this we are continuing to work on developing new methods for processing the data gained from the nodes, including shear waves. For decades the seismic market has tended to be much more advanced on the acquisition side of the data, as opposed to the processing, and it is important to limit that gap."
As well as investing into being able to utilise the collected data quickly and more effectively, SeaBird Technologies continues to look at further improving its sensor technology to discriminate it from the traditional surface seismic systems, and bring additional capabilities to the forefront. "The nodes are built in a modular way, which means it is very easy for us to replace existing components, as well as introduce new sensors and components as necessary. Looking at the short-term future, I see opportunities to combine our sensors with more analytical components such as electromagnetic technology. Certainly I see a possible market for this capability, particularly if you look at exploration activities. At present the nodes are used as a reservoir monitoring tool, however I do believe that in the future we may be able to develop the system into a target orientated exploration tool," concludes Eivind.
SeaBird Technologies
Services: Seabed node technology
---