Select Energy Services
Issue Fall 17
---
Select Energy Services owns an innovative solution for transferring water.
When it comes to water transfer solutions in the oilfield, Select Energy Services has found a game-changer. The Gainesville, Texas-based company developed an automated solution for transferring water.
Known as AquaLogic, the new technology consists of automated equipment, including pumps and proportioning valves, that responds to operator specifications and changing conditions in real time. "We have over five years of research and development invested in it," says Zack Wakefield, Vice President of sales and marketing. "It's something we're very proud of and excited about."
AquaLogic gives its operators the ability to monitor and track the movement of water remotely. The system's water transfer pumps use a variety of sensors and are programmed to operate and maintain desired water flow rates by modulating pressure within the system.
When AquaLogic detects that a certain threshold has been reached, it sends out an email alert and then has the ability to take action on its own. For example, it can raise a pumps' RPM to maintain desired flow rates or shut down the system and valves in the event of an emergency.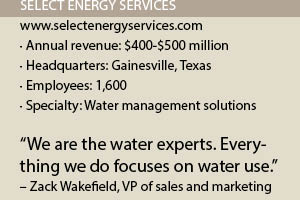 Its proportioning system consists of a large manifold equipped with a programmable logic controller and various sensors. The system allows its operators to combine two fluid streams such as produced water, heavy brine, flowback water and freshwater. The combining of fluid streams extends the life of fresh water sources and can reduce dependence on saltwater disposal wells.
Tying it Together
AquaLogic directly integrates with AquaView, Select Energy's real-time water asset-monitoring technology that was introduced a few years back. "AquaView is our suite of remote pit monitoring and diagnostic systems," Wakefield says. "AquaLogic combines with all the different aspects of AquaView and together completes a comprehensive system for the automated transfer of water."
AquaView monitors the water levels of impoundments at various stages throughout the completion process using real-time measurements and wireless technology. Its monitoring capabilities allow Select Energy to respond to on-site issues quickly and fix the problem before it reaches a critical level. In essence, it vastly improves traditional water tracking and measurement systems.
Select Energy is also capable of conducting hydrographic mapping surveys that uses GPS, sonar and historical data to develop detailed maps of water sources. Its operators have real-time access to the data using computers, smart phones and tablets, and also can receive text message alerts.
Select Energy last year enhanced AquaView features to include the ability to remotely monitor flow meters during water transfer and report volume and flow data back to the client through a secure portal.
"AquaView and AquaLogic are basically a group of technologies that can be used to manage total water solutions through different processes," Wakefield says. "They give our customers the ability to measure their sources through the cloud. Other companies have similar products out there, but none are as fully developed as ours – not that we know of."
The Water Experts
Select Energy was founded in 2008 from the merger of Peak Wellsite Rentals LLC and Impact Energy Services, which Peak Wellsite acquired. When the companies merged, they changed their name to Select Energy Services. Today, the company has nearly 1,600 employees servicing more than 250 customers in every major shale play throughout the United States.
Select Energy provides strategic water management services for energy producers, from sourcing and transfer to reuse and disposal. "We are the water experts," Wakefield says. "There are a lot of service companies that have a water component to their offerings but they also do chemicals and other processes. We focus on water use. Everything we do focuses on water use."
Select Energy prides itself on providing innovative and efficient water solutions and well site services. It sources, transports, tests, treats and disposes of water and fluids with a heavy focus on being environmentally responsible.
---