Sembmarine SLP
Issue 04 2013
---
Vision and commitment
Sembmarine SLP Limited is one of the UK's few remaining experienced EPC (I) contractors that emerged as a result of the discovery of oil and gas in UK waters in the mid 1960s.
Having its historical roots firmly entrenched on Lowestoft Hamilton Dock and known initially as Sea & Land Pipelines Ltd (SLP), over the years SLP's name became synonymous with offshore accommodation structures, wellhead platforms, and latterly, minimum facilities platforms (MFP) – also generically known as normally unmanned installations (NUI).
As with many contractors that have participated in the creation of the UK's oil and gas industry, SLP has had several UK and internationally based owners, culminating recently in October 2012 with its purchase from the Netherlands based Smulders Group, by Singapore company Sembcorp Marine Ltd.
Andrew Thomson, business development manager, described the benefits of this merger: "The acquisition of SLP by Sembcorp Marine has meant that going forward, we have an extremely strong and stable financial footing with which to launch and attack our short and long-term goals – to be the supplier of choice for offshore development projects. SLP is now part of a global organisation, with common capabilities that are well matched to achieve, and maintain excellence in standards of deliverables.
"The theme embedded in our inter-company logo goes some way to depict the stratified approach needed to acquire excellence and therefore balance (Yin/Yang); similar to the concept of good engineering, a level by level understanding of the challenge as a whole."
Since the merger, SLP has been able to put itself forward for several multi-million pound projects in the North Sea, as Andrew highlighted: "SLP has recently participated in several large tenders for Norway, the UK, and other international projects, whose individual overall budgets are well in excess of £200 million. I can't give many more details as these projects are still pending and are therefore subject to confidentiality agreements."
He added a few details about current projects that are underway: "We are progressing well with Nexen's Golden Eagle Project, which consists of a 140 man living quarters module, and is due for completion in 2014. We are also continuing our commitment to supporting Centrica's field modifications to new and existing assets."
Alongside the new tenders and these projects, it has been business as usual at SLP, and with the support of its client base, it continues to design, construct, project-manage, install, and hook-up offshore structures for the UKCS and Norway markets. Other recent project successes include Thornton Bank Offshore Substation Jacket, Siemens Thanet Offshore Substation Topsides, and the ConocoPhillips Katy – Minimum Facilities Platform.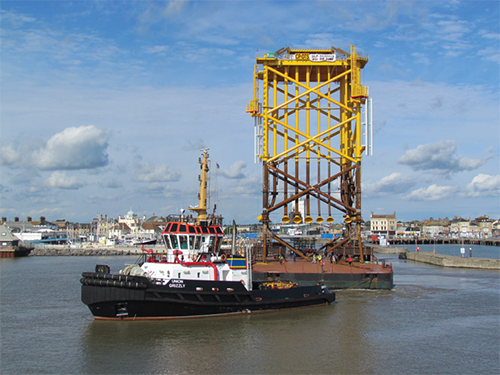 Andrew acknowledged that while the company's key clients are predominantly major oil and gas operators with global operations, Sembcorp Marine has in the past, and continues to be, involved with clients who are encompassing diversification into the offshore renewable energy sector: "SLP's part in this emerging industry is leading the challenges on the design and fabrication of offshore electrical substations to reduce overall project costs," he added.
But in whichever market its clients may be found, SLP takes the same approach, as Andrew noted: "It is a testament to our sound engineering principles, quality procedures, and most importantly our prominent safety culture (over three years of operations without incident) that makes SLP a strong partner of choice. This is evident through the number of repeat orders for our designs and quality of product. These long-term working relationships are beneficial to all parties, including our supply chain – resulting in tangible improvements through lessons learned programmes."
SLP's innovative products are also another major draw for clients. Andrew explained that products that help end users reduce costs are particularly important: "New opportunities for our SeaHarvester minimal facility platforms are emerging, as potential fast track solutions to the spiralling costs of brownfield modifications," he said. "Initial discussions with many of our clients indicate that some brownfield projects that start out as a replacement for process or water treatment modules for example, with Capex budgets of £2 million to £3 million, are experiencing significant cost overruns, some in excess of 150 per cent. Reasons for delay vary but include – simultaneous operations, scheduling conflicts, and offshore bed space limitations."
SLP has just signed a five-year exclusive agreement with Seahorse Platform Partners Ltd of Houston to continue the development and use of the SeaHarvester and associated suite of shallow water platforms, building on the success of eighteen projects completed to date.
Solving problems such as these for clients is a high priority for SLP, but as Andrew noted, you can never second guess the market: "As a recent example, one simple miscalculation in PRT has proven the point, to the detriment of not only the UK Government's coffers, but also those marginal oil and gas reserves that may not ever be produced due to the removal of important infrastructure in the intervening period," he said.
"The most important fact about oil and gas is that, in as much as the world tries to reduce the reliance on fossil fuels, in truth there is no quick fix or low cost replacement, and globally the potential demand may be as high in the next 25 years as it has in been in the previous 25. Thus, given the right market drivers, even these recently lost marginal fields may become attractive to an operator with the optimum solution, which is where SLP's expertise becomes an invaluable necessity."
On this basis, market conditions permitting, within five years Andrew anticipates Sembmarine SLP achieving very strong growth: "I think revenue from oil, gas, and the renewables sectors could increase our potential output to in excess of five times that which is currently possible, with a similar figure estimated for employment opportunities," he stated. "Therefore our main focus for 2013 is to engage with all levels of the industry to relook at existing and new infrastructure projects that will affect our mutual long-term growth, and to find cost effective solutions for enhancing and increasing hydrocarbon recovery, thus maximising asset life cycles."
He concluded: "The future looks exceedingly healthy, and our demand for local designers, engineers, welders and similar trades will continue for this part of eastern England for as long as the energy industry continues to challenge us. One thing that is certain, being part of a multi-billion dollar organisation means that opportunities for growth are only limited by a lack of vision and commitment. This definitely doesn't apply to us – Sembcorp Marine believes that SLP has an abundance of both."
SeaHarvester is a registered trademark of Sembmarine SLP
Sembmarine SLP
Services: EPC contractor
---