Serimax
---
Weld done
As an international full service welding company, Serimax plans, designs, manages and delivers fully integrated welding solutions to customers in the onshore and offshore sectors of the oil and gas industry.
Founded more than 30 years ago, the company has built a reputation for quality, productivity and innovation and Serimax's operations today include work on marine pipelines, spools and landlines, onshore fabrication and multi-jointing.
Employing more than 800 people globally at bases in Scotland, USA, Singapore and at its French headquarters in Paris, Serimax has an annual turnover in excess of 150 million euros. Its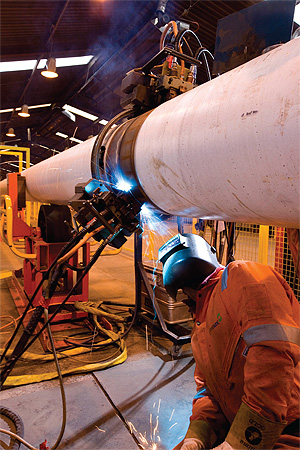 experienced personnel – welders, technicians, engineers and project managers – have access to state-of-the-art equipment and tailor solutions according to clients' specific requirements.
Serimax staff benefit from comprehensive training programmes and operate to the highest HSE standards, recognising that the welfare of staff and sub-contractors, as well as the environment in which they operate, is absolutely critical. Consequently, health and safety and quality management at Serimax extends to more than just paper certificates, and the company requires all employees to follow a clear set of principles that foster a safe and healthy workplace while minimising the impact on the environment.
An incident free philosophy is a shared value and responsibility throughout the Serimax group. At a practical level that translates as zero tolerance of unsafe acts, conditions and equipment, and zero tolerance of failure to report HSE-related incidents.
In addition, quality management reaches well beyond ISO 9001 at Serimax, and with an emphasis on can-do interaction between employees and clients, its 'le savoir faire' engenders a spirit of working together to make the most challenging assignment possible.
The Serimax board of directors and senior management have unrivalled commercial and engineering capabilities gained from years of experience working in a wide range of industry sectors. The recent appointment of Kenny Spink as director for activities in the UK and Scandinavia has added to that multicultural expertise. Based in Evanton near Inverness and in charge of 130 staff, Kenny will focus on extending Serimax's North Sea market and in diversification of the company's fabrication services.
Clients that Serimax has worked with include major oil and gas operators and service companies, including BP, Acergy, Subsea 7, Global Offshore Industries, TLO, Horizon and Sheehan Pipelines.
In the US, its Houston office is able to provide North American clients with access to fully integrated welding services and workshop facilities. In Russia, the company has steadily established itself as a key player in landlines through its facility in Moscow.
The company's Russian operations also include work with the infrastructure at Sakhalin II, the largest integrated oil and gas project in the world. In these sub-Arctic conditions, Serimax uses equipment specially prepared for temperatures as low as -40°C, and it has so far conducted more than 9000 welds on section 28 of the 48" pipe. In fact, due to the company's maximum production of 70 welds per day, it was able to achieve the best performance of all the welding teams working upon the Sakhalin II project.
At the other extreme, Serimax has worked upon an 185km dual water pipeline with a 16km pipeline link in a large-scale desalination, power plant and pipeline project in Fujairah, in the UAE. Working in desert temperatures regularly exceeding 50°C, the company has completed 17,000 welds to the 64° water pipeline with a production record of 118 welds in a single day.
Serimax's activities in Europe have included work on the Langeled Pipeline, which, at 972km, is the longest in the North Sea. Not only did it supply automatic equipment and welding consumables to the pipe lay vessels, but it also offered training and technical support to other companies working on the project. Furthermore, by using Saturne torches specifically designed for trunkline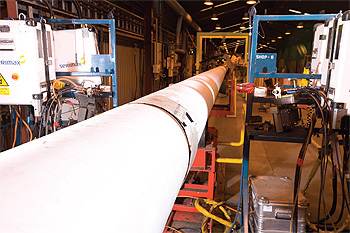 projects, accompanied by expert on-site supervision, the company's clients benefited from a welding cycle of up to 216 welds per day on 42/44" x 34mm wall thickness.
In West Africa, Serimax has been contracted to provide a complete range of welding services for the 1000km West Africa Gas Pipeline, which runs both onshore and offshore from Nigeria's Niger Delta region to Efasu in the West of Ghana. The company's involvement here includes the supply of equipment, qualification procedures and preventative maintenance to minimise downtime. Working at an average rate of 295 welds per day on 20" x 11,1mm, Serimax was able to help its customers exceed their target by more than ten per cent. In fact, across a total of over 46,000 welds, the repair rate on this project was just 0.25 per cent.
Serimax also endeavours to have a positive impact upon the communities of the areas in which it operates. One such example is in Angola, which is rebuilding its infrastructure after years of civil war. Serimax is making a contribution to that process through a training centre that offers local people the education needed to find work in the oil and gas industries. It also supplies local people with the expertise needed to re-establish fundamental services, including roads, electricity, sanitation and education.
In order to help its customers achieve maximum efficiency throughout their operations, Serimax is always looking to innovate its product portfolio. This has been an important part of the company's ethos from its early stages, when it developed the revolutionary 8-torch Saturne welding system, a product that doubled the maximum speed of automatic welding. Today, Serimax possesses a research and development department of 38 engineers and technicians that are continually designing solutions that safely maintain the productivity, quality and profitability of its customers.
Serimax
Services: Welding
---