Siemens Pte Ltd
Issue 06 2011
---
Staying close to the customer
A globally recognised powerhouse name, the Siemens brand is synonymous with innovative technology and electrical engineering solutions.
As part of this wider structure, Siemens in Singapore has been serving and growing alongside the Asia-Pacific region for over 103 years, and the brand is currently one of the largest European companies in the country. At present, Siemens Pte Ltd with its affiliated subsidiaries is employing a total workforce of more than 2200 people.
Operating under the energy umbrella, the Oil & Gas division is active in both the oil and gas, and industrial power generation markets. Keiren Lake, executive vice president and head of the regional Centre of Competence (CoC) for Oil & Gas, comments on some of the company's recent activities in this market: "Currently the Asia-Pacific region is an area of high growth especially in the exploitation of gas assets, from deepwater developments upstream to liquefied natural gas (LNG). We see a steadily growing need for innovative technologies in those areas. The vision of the Oil & Gas Division is to become the technology partner of choice of our customers.
Globally Siemens' strategy for its oil and gas business is focused around four cornerstones. The first is 'Product & Innovation', which leverages Siemens' heritage and core competence. The second cornerstone is to get 'Closer to the Customer' via the early engagement of project development, increased customer intimacy via key account management and the continued development of expertise in the regions through a global network of Centres of Competence. As part of this strategy, Singapore has become part of a regional network of Siemens' global Centres of Competence for oil and gas.
The third cornerstone, 'Act Local', involves expanding the localisation of manufacturing activities, particularly within China and India with regards to its compressor range and gas turbine packaging. Most recently, the company has established a joint venture in Indonesia for the manufacture of steam turbines mainly for geothermal applications.
All the above would be somewhat superfluous if not supported by the fourth cornerstone, the fundamental ingredients of 'Operational Excellence' – safety, quality and continuous improvement of its project delivery capabilities via the implementation of Siemens' project management system, PM@Siemens.
Although the Asia-Pacific region experienced project delays as a result of the difficult economic conditions of recent years, over the last 12 months Siemens has seen a major upswing across various aspects of the oil and gas sector. Particularly within the floating production and offshore drilling market segments, which are focussed on the shipyards based in Singapore and Korea. Siemens Oil & Gas has also been successful in securing significant orders within the upstream gas gathering and compression scope of supply to several major Queensland Australian CBM LNG projects.
"The LNG sector is one of our focus market segments, notably given our location to hubs of activity such as Australia, Malaysia, and Indonesia. Gas is particularly strong in these areas, as is the liquefaction of this asset in orderto transport it to areas of high demand such as Korea, China, and Japan. We are also seeing a number of floating LNG (FLNG) projects finally coming to the execution stage such as the Shell Prelude project," elaborates Keiren.
Whilst Siemens in Singapore already has the in-house capabilities to meet the requirements of these trends, the resources have been continuously expanded. In particular, the CoC Singapore has become more self-sufficient from its headquarters with regard to project delivery capabilities, which has enabled it to serve markets such as Korea and Australia through a more regional approach. Furthermore, the business is to be a leading presence in the ongoing innovation and development process of Siemens' global subsea programme.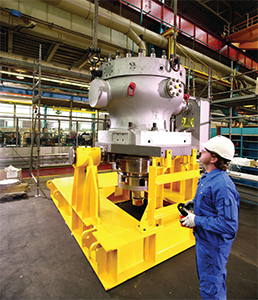 Keiren describes the company's activities in this area in a little more detail: "As part of the move into deepwater field developments, we have seen more demand for subsea equipment, including seabed separation processes, pressure boosting, and subsea electrification. With our intention to deliver the industry's first subsea grid, we have taken a key step toward becoming a leading supplier of energy solutions for subsea oil and gas processing as a result of Siemens' strategic acquisition of two subsea specialist engineering and equipment suppliers in Norway earlier this year."
It is this ability to bring together a whole portfolio of equipment, solutions, and services, such as power generation, power distribution, automation, and process compression under one supplier, that is Siemens' defining strength. Also, the customers of Singapore's Center of Competence benefit from excellent project execution capabilities it has in place, and its ability to offer a lifecycle support service on a global basis, through the wider Siemens network.
Turning his thoughts to the continued progression of Siemens Pte, Keiren concludes with his outlook for the near future: "Over the next three years our focus is on major market developments such as floating production, and the increasing use of subsea technologies to exploit deepwater fields. I also expect to see a positive outlook for gas related activities, such as gas extraction, processing, and transportation. Within the oil and gas industry, we are applying Siemens' innovative focus across the board in order to develop new technologies to move towards safer, more reliable and efficient production. The key drivers of these activities are the issues surrounding energy efficiency in the oil and gas supply chain, and the reduction of CO2 emissions."
Siemens Pte Ltd
Services: Energy solutions for oil and gas
---