South Hook LNG
Issue 06 2010
---
Groundbreaking service
Today, South Hook, is Europe's largest Liquefied Natural Gas (LNG) terminal. Based in Milford Haven, Pembrokeshire, South Hook has been created as part of the broader Qatargas 2 (QG2) project, the world's first and only fully integrated LNG chain.
The QG2 project brings gas from Qatar's North Field, which is then processed in Qatargas Trains 4 & 5 at Ras Laffan Industrial City and transported via state-of-the-art LNG carriers to the receiving and regasification terminal here at South Hook. A $13 billion joint venture between Qatar Petroleum, ExxonMobil and Total, from the start the QG2 and South Hook project has been ground breaking in terms of size, organisation, finance and strategic importance.
In May 2009, the terminal was officially inaugurated by His Highness the Emir of Qatar and Her Majesty the Queen, which was followed in early October by the commencement of Phase 1 and commercial operations. In 2010, this pioneering project has been fully realised at the start of April when Phase 2 construction and final commissioning was completed. The terminal is now fully commissioned and has a total processing capacity of 15.6 million tonnes per annum (MTPA) of LNG and is capable of delivering up to 21 billion cubic metres (BCM) per annum of gas into the National Transmission System (NTS).
"Today, natural gas is the biggest single source of primary energy in the UK. Indeed, North Sea production peaked in 2000 and since 2004 the UK has been a net importer of gas. Imports currently represent around 30 per cent of total supply and this figure has been forecast to increase significantly over the next decade," explains Mohammed Al-Naimi, director and general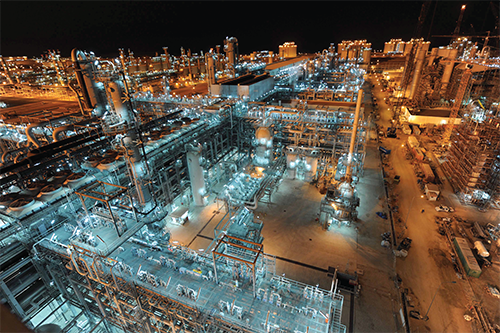 manager at South Hook. "We are proud to state that the South Hook terminal's ability to import LNG means the UK now has a major western entry point to the national grid gas transmission system, which is important to the UK's long-term energy needs and security.
South Hook as a facility and LNG as a fuel represent a different mode of energy supply, which gives the UK access to gas which would otherwise be unavailable – notably Qatar's giant North Field. LNG is also a flexible source of energy given the absence of a fixed pipeline infrastructure. To date the terminal has received 73 cargoes from both Q-Flex and Q-Max carriers. It has also demonstrated throughout the recent harsh winter its importance to the UK's energy infrastructure in being able to provide reliable and significant contribution to the country's energy requirements, helping to maintain steady gas supplies to homes and businesses. South Hook also represents a major strengthening of the strategic partnership between Qatar and the UK. It is the first Qatari involvement in a downstream terminal making it a major component of Qatar's LNG supply portfolio as the world's leading LNG supplier.
"In May this year, we formally recognised the important role and contribution to the South Hook project of the marine services fleet that supports the activities of the terminal, during a tug naming ceremony," says Mohammed. "Safety and reliability are key South Hook values and are critical factors in the running of the facility. The tug and lineboat fleet is comprised of seven vessels dedicated specifically to the terminal, which make it one of the largest in the world. The vessels are capable of operating in high seas and extreme weather conditions and have been specifically designed for the requirements of South Hook. Assigned to assist the LNG carriers manoeuvre safely each has a crew of four and facilities on board to allow 24 hour operations. The vessels represent the latest in towage and ship handling technology, and help to ensure the QG2 chain can safely deliver LNG to the UK."
South Hook is also proving to be a significant part of the broader energy renaissance of the local Milford Haven area and Pembrokeshire as a whole. The availability of large quantities of gas to some degree can act as a catalyst for further developments, such as further energy infrastructure projects like power plant facilities. Around 2,400 workers were employed at South Hook throughout its construction, and significant infrastructure projects like this will employ considerable numbers of people providing additional benefits to the local economy. Indeed, the operation and maintenance of the South Hook terminal provides long-term, highly skilled jobs and also involves the creation of significant indirect employment in areas such as marine and engineering services. It is estimated £1 billion will be injected into the local economy throughout the lifetime of the project. Indeed, a key value of South Hook continues to be working with our local stakeholders and communities. Over £1 million has gone to supporting good causes and local initiatives since our Community Investment Programme began four years ago.
Looking to the future, Mohammed comments: "As a fully commissioned terminal today, the achievements of the South Hook project and QG2 value chain have been built on working successfully with all our partners and affiliates. We know we have a good team here, so working to continually achieve efficient and reliable operations and the supply of Qatari gas to the UK is how we see the future."
South Hook LNG
Services LNG terminal
---