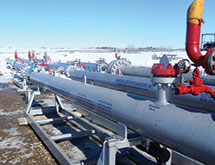 Specialized Desanders Inc.
Issue Summer 14
---
For oil and gas producers, sand is an obstacle that can lead to a wide range of problems, ranging from damage to valves to the plugging of separators. But Specialized Desanders Inc. (SDI) (formerly Specialized Tech Inc. STI) has developed an innovation that can make producers' work far easier.
Headquartered in Calgary, Alberta, SDI offers high-pressure sand recovery services with the help of its compact Desanders, which are designed for use on wells that produce frac and formation sand. President and CEO Chris Hemstock started SDI in 2001 with co-founders Bruce Berkan and Kevin Price.
Rick Wasfy, who oversees business development for SDI, explains that the three men saw a need for the product after working for oil and gas companies. "They knew sand was a big problem," he says.
The Desanders allow wells to flow under sand-producing conditions that normally damage production equipment. By installing the Desander upstream from the surface equipment, clients can remove sand and other particulates from the gas and liquid streams while producing the wells, eliminating the need for long testing periods and flaring.
SDI's founders initially built four Desanders and rented them out to customers. After experiencing success, "They built more of them," Wasfy says, noting it has approximately 460 units today. "We work for all the big and small oil and gas producers in Canada."
Several of the Desanders, he adds, have operated since 2001, thanks to a velocity reduction principle of the Desander. "When the sand is impacting the Desander, it's moving at a rate so slow, it's unable to erode the Desander itself," he explains.
Below the Border
Last year, SDI was recapitalized by Hammond, Kennedy, Whitney (HKW) & Co. Inc. with the goal of expanding into the United States, Wasfy says. "We knew that expansion was something we wanted to do," he states.
In that process, SDI evaluated the four major U.S. plays. "We knew that we had to attack at least one of them," he recalls, noting that the company ultimately chose to open a location near the Marcellus Formation in Pennsylvania.
Not only did the Marcellus play have a healthy amount of fracking activity and lots of sand, "There's a strong regulatory environment, as well as duty of care by the oil and gas providers here," Wasfy says.
"The producers really feel that they are given a social license to operate and they are very careful not to damage that," he says. "There's a lot of strong environmental policy and it's getting stronger every day."
However, winning clients in the United States will be challenging, since U.S. companies aren't as familiar with SDI, Wasfy admits. "No one's ever heard of us and no one knows what we do," he says.
To many, SDI will appear as "a startup that's got the backing of a successful company in Canada," Wasfy says. "It's just a matter of convincing other people to let us help them operate in a safer way."
Ready to Grow
Wasfy joined SDI four years ago after working for Schlumberger Ltd. in Texas, Scotland and Africa. When he started at SDI, Wasfy spent much of his time in the field, which he feels is important.
The field experience helps "when you're talking to people about renting the product," he explains. "It gives you a great base to explain how the Desanders can help the producers save time and money."
SDI plans for continued growth in Canada, Wasfy says. "With the way the market's looking, producers are drilling more and more," he says. "The gas price has stabilized over $4. That's really convinced producers to get [the wells] back online."
Wasfy sees the company's growth into the United States as a potential "success story" for SDI. "It's going to be really hard to get going, but that's something we are dedicated to as a company," he says.
---