Stena Drilling
Issue 04 2011
---
Reaching new depths
Established by the Olsson family in 1939, the Stena name is most famous for its passenger ferries running throughout Northern Europe but has been involved with many different business sectors throughout the decades; from recycling and shipbuilding to property management and finances.
After ittook ownership of Houlder Marine Drilling in 1989, however, the group took its first foray into offshore drilling and with the acquisition of Ben Line Steamers – owner of Atlantic Drilling – in 1996 it decided to establish its own oil and gas outfit in Aberdeen, Scotland, under the name Stena Drilling.
"Since 1996, Stena Drilling has existed as a pure drilling contractor," says marketing and business development manager Eirik Reinertsen. "Today we own four semisubmersible units and three ultra-deepwater drilling ships operating in regional waters across the world; our three DrillMAX ships are in the UK, Brazil and north Red Sea whilst the four semis are in the UK, Norway, Australia and Nigeria. In addition to our head office here in Aberdeen, Scotland, we have onsite warehousing and support offices in Houston, Singapore and Norway with furthersatellite offices for offshore operations in Norway, Nigeria, Rio de Janeiro and Cairo. The company also has a project team at the Samsung Heavy Industries shipyard in Geoje Island, South Korea where an enhanced, ice-class version of the highly successful DrillMAX series – Stena DrillMAX ICE is under construction (delivery scheduled Q1 2012)."
The extent to which Stena Drilling has grown during the last 15 years can be sourced to many different attributes, but perhaps the keystone of its success is its family values. With the Stena group having remained independent of stockholders and under ownership of the Olsson family since 1939, a culture of flexibility and enthusiasm has become part of the company's fabric therefore enabling it to overcome the many challenges presented by offshore drilling. The design and construction of its drilling vessels and semi-submersibles embody this.
Projects manager Alex Cawthorne elaborates: "Stena believes that you get what you pay for, which is why it doesn't object to investing money when necessary to achieve the best possible end result. Our three drillships – DrillMAX, Carron and Forth – all left the shipyard on time, fully commissioned and ready to begin operation as soon as they arrived on location. This is because we have put in the time and resources to ensure we get it right and, as far as I know, nobody else has managed to achieve this. With the original DrillMAX, for example, we carried out sea trials then followed it with a complete systems integration test (SIT) programme and additional work to make sure we were confident with the final vessel. It meant an extra investment over the original price but because it assisted in improving the initial specification there were no reservations."
Assistant operations manager Tom Bruce adds; "The commitment and investment was always there to make sure all systems were fit for purpose before commissioning. This meant that with the original DrillMAX for example, there was almost zero non-productive time during its first two years of operation."
Based on the Saipem 10000 ultra-deepwater vessel, the DrillMAX has a heavily modified hull to accommodate Stena Drilling's special NOV hydraulic cylinder drill package as well as a wide range of fully automated applications including ballast discharge, mud systems and dynamic positioning (DP) to maximise ease of operation. Its key advantage, however, is a ram rig hoist that uses a two-mast system to allow for greater accessibility. Because of the modified hull design, it offers easier pipe storage beneath the ship therefore enabling it to travel from location to location without needing to lay down pipes. An auxiliary mast also provides the advantage of allowing the ship to work on both the blowout preventer (BOP) and tophole drilling at the same time. Combined, these features give the DrillMAX many advantages over similar ships and prove the benefits of Stena Drilling's approach to business.
The DrillMAX facilitates the company's move into an increasingly important area for the oil and gas industry: ultra-deepwater fields. However, a parallel contemporary trend towards colder environments – particularly in the waters around Greenland – brings its own assortment of challenges, but Stena Drilling has taken these to task as well with the development of its new Stena DrillMAX ICE.
"With this vessel we have gone for a DNV Winterized Cold classification," Alex explains, "as well as Polar Class 4, meaning an ice band of steel stretches around the ship between 6.5 and 14 metres above the baseline. A lot of work has gone into strengthening the hull even further, as well as the heating and steam systems to ensure it can continue operating efficiently at -20 Celsius temperatures. We have also expanded various crew areas on the ship, such as a large area for meteorological scientists and ice management teams as well as more office space to accommodate the extra people. Structurally, we have also completely enclosed both bridgewings and added conning stations both port and starboard to allow the DrillMAX ICE to be piloted from three different locations in the wheelhouse."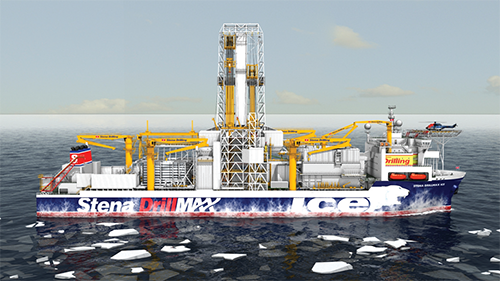 The innovation of these vessels would of course be little without delivering equally on performance, which is why Stena Drilling invests heavily not only in recruitment but in the ongoing education and wellbeing of its mariners. Human resources manager Trish Craig discusses how a community environment is a crucial feature of the company: "All our people support one another and that family culture is extended offshore, so it is very important to get the right personnel for the right ships. We are looking for loyal employees that everybody can get to know because, to us, they are more than just a set of skills. By finding people that are looking for long-term security and opportunities to work with state-of-the-art technology in a growing business, by understanding what motivates them and getting to know everybody at a personal level, we have established a team oriented tight-knit environment."
Tom elaborates further on the importance of health and safety within Stena Drilling: "As Trish says, close company culture means we do our best to prevent each other from getting hurt. To achieve this we treat all projects as we would a North Sea operation, working to the same standards throughout the world as we do in the harsh North Sea environments. Time is given to do the best job we can without compromise; health and safety are not just important, they are a condition of work. Without them, the company would not deliver on performance."
'Care, Innovation & Performance' – the company's motto – is thus not a slogan but a key element of daily operation. Through this, Stena Drilling has become one of the world's leading independent vessel and rig contractors, whilst maintaining a relatively modest size that gives it the flexibility and commitment of a smaller business. This has seen it become involved with some of the industry's cutting edge projects, such as the Stena Don rig and accompanying Stena Forth drillship being on the frontier of Arctic drilling in Greenland last year.
"Optimism is being reinstated within the industry and the market is turning once again," comments Eirik. "Due to a number of factors such as political unrest and diminishing supply the price of oil is rising and that has given many oil companies the financial incentive to increase investment into exploration and production by up to 20 per cent. Also giving a boost to the industry's confidence is the recent lifting of drilling bans in the Gulf of Mexico. This means many of the projects that were previously on hold have once more been put into action. Deepwater discoveries have accounted for nearly 50 per cent of new discoveries between 2006 and 2010 and because a lot of them are in ultra-deepwater or environmentally extreme regions, we would like to think our DrillMAX and DrillMAX ICE vessels put us one step ahead of competition. We will go and establish ourselves wherever the client needs us to go."
The company is about to mount a large recruitment campaign to facilitate this ongoing development. Crewing the DrillMAX ICE with its most experienced mariners, a further 150 to 200 people – a 15 per cent increase in staffing – will be needed to backfill across the fleet. This will allow Stena Drilling to pursue interest not only in ultra-deepwater and Arctic fields but also renewed possibilities in mature areas such as the North Sea and West Africa with the care, innovation and performance for which it has become known.
Trish concludes with quiet confidence in the future: "Our mantra has always been that we may not be the biggest but we want to be the best, and I think that sums up our approach to the future. We will look for healthy, organic growth within the limits we've already established and have been key to our existing success. No matter what the future brings in terms of growth we will still strive to be the best."
Stena Drilling
Services: Drillships & semi-submersible rigs – drilling contractor
---