Stockton Drilling Ltd
Issue 118
---
Finding the way
Founded in 2001 Stockton Drilling Ltd. operates as a family owned business based in Wakefield UK with around 50 dedicated members of staff, with some of the team bringing as long as 25 years of industry knowledge to the business.
During its history the company has delivered projects internationally to clients including major industry players, such as Shell, BP, Aquamarine Power, E.ON UK, National Grid and Wessex Water.
Stockton Drilling is a highly experienced and reliable contractor that consistently delivers traditional pipeline installation, specialised horizontal directional drilling (HDD) and equipment hire services. Within the field of pipeline installation Stockton Drilling provides a technically adept and efficient turnkey service that encompasses design, feasibility, procurement, installation and reinstatement. Furthermore Stockton Drilling is able to support installation operations with in-depth hydrographical services including bathymetrical survey and bottom survey procedures.
Horizontal directional drilling is a specialised technique that is designed to install pipelines under obstructions, rivers, roads, canals, railways, estuaries, sites of special scientific interest, farmland and even other pipelines. Although the principle of HDD is relatively simple, the procedure requires significant skill and experience to be executed correctly. In the simplest terms the process is executed in three stages; first a pilot hole is drilled; the pilot hole is then reamed out to the required diameter to accommodate the product pipe; finally the pipeline is pulled or pushed through the pre-drilled hole. HDD represents a unique and effective solution to pipeline installation in naturally challenging environments or locations that harbour pre-existing infrastructure. The diameters involved in HDD can range from six inches through to 48 inches, with lengths extending from 300 metres to 1800 metres.
Even though the business is based within the UK, Stockton Drilling has delivered projects all over the globe and has installed pipelines in some of the world's most complex environments, which often incorporate difficult geological formations and adverse climactic conditions. As such, in addition to numerous projects within the UK, Stockton Drilling has successfully executed installations in Egypt, Ireland, Libya, Holland, Croatia, France and Belgium.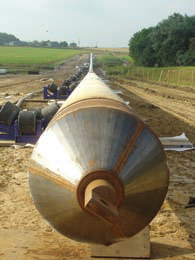 Examples of the comprehensive services provided by Stockton Drilling can be found in its work for the Bacton Gas Plant and its work for SSE to complete a HDD exploratory borehole on the north eastern extent of the Scottish mainland at Noss Head, Caithness.
Stockton Drilling was called on to provide specialist support to AMEC in executing the first HDD operation within a 'live' gas plant, for the Shell UK Bacton natural gas plant in Norfolk. The project consisted of a 600 metre horizontal drill to install a 914.4 millimetre steel pipeline. The project also necessitated the construction of a cofferdam at the site helipad to enable safe access. HDD enabled Stockton to create a secure route without disturbing the plant and equipment within the Shell compound. A pre-welded and tested pipeline string was then pulled through the prepared hole completing the installation with no risk of subsidence or post construction settlement. Safety was naturally an integral concern and as the project was undertaken on an operational gas site, all personnel required OFGES approval and were trained in all of the relevant Shell health and safety policies for the Bacton plant.
Key to the project's success was Stockton Drilling's close involvement with AMEC and Shell in the up-front project design and care planning into how to best utilise the specialist HDD technique. A vital prerequisite of the operation was to limit its impact on the local environment and by adopting strict traffic management and environmental controls the local environment and community remained undisturbed throughout the entire drilling process resulting in a highly successful project.
Later working with SSE, Stockton Drilling completed its HDD exploratory borehole (HDDEB). The purpose of the site investigation was to establish whether HDD was an achievable technique for potential future installations in the given location and geology approximately 3.5 kilometres north east of Wick, Caithness, Scotland. During the course of the project a 12¼- inch diameter HDDEB was drilled to a length of 470 metres to the chosen offshore target zone. A single pilot hole was drilled; the pilot hole was drilled using a 12 ¼ inch triconebit, downhole mud motor assembly with 1.75 degree offset bent housing to enable it to follow the predetermined profile trajectory. The position of the drill is monitored by gyroscopic directional guidance equipment (steering tool) positioned behind the bit and jetting assembly. The signal from the steering tool is then transmitted up the drill string via a wire line to a read-out in the drilling control unit so that the direction of the drill can be guided. The system as described above was not affected by magnetic or any other external interference, nor did it emit any signal that would cause any external interference.
With a proven track record in the delivery of specialist HDD drilling as well as traditional methods and equipment hire, Stockton Drilling Ltd has established itself as a trusted partner in national and international markets. Thanks to successful projects such as those referenced above, the organisation is set to continue to impress in the years to come.
Stockton Drilling Ltd
Services: Traditional pipeline installation and HDD drilling
---