Sulzer Pumps
---
Tradition of excellence
As one of the world's leading pump manufacturers, Sulzer Pumps is a provider of innovative products and services, which can meet all its customers' centrifugal pumping requirements.
Offering intensive research and development in fluid dynamics, process-oriented products, and special materials, alongside reliable service solutions, the company maintains a leading position in its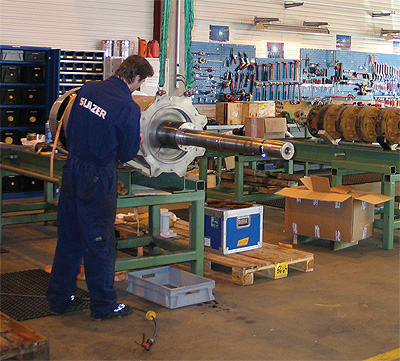 focus market segments. Its main customers are positioned in the oil and gas, hydrocarbon processing, power generation, pulp and paper, and water sectors. Operating a network of 14 manufacturing facilities worldwide, Sulzer also has sales offices and service centres in 150 locations globally.
Sulzer's specialised centrifugal pumps and agitators are internationally reputed for thei technical excellence. The company operates the pump industry's widest network of service entres in order to support clients in their pumping operations, as well as their work involving other rotating equipment. These support services include training, preventative maintenance, spare parts, replacement pumps, retrofits, field services and repairs.
2009 has seen Sulzer Pumps celebrate its 175-year anniversary. Tarjei Gudmestad, general manager Sulzer Pumps Norway AS, outlines the secret to the company's longstanding success: "Sulzer Pumps has been working with pumps for the majority of the 175 years it has been in business. This provides us with extensive experience in the design and fabrication of various types of pumps. As part of the Sulzer Group, we have the support of a large R&D centre, located in Switzerland, that serves the whole company. We also have a manufacturing and engineering centre in Leeds, which designs and produces most of the equipment required by the oil and gas industry."
The importance of R&D within the company's formulation of new products is evidenced by its commitment to manufacturing innovative products. The R&D department focuses on hydraulics, cavitations, erosion, corrosion and mechanical design. In terms of product development, engineers work in close co-operation with the customers to implement innovative ideas for the improvement of products and processes throughout the total product lifecycle. The ultimate goal of the department is to offer each customer the pumping solution to best suit their requirements. Sulzer's expanded range of high-quality products includes both standard types and special tailor made designs.
Sulzer is also committed to meeting its customers' expectations with regards to quality, reliability and the environmental impact of its operations. With the aim of meeting these requirements, the company uses all its resources in the most efficient way possible. Pursuing sustainable development, Sulzer's goal is to reduce the negative effects of its operations on the environment. In fact using Sulzer's products helps support reductions in the environmental impact of customers' businesses. Pump performance testing, be it for hydraulic assessment or full string testing to prove package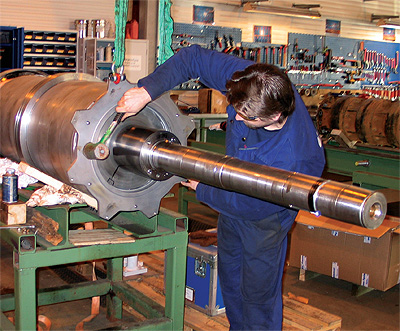 integrity is one of the core strengths of Sulzer Pumps. We operate a range of test beds around the world, each dedicated to the needs of specific products and markets.
Tarjei comments on the company's commitment to its quality control targets: "We have a globally accepted quality management system that complies with national and international standards with ISO 9000 as its basis. Each of our subsidiaries operates in accordance with global quality assurance (QA) standards via quality control department." Specialists from the company's headquarters regularly carry out quality audits to ensure that all standards and procedures are being met by Sulzer's subsidiaries around the world.
The company's health and safety process is also hugely important to Sulzer. In all its operations, the business strives to minimise any health and safety risks to personnel, as well as any risks to customers potentially caused by its products. The management of HSEQ is based on measurable targets that can be achieved by implementing focused improvement programs. As the operational reliability and availability of pumping equipment depends on the quality of its design and manufacture, Sulzer operates a controlled manufacturing system that complies with recognised QA procedures.
Sulzer's commitment to the quality of its products was recently rewarded when it was named a top AREVA supplier. The award was created by AREVA to show the quality of its relationships with suppliers and to promote the companies that support AREVA in its growth. To be recognized as a top AREVA supplier, a company is judged on its performance under 25 criteria, including quality, competitiveness and innovation, as well as long-term partnership. Other decisive criteria include sustainability in development, environmental protection and safety.
When she spoke at the ceremony, the president of AREVA, Anne Lauvergeon, said the award was created to acknowledge and encourage deepening relationships with suppliers, as well as increasing strength and reliability in the competitive global market: "A company that can fulfil all 25 criteria is more than just a supplier, it is a real partner."
Sulzer Pumps has a long-standing relationship with AREVA and has received orders to supply safety-related pumps for nuclear power stations at Olkiluoto (Finland), Flamanville (France) and Taishan (China), among others. Tarjei outlines the company's other main customers: "Our customers in Norway include all the oil majors, such as StatoilHydro, ConocoPhillips, and Shell. We also carry out the repair and maintenance on all BP's pumps."
As the company takes up new projects in the marketplace, Tarjei explains how he sees the future of the company within the industry: "I see a lot of business opportunities in Norway, because the oil companies are working to get more oil from the fields, and extending their life spans. This gives us plenty of opportunities to support them. There is also a requirement for modification and the upgrade of existing equipment. Based on these areas, I believe there is a growing market in Norway and my goal is to expand and within a few years to double the business in size. Our ongoing challenges remain to meet the customer requirements and provide them with the best solution. Continuing to focus on quality should enable us to meet and exceed their expectations."
Sulzer Pumps
Products: Centrifugal pumps and agitators
---