Swissco Holdings Ltd
Issue 05 2011
---
Expanding horizons
Swissco Holdings Ltd (SWISSCO) is a leading provider of marine services to the maritime, and offshore oil and gas industries.
Based in Singapore, SWISSCO owns and operates a young fleet of offshore support vessels (OSVs), tugs, barges, and out-port-limit (OPL) vessels. During the 1970s, SWISSCO began operating in the marine supply business as a ship chandler, providing commercial ocean-going vessels calling at the Port of Singapore with supplies, provisions, and hired third-party boats. In order to achieve greater operational control and efficiency, the company purchased its first OPL vessel in 1973, becoming a pioneer in the OPL business in Singapore.
Since then SWISSCO has earned a reputation for providing comprehensive marine and shipping solutions in a prompt, reliable, and efficient manner. With its vessels deployed all over the world from the west of China to the Middle East and Africa, the company enjoys the patronage of a large client base across a wide spectrum of industries. Within its overall structure, SWISSCO has several subsidiaries, such as Swissco International PTE, Swissco Offshore PTE, Swissco Energy PTE, and Swissco Maritime PTE, each with its own specific area of focus.
In 1995 SWISSCO moved into its first waterfront facility in order to accommodate its growing fleet of vessels, as well as diversify into shipbuilding and afloat repair services. Today, the company retains a similar facility, complete with fabrication and warehousing resources, offering the ability to carry out both afloat and dry-docking activities. With two slipways and a 3000 DWT dry dock, these facilities cater to SWISSCO's market niche of smaller capacity support vessels within the region.
Currently SWISSCO is looking to add three new OSVs to its 31-vessel strong fleet, with construction already underway by shipyards Evergrow and GMG. Hwee Meng Kang, executive director and CEO of SWISSCO, comments on this investment into expanding the company's capabilities: "As well as the OSVs, we have also recently built a number of anchor handling tug supply vessels (AHTS), work boats, and utility boats. This is in line with our strategy of fleet renewal. The average age of our vessels is only three years, as we sell off our old vessels and build new ones in order to keep our fleet young. We also invest in building vessels for specific purposes to cater for certain clients' requirements."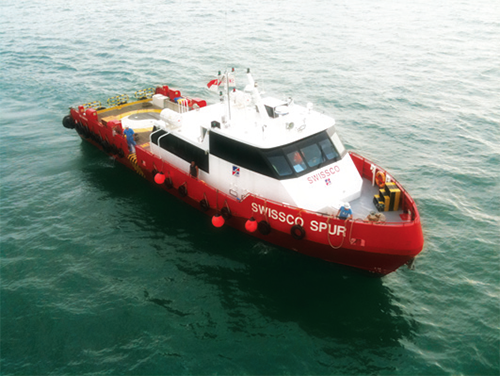 Given the changing nature of the offshore operational environment, this continued investment into new modern vessels is a key benefit to the business in supporting this industry. In recent years, the oil and gas industry within Singapore has seen a major growth in activity levels, and as such operators are utilising OSVs for a variety of different tasks. This includes seismic work, exploration, production, and maintenance operations, alongside towages, personnel transport, cargo and supply transfers, anchor handling services and standby duties. As well as chartering out its OSVs, SWISSCO also provides logistic, engineering, storage and other marine services to oil and gas clients during their mobilisation or de-mobilisation periods. These activities are further enhanced by Singapore's strategic location as a logistic centre.
Over the years SWISSCO has developed a team of well-trained crew members, that are experienced in the operation of the vessels and equipment, whilst understanding the requirements of the client. Equally, its shore-based personnel have an expert understanding of the operational safety requirements and the demands of the oil and gas industry, and are adept in meeting client needs.
In 2010 SWISSCO underwent a major merger with C2O Holdings Limited – a leading marine logistics and support services business, which saw the company take on the name Swissco Holdings Ltd. As an enlarged organisation, the business is subsequently in a much stronger position for growth in a fast growing, but increasingly competitive, marine service industry. Hwee Meng comments: "We are constantly on the look out for mergers and acquisitions, as we believe that this is the way to continue to grow our fleet, as well as the geographical reach of the business. In particular, current market conditions are conducive for merger and acquisition activities, as the valuation is realistic. We review each potential opportunity seriously so that we can grow quickly to meet the challenges of the future."
By exploiting the synergies between the two businesses, this merger has resulted in the creation of a premier integrated marine services and logistic support solution provider within the Middle East and Asia, with a much greater capability to seize opportunities and surmount future challenges. This includes plans to continue to expand and upgrade its fleet substantially, penetrate new markets, and form strategic alliances with global partners. With this reinforced foundation behind it, Hwee Meng concludes with his simple, yet ambitious, vision for SWISSCO in the near future: "In five years time, we would like to be a business with a fleet of more than 100 vessels, which is capable of competing with any of the major OSV players in the global market."
Swissco Holdings Ltd
Services: Specialist vessel operator
---