Terra Navtica A/S
---
The bigger the better
From engineering and consulting through to turnkey marine operations, Terra Navtica provides services based on innovative methods of transporting, handling, installing, and removing heavy and voluminous structures in a marine environment.
Its cost effective solutions have been developed to tackle the technical challenges associated with heavy lift, transport, and handling.
The company began operations in 1999 in France, partnered with Master Marine Norway, under the name Master Marine France to work in the decommissioning market in the North Sea. The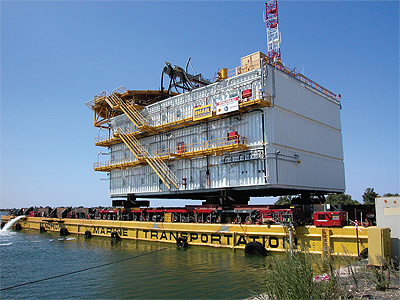 firm developed a few prototypes and enjoyed some success, before transferring its attention to heavy lift transport. Its first big contract was secured in 2000, with SDV, for a Shell project in Nigeria that involved transporting eight modules. The name Terra Navtica was adopted in 2006 when the French arm of the organisation bought out its Norwegian partner.
Terra Navtica's managing director and founder, Jean-Luc Morbelli, outlines the company's sphere of activity: "We are based in Copenhagen and our clients are from all over the world – we're very flexible in terms of where we can work. Heavy lift transport is our core market, and our success is based on the knowledge we have accrued in this niche oil and gas space. We transport installations and heavy components for on-and offshore oil fields."
Illustrating Terra Navtica's activities, Jean- Luc speaks about work undertaken in recent years. "From 2003 we have been involved in the Caspian Sea development. As part of this, the first contract we signed was with Technip. The challenge here was the limited window of opportunity because the Caspian is frozen from November to April, so we had to ensure we operated very efficiently to make the most of the time frame we had. Effective planning was paramount.
"The Kashagan project currently running is also noteworthy," he comments. "We started our involvement in that in 2005, and this year we signed on to continue fulfilling this contract for a further two years. We have two barges chartering for the project, transporting from the Mediterranean to the Caspian Sea, and every year we complete ten to 20 big shipments, such as living quarters, modules and columns ranging between 50 to 1000 tonnes. At present, this is our major contract and we're continuing to be very busy every year from March to October in the Caspian."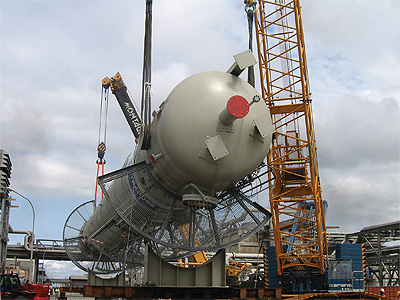 In order to supplement this success, Terra Navtica has identified the bridge construction market as a possible expansion route. "Before founding Terra Navtica, I worked in this area, in charge of the fabrication and installation of major bridges in Europe," Jean-Luc explains. "There is a new 30km bridge being planned to go between Denmark and Germany, which will be the biggest project in Europe for the next decade. The work will be different for us in terms of the type of components, but size and weight is similar. We are also looking at the offshore windmill market, where we have worked previously and which involves the transport of heavy items. Put simply, when something is heavy or out of gauge, transportation needs to be by sea, and that transport requires the expertise we've developed."
Given its considerable expertise in its niche sector, it's no surprise that so many companies choose Terra Navtica to meet their transport requirements. After all, Terra's employees consist of naval architects, structural engineers, mechanical engineers, master mariners, designers and offshore supervisors with extensive experience in the offshore and civil contracting industries.
Reflecting on what else the business has to offer, Jean-Luc observes: "It comes down to our capacity to perform all the front end engineering and management of a project, because most of our competitors carry out little or no engineering. We do more and therefore represent added value. Our know-how is one of our obvious qualities but it cannot be underestimated – components for oil and gas are very expensive so clients need to know that they're in good hands. Importantly, we don't have a great deal of competition because we are very specialised. Not a lot of organisations can undertake what we do; we take full responsibility of the full contract, including insurance, rather than just offering engineering."
In terms of what the future may bring for Terra Navtica, Jean-Luc is optimistic about projects in the coming years, partly because the organisation hasn't been badly hit by the recession. Discussing how he'd like to see it develop, he concludes: "We want to grow – today we have 15 engineers and specialists but we want to have between 20 and 30. This would put us in the sweet spot as far as capacity goes."
Terra Navtica A/S
Services: Heavy transport and handling
---