The Cyclect Group
Issue 10 2011
---
Completely possible
With a business mission to achieve cost savings and increase market share through a systematic approach centred around improved project management, achieving process excellence and developing the skills and expertise of its people, The Cyclect Group provides engineering, procurement, construction and project management services for marine and land industries.
Employing over 500 members of staff at its offices located in eight different countries, the group has endeavoured to become a trusted partner to countless global companies since it's founding in 1943.
Comprising of four key companies, Cyclect, Aeco Plant Engineering, Mecflou and Chemicrete Enterprise, with several subsidiaries and joint ventures, the group serves key industrial segments including marine, oil and gas, high-tech manufacturing, utilities and infrastructure, process and pharmaceuticals and commercial and special events. A two-time recipient of the TEC Innovator Award, first in 2004 for its role in the research and development of the Singapore Civil Defence Force's Mobile Ammonia Scrubber project, then in 2005 for the development of the Foreign Object Debris Intelligent Detection and Alarm System (FIDAS), The Cyclect Group has also been the recipient of the prestigious Singapore Enterprise 50 Award in both 2009 and 2010.
Adhering to international quality and safety standards in construction and project management, as evident by its ISO 9001:2008 and OHSAS 18001:2007 certifications, The Cyclect Group can also boast being certified by Underwriters Laboratories Inc., a fact that further assures each and every one of its clients that the motors and generators the group services can withstand the most hazardous of environmental conditions.
The six distinct core businesses that make up The Cyclect Group consist of engineering and construction, technical services, system integration, energy solutions and product distribution and facility maintenance. Under the Cyclect brand one will find a total of seven operational divisions. Its electrical projects division provides turnkey solutions and technical support services for an extensive range of electrical power requirements. The expert work it undertakes has received accolades such as certificates of appreciation from Simon Carves, a Punj Lloyd company, and ExxonMobil for its contribution to the Jurong expansion project. It also recently completed another successful project at the annual F1 Singtel Singapore Grand Prix night race for all major electrical works.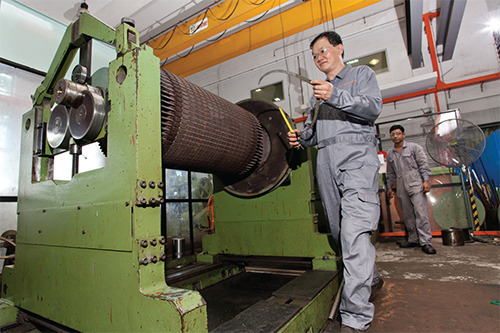 The Cyclect Group's mechanical division provides fabrication, design and general or specialist repair services, while its Heating, Ventilation, Air-Conditioning and Refrigeration (HVACR) team provides a wide range of solutions from conventional applications to sophisticated heat recovery systems. Furthermore its Controls, Instrumentation and Automation (CIA) department provides services for equipment and plant control, instrumentation and control systems.
Through its product distribution network the group provides value added services for all of its products, such as Norgren-Herion and Buschjost valves, also allowing for the integration of these products into existing systems for more effective utilisation. The Marine Services division provides mechanical and electrical services for rotating equipment, such as motors and generators, diagnostics and preventative maintenance and appointed sales and service agents for selected brands of control equipment including JRCS, Taiyo, EMRI and Emotron. Last, but certainly not least, Cyclect Energy is a specialist department providing the sale and integration of energy efficient systems using the latest micro-turbine, heat exchanger and non-electric driven chiller technologies. The team also includes appointed sales and service agents working on behalf of the companies, DuCool, Capstone and Broad.
The solutions provided by the group can be broadly divided into three main industry segments, these being marine, infrastructure and energy. Since its first contract was signed with the Royal British Navy in 1957, The Cyclect Group has served more than 2500 customers in the maritime industry including oil rig operators, FPSOs, shipyards and global shipping companies. Typically carrying out work on merchant ships, tankers, offshore platforms and a number of other marine vessels and structures, the group offers a range of services including electrical and mechanical works, instrumentation and controls, cabling solutions, diagnostics and preventive maintenance and FPSO conversion and modification projects.
As notable clients such as Fuji Oil, Soxal Gas and even Universal Studios Singapore and Singtel Formula 1 Singapore Grand Prix can attest, The Cyclect Group has become proficient in powering infrastructure projects since the 1980s, delivering turnkey E&I installations, mechanical fabrication and installation works, HVACR systems and plant and facility maintenance. Committed to improving its customers' energy efficiency needs, the group also engineers and builds customer solutions catered to each unique environment, which are designed to meet the future demand for clean, sustainable energy within the offshore, industrial and marine industries.
A milestone for the group was reached back in March 2011 with the launch of an enhanced business structure and brand experience to help move towards greater integration in delivering customised solutions for marine, infrastructure and clean energy. This launch comes in response to the increasing amount of opportunities that are today presenting themselves in Singapore as the urbanisation of the Asian continent continues. What this is turn fuels is a rise in demand for energy and oil and gas facilities.
Fully aware that Asia will continue to experience tremendous growth in the decades to come, The Cyclect Group has acted in much the same way as other leading conglomerates in that it has made the effort to renew its business model and in turn create a unique brand experience.
By remaining focused on providing a customised cycle of solutions to its clients and determined to become a vertically integrated group providing engineering solutions throughout the continent by 2014, The Cyclect Group has sustained its business advantage, thus staying ahead of the competition operating in the Asian market.
The Cyclect Group
Services: Multi-service provider
---