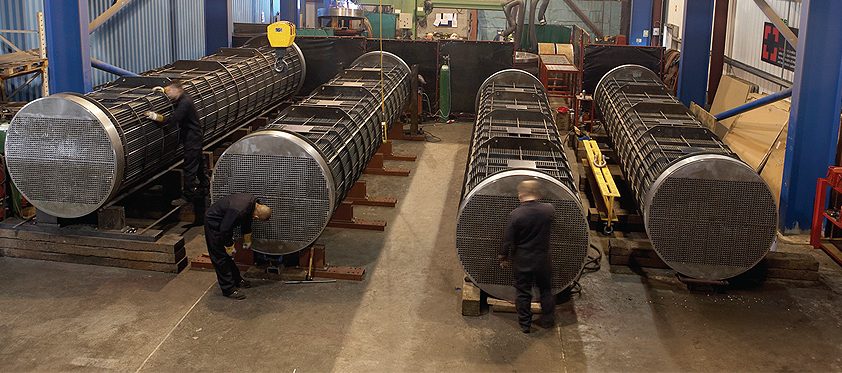 Therco Ltd
Issue 03 2010
---
The heat is on
Through determined growth and strategic acquisitions, Therco has established itself as the UK's leading manufacturer of aircooled and tubular heat exchangers.
Managing director Rob Sawtell elaborates on how the business has developed over the past six years to become the largest in its market: "We established the company at the beginning of 2004 in response to a reducing fabrication community in the UK and increasing oil price, factors which contributed to huge demand for our products.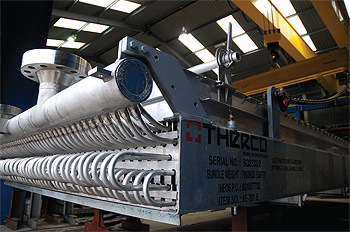 "We enjoyed rapid growth, achieving a £1 million turnover in the first year. This figure rose to nearly £2 million in year two after acquiring Serck Industrial (then owned by Honeywell Plc), which had been producing heat exchangers for nearly 100 years at its Birmingham site. We successfully transferred the entire business to Sheffield and novated a large number of client contracts with little or no disruption to supply. We rounded off 2008 with a turnover of approx £9.2 million which in turnover terms makes us the largest in our sector for the UK."
The organisation's main market is oil and gas. Though it also works with the chemical, power gen and marine markets, the UK's oil refiners are Therco's core clients. "Amongst our biggest clients are Sabic Petrochemicals, which operates the majority of the old ICI plants up in the northeast of England, Murco at the Milford Haven oil refinery, Chevron at the Pembroke oil refinery, Total at the Lindsey oil refinery, and Ineos up in Grangemouth," Rob states.
Continuing, he outlines Therco's activities: "Refining oil revolves around heating, cooling, condensing and evaporating a vast array of different products, feedstocks and processes. In essence, the whole oil refining process is very dependent on heat transfer, so each refinery has hundreds of heat exchangers in various services – high, medium and low pressure – constructed in a variety of materials which all corrode and erode at different rates. Like the rest of the world, refiners are currently under huge pressure to reduce cost so processing crude from low cost origins is very much a part of every day life. Some of the low cost crudes are particularly corrosive and the plants heat exchangers need to be built to last.
"We specialise in making complete replacements, offering replacement parts such as bundles, and designing/manufacturing from first principle design data," says Rob.
Recently, Therco completed the manufacture of some High Pressure Reactor Effluent Condenser Bundles (air cooled) for one of the UK's refineries. The project involved many challenges including working in Alloy 825 materials, 100 per cent radiography on 3000 x small bore 2 pass butt welds, and a project criticality rating of one (vital). Despite many other challenges, the equipment was all delivered in advance of the contractual delivery date, the clients' TAR project portfolio manager asserted at the time: "The huge success of this project cannot be overstated; the success is a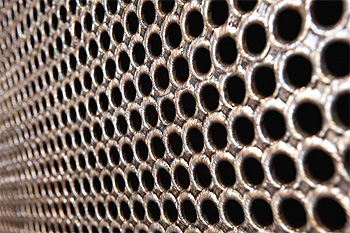 testimony to Therco's drive and commitment to delivering premium quality products on time."
Clearly, Therco maintains a respected reputation in the oil and gas world and Rob feels that there is no question that the company's strength comes from being a system driven company. "We share the market's obsession with health, safety and environmental control; we have ISO 9001, 14001 and OHSAS 18001 accreditations, we're also an ASME approved fabrication shop holding licences to apply the 'U', 'R' & 'NB' stamp, which are in harmony with what the industry wants. We never lose site of customer service or the importance of setting and hitting realistic deadlines, we have a library of reference letters that confirm our track record of delivering in this regard."
Staff play a key role in terms of Therco's success and Rob understands that prudent recruitment is behind every successful business. "Our strategy is based on finding good people, putting them in the right roles and providing them with clear direction, thus ensuring they're under no illusion as to what's expected of them," he says.
Therco is also concentrating on providing clients with a better and faster service, so its current investments are aimed at productivity. "We've invested considerably in premises, plant and equipment; including automated welding technology and bespoke machining & drilling tooling such that we can produce exchanger components quicker and to a higher quality than our competitors. It's about giving customers a high quality product faster than anybody else can," Rob reports. With this attitude, the coming decades should be profitable and interesting for Therco. Rob feels the worst of the recession is behind us, and as a result, feels optimistic: "There's enormous potential for us. Last year was hard and the first six months of 2010 are going to be difficult, but as we move into 2011 we should see a good return to profitable growth."
Considering what the future will bring for Therco, commercial director John Brooks adds: "Having dominated the UK market, our aim is now to move out into the rest of the world, we've already had some success over the past 12 months in pushing out into Europe and the Middle East."
And it seems global expansion has been on the cards since Therco began operating, as Rob reveals: "From a marketing point of view, I've always invested in creating a credible brand that we could take onto the world stage. Supported by our considerable success in the UK, we're now ready to go further afield and plan to do so through a combination of organic growth and further acquisitions. With our reputation enhanced by the presence of high quality Serck equipment on sites throughout the whole world, we're already enjoying large project exports to the likes of Oman, Australia and Hong Kong amongst others."
Therco Ltd
Products: Heat exchangers
---