Thern Lifting Services
---
Thern Lifting Services
Thern Lifting Services is set for an exclusive US product launch at OTC 2010.
Further to a successful few months since the European launch of the self contained Zone 1 hydraulic personnel winch 'The Monitor 75/150'. Scottish based engineering manufacturing company, Thern Lifting Services will be unveiling and launching the product to the US and International markets on 3rd May at OTC 2010.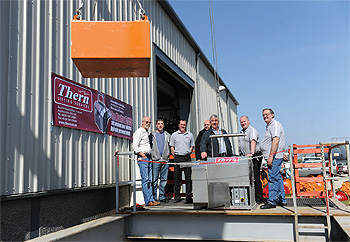 The Monitor 75/150 is a specially designed and patented hydraulic personnel winch, approved by Lloyds Register of Shipping for installation on platforms, ships and support vessels. The advanced safety features on the new and unique Monitor 75/150 designed by Thern Lifting Services has been intended to mitigate as many risks as possible during man riding operations.
The bespoke winch is the only one of its kind available worldwide and meets the latest NPD and European Machinery Directives.
The main advantages of the Monitor 75/150 include:
The in-built safety features
Self-contained compact modular unit
Load selector facility
Structure and components, which are primarily stainless steel
Two independent internal failsafe multidisc brakes
The option of air or hydraulic motor
The Monitor hydraulic personnel winch is just one product within a wide range of the latest air, hydraulic and electric winches, produced and designed specifically in the UK for the UK, European and International marine and offshore markets.
The exclusive product is already causing a stir in the traditionally stagnant market with significant orders on the books and current contracts with drilling contractors, asset owners and major oil companies.
Product features include:
Self-contained compact modular unit limit
Load selector facility to allow personnel load setting from 75 to 150 KG
Dual drum system to facilitate precise and accurate winch load, and to provide emergency descent in the event of power failure
Single layer grooved drums complete with guide rollers
Over 12-1 safety factor on 10mm diameter wire ropes (58mtr storage capacity)
Structure and components are primarily stainless steel
Two independent internal failsafe multidisc brakes, acting on drum
Overload/over hoist protection
Slack wire roller with disengaging facility
Automatic rope travel limits
Design temperature TD = -40˚C
Local lever control to provide precise spotting control (variable speed) 0-27 mtr/min
Suitable for Zone 1 as per ATEX directive 94/9/EC
The Company
Thern Lifting Services was established in November 2008 by Ian Nicol (managing director). Kenny Lendrum (workshop manager) and the in-house design team have over 30 years of experience in designing air and hydraulic systems to customer requirements. The team at Thern identified the opportunity to provide a better choice and more suitable products in air and hydraulic lifting equipment within a previously, stagnant marketplace.
In addition to The Monitor 75/150 winch, Thern provides design, hire, sales and service for a wide range of lifting equipment and hydraulic products, including air, hydraulic, electrical winches, gal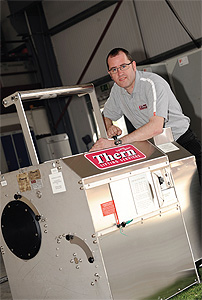 marine knuckle boom cranes, portable davit cranes and a full range of hand winches.
Thern Lifting Services' £1.6M purpose built engineering premises at Bourtie Industrial Park, Inverurie, near Aberdeen in the North East of Scotland, is its manufacturing site and head office.
The most recent member of staff to join the team is Robbie Garden who joined Thern Lifting Services in April 2010 as International sales and marketing manager.
Robbie brings to the team 22 years experience in the international oil and gas industry namely in the compressed air and rental sector and he will be responsible for the expansion of the hire, sales and services of the full range of products.
The Difference
Keen to showcase the equipment to the US market, managing director, Ian Nicol has no doubt that there will be a significant amount of interest at OTC, which is one of the finest arenas to profile such an innovative and unique product to the marketplace.
"This is an exiting opportunity for our team after two years of in-house design and development. This unique piece of equipment takes personnel safety to a new level.
"We have currently invested a six-figure sum of capital investment to ensure our customers receive superior products, service and delivery on an international scale. Our qualified personnel are available to inspect each winch on an international basis, with a dedicated spares parts inventory available from stock and in house training facility to ensure that only qualified personnel operate winch."
With an experienced team, innovative bespoke products available and a focused customer service, the company looks set for great things.
The Monitor 75/150 will be on display at Booth 5951 at OTC, Reliant Park, Houston from 3rd – 6th May 2010.
Thern Lifting Services
For further information please visit: www.thern.com
---