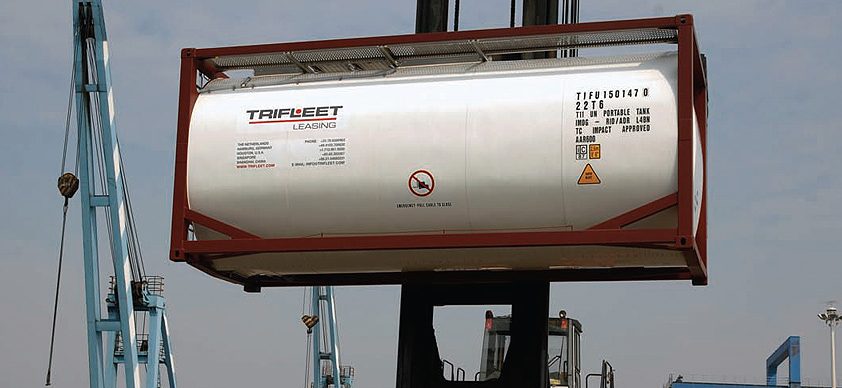 Trifleet Leasing
Issue 02 2012
---
Quality inside
With a modern first class rental fleet of approximately 8600 containers at its disposal, Trifleet Leasing is the world's largest owner-managed tank container leasing company.
In terms of the market as a whole the company is also positioned in the top five of the largest tank leasing companies, with a customer base that covers all major producers and operators.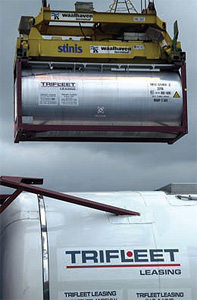 Although initially established in the UK in 1990, Trifleet Leasing's operations began proper in 1992 following a move to the Netherlands. Since this time the company has embarked on a programme of steady growth and expansion, pinpointed by the opening of an office in Houston in 1993, Hamburg in 1999, Singapore in 2000, and more recently a move into China in 2009. Just last year, Trifleet Leasing opened its fifth office outside of its headquarters with a new site in France.
Specifically designed for the transport and handling of bulk liquids, and often dangerous substances, Trifleet Leasing's fleet of tank containers are employed for petrochemicals, food stuffs, pharmaceutical, and compressed and refrigerated gases. Besides a wide range of standard tank containers the company also offers various specialist products including swap bodies, highly insulated tanks, non insulated tanks, multi-compartment tanks, and electrical or steam heated tanks.
With numerous advantages to their use over equivalent products such as superior efficiency and safety over drums, and greater flexibility than parcel tankers, the market for tank containers is continuing to see growth. Engineered for inter-modal transport, tank containers can be passed between road, rail, barge and sea ensuring minimum product handling and contamination. Equally, by leasing containers as opposed to purchasing them outright, clients benefit from greater financial flexibility, enhanced logistics, control over equipment with guaranteed availability, potential saving on overall costs, and greater product quality through dedicated use.
In terms of what other qualities make Trifleet Leasing's business model stand out in a competitive market, managing director Philip Van Rooijen shares his thoughts: "We are a management-owned business, whereas if you look at our major competitors they're all either venture capital fund owned, or state-owned. Because of our structure we have the advantage of being able to react faster than most, and can adopt a slightly longer-term view. Our customers can notice this in our services because we place a lot of emphasis on different varieties of tank containers, and are able to offer in depth technical advice and technical management on behalf of the customer. This is greatly appreciated by customers who often see departments being reduced, and therefore this knowledge no longer becoming available."
Like all leasing companies, Trifleet Leasing has had to weather the tides of the market, which included a particularly sharp decline in late 2008 and 2009. At this point the company saw the ratio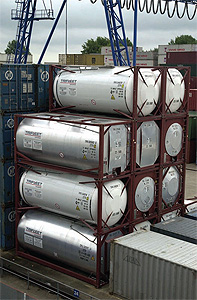 of its tanks leased drop from around 90 per cent procured to below 80 per cent. However, by 2010 Trifleet Leasing had turned this figure around with the following year once again showing strong growth. "At the same time we see that there is a strong consolidation going on in the market, whereby large financially powerful companies are buying a lot of new tanks, which the market cannot really take up, and this causes considerable pressure on margins. For some of these competitors it is very important to grow rapidly therefore returns that are sustainable on the longer term are less important. So they buy volume," explains Philip.
"As a privately owned company our strategy is based more upon the margins that we need to reinvest in tanks in the following years, so we place emphasis on the quality of the product and service. For 2012 we expect that it will be sluggish, however there seems to be more optimism in the market as we've noticed we're getting more enquiries so we will see what this brings," he adds.
Over the last five years Trifleet Leasing has doubled its own fleet, and expectations are for the company to do the same again in the next few years. As a global operator, the company aims to balance its fleet by moving between locations where demand is high, albeit at a repositioning cost. Therefore there is a real need to plan resources to offer the best return. "The industry itself has been moving away from Europe into Asia, and therefore we have followed in order to offer the same services as they are used to in Europe," comments Philip.
"We opened our operations in China just a year and half ago, yet this already makes up over ten per cent of our tanks leased out. Clearly the market here is growing quickly, but we also see the US beginning to pick up again, and South America emerging as a notable market," he adds.
Whilst Trifleet Leasing has achieved a position in the global top five for leasing, the company recognises that it is competing with some large players with greater equity at hand. In terms of how the business intends to thrive in this environment, Philip explains that Trifleet Leasing is remaining close to its roots: "We will continue to cater to the needs of the chemical and petrochemical industries, and to be seen as the higher quality independent leasing company that is capable of handling both a large number of standard tanks and specialist products. Our business is focused on providing a better, quality service for a competitive rate, which there is always a need for, and there will always be a position in the market for companies like us."
Trifleet Leasing
Services: Leasing of tank containers
---