Unique Maritime Group
Issue 09 2011
---
One of a kind
A global provider of integrated support systems for various offshore industries via its expanding network of companies, Unique Maritime Group (UMG) is a recognised specialist in providing ROV, diving, survey, NDT and engineering services.
With some of its companies possessing over 20 years of experience in their specialised fields, including marine, offshore construction, hydrographic survey, environmental, non-destructive testing and diving, UMG remains at the forefront of the various products and services it provides. The group's capabilities also extend to specific onshore industries such as pipeline petrochemicals, construction, shipyards and IT.
Founded in 1993, Unique System, as the group was first known, was established as an equipment rental sales and service organisation, providing specialist products and services to the offshore oil, natural gas and maritime industries in the Middle East, India and Singapore. As the group evolved, Unique System began operations in the US, Aberdeen in the UK and Mumbai, India, resulting in a new holding name being adopted – Unique Maritime Group.
Through a process of both organic growth and the targeted acquisition of companies, the group has continued to expand its services, capabilities and geographical infrastructure to better support customer requirements, regardless of their location.
General manager, Ian Huggins elaborates: "UMG is well positioned to capitalise on anticipated favourable market conditions in the worldwide oil and gas sector based on our global presence and high quality offering. This wide geographic coverage also enables us to address our chosen markets in key locations throughout the world and support clients across core service lines on a global basis. This has supported UMG in becoming the preferred choice for clients to fulfil their needs, not only with products, but also complete integrated solutions.
"We work very closely with our customers and have a collaborative approach to satisfying their requirements. The nature of our business is such that we have to understand the needs of the customer very closely in order to offer a complete solution tailored to the challenges they are facing."
Headquartered in the Hamriyah Free Zone of the United Arab Emirates, the group's head office is situated within a land area of 14,630 square metres and comprises a collection of corporate and administrative offices, electronic and mechanical workshop facilities, training facilities, warehouses and a large area of yard space. In the last two years alone the group's equipment inventory has increased to the point where its collective value now exceeds $6 million.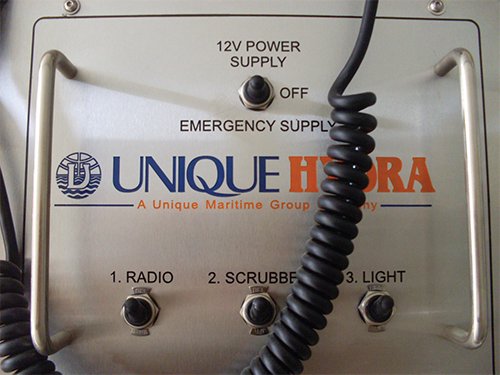 UMG has built up an impressive reputation for quality, innovation, service and speed of response in its nearly two decades of existence and is always striving to improve its product and service offering. One of the ways it achieves this is by constantly adhering to a series of strict values. Promising to operate ethically and responsibly at all times, the aim of the group is to maintain integrity by conducting its business in a way that makes people want to work with, and for, UMG.
Those individuals who work for the group are also its most valuable assets, and developing these people is one of the other values retained by UMG. Supporting the ongoing development of each and every employee is central to the group's responsibility as an employer, and helps ensure it is able to attract and retain the services of the very best workers available.
The group's commitment to innovation and technology is the basis for its competitive advantage. Encouraging and valuing creativity, UMG also promotes openness to change and approaching business with a fresh and dynamic approach. Proud of its brand and reputation, it aims to deliver the highest quality products and services in order to be recognised as the partner of choice within its chosen markets. "Research and development is very important within our industry where the technological developments are continual, so we aim to ensure we supply our customers with the latest technology available to meet their needs in a competitive commercial environment. Thus we have dedicated a significant amount of our resources to these activities in order to sustain a competitive advantage," adds Ian.
The business activities of the group are split across three key areas; sales, rental and technical services. Specialising in the sale and supply of equipment sourced from leading industrial manufacturers around the world, UMG also has agency agreements in place, underpinned by close working relationships. This product and service range includes the design and manufacture of air, mixed gas and saturation diving equipment, marine winches, certified man-rider winches and specialised subsea rigging equipment.
"Recently we delivered a saturation diving system for J. Ray McDermott, which was carried out by Unique Hydra (Pty) Ltd – a division of the Group – based in Cape Town, South Africa, with support from our team in the US and the Middle East," begins Ian. "The 12-man, 300 metre saturation diving system was designed to be functional, yet comfortable, and consists of five locks in two chambers complete with LCD displays and internet access points. The system also includes a Self Propelled Hyperbaric Lifeboat (SPHL) on a mobile davit and complies with the latest DNV regulations. We have an extensive track record in the design and build of saturation diving systems so the scope and nature of work involved was ideally suited to our areas of expertise."
UMG also maintains an extensive rental inventory that meets the requirements of geophysical, hydrographic, surveying, positioning and underwater inspection applications. This inventory comprises of products made by a plethora of companies
involved in the manufacturing of marine, survey and diving solutions. As agents for the products in its rental pool, the group is able to supply, install, maintain and provide full product training for its customers. In the Gulf region the group has several exclusive representation agreements with some major global companies, making it one of the leading suppliers for offshore equipment in the area.
As the company continues to grow, capitalising on market expansion, entering developing markets and seizing new opportunities it can boast a number of credentials that mark it out as a dominant player within its industry field. With access to equipment and accessories from suppliers worldwide, the group's personnel are regularly involved in manufacturing and upgrade programmes, further highlighting UMG's commitment to having the most experienced and well-trained employees possible.
Ian concludes with how these activities contribute to the wider strategic development of the group: "As part of a continual improvement process we are analysing how we provide value to our customers and are realigning some of our internal structure and processes in order to improve on this. Beyond this, our vision is to build a company that is renowned for its knowledge and technology based solutions, and recognised worldwide for its excellence of service to the subsea and maritime industries. As a global brand we will continue to expand and develop through both organic and strategic acquisitions to become a preferred supplier in the industry worldwide."
Unique Maritime Group
Services: Integrated support services
---