United Offshore Services
---
A united effort
Founded in 1993, United Offshore Services (UOS) remains today a privately owned company, which specialises in the manufacture, management and supply of large diameter offshore steel wire ropes, special heavy lifting single laid slings, cable laid ropes, slings and grommets.
Located in Moerdijk, the Netherlands, UOS has access to local deep water harbour facilities for loading/discharging of barges and other sea-going vessels making it an ideal location for handling
heavy lifting equipment and other items.
Edwin Jefferies, the export sales manager at UOS highlighted the blue-chip clients that the company works with: "Our major clients include Heerema, Bezemer, Gusto/SBM, Seaway Heavy Lifting, Sarens and Mammoet. In most cases they are Dutch-based companies that export the products they buy from us. We calculate that approximately 95 per cent of our products end up being exported and used in a different location."
The products manufactured and distributed by UOS have historically been either directly produced by the company or purchased from specialist suppliers. However, a recent investment in new machinery has created a new flexibility for UOS, as Edwin explains: "We have installed a new machine to produce cable-laid ropes in very large standards. The advantage of this machine is that it makes us more flexible towards our customers. We're also able to supply something other people perhaps can't make, and certainly they can't make to the standard that we produce.
"Alongside this, in the past we had to purchase our rope complete from certain manufacturers like Bridon, and we had to wait for these for up to 18 weeks. But now we can close the wire ropes on our own machine, which brings the timescale down to around three or four weeks. This therefore also helps us to be more independent."
This new machine, added to UOS' existing high-tech facilities, ensures the company stands out from the competition, as Edwin confirms: "As a result of the investments we've made into machines, nobody else can really match the quality of our products. In addition, we train our people to always have the skills that we need in a very focused way – we don't diverse into other products, we focus on what we're good at. Finally, our service is also very strong because we can offer short turnarounds and very short lead times that other people can't normally do."
Edwin adds that meeting deadlines is one of the challenges that UOS has to face on a regular basis: "Getting the products ready is always a priority because most of our customers are expecting a prestige service, and also they are working to tight schedules, which means we have to fit into their logistical plans. As a result, we have to make sure we serve the customer quickly by having the materials ready on time, and that's something we're very strong at.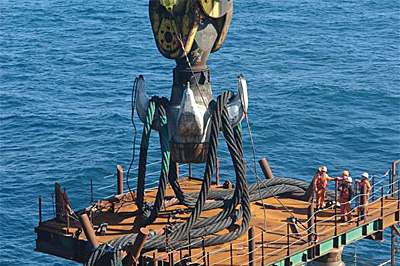 "We also actively get involved with formulating European standards, and are very good at keeping our products and our customers up to speed on what certifications and legislation issues need to be addressed."
Edwin continues with how the economic situation has affected UOS: "We usually take on a lot of last minute jobs, but this year we've done just one because in this kind of climate a lot of projects have almost stopped. In the meantime we have picked up long-term project work that we normally wouldn't get and this will keep us busy for the next three to six months. In fact, the recession hasn't had a major impact on us, because we've lost in some areas and we've picked up in other areas, helped by our investment in the new machinery."
In fact, Edwin credits the investment in machinery highlighted previously as having secured the future of UOS: "We have continually maintained and upgraded our facilities and as a result have seen steady growth since 1993. Going forward we see growth in areas like Australia, and also in the North Sea with decommissioning work. We know there's quite a lot of work for us in the future providing we keep the quality and the service up to standard."
He concludes: "I think that we are doing very well at the moment, although we are keeping an eye on the new competition that is coming in from China. I don't think it can genuinely be compared to us, as we have so many years of experience and work with very forward thinking suppliers. As a result of our approach we are often able to go to clients and offer them alternative ways of working, and despite the new competition I don't think we need to make any major changes to this methodology as it's so successful.
"However, if we were to look at another market it would probably be synthetics and I imagine we would try and develop a product using independent companies that are strong in synthetics, combined with our knowledge of how to produce a sling or grommet. If we're looking well into the future, then perhaps this synthetic rope could be a possibility."
United Offshore Services
Products: Steel wire ropes, slings and accessories
---