Vantage Drilling
Issue 10 2012
---
Young and successful
Vantage Drilling is a young drilling company with new premium class jackups and new deepwater drillships born by Paul Bragg, former CEO of Pride International, in 2007.
Following the departure from his previous company in 2005, investors impressed with his leadership of Pride approached Paul and asked him to helm a new company in the energy industry. Alongside five others he raised a blind pool of approximately $280 million by mid-2007 and returned to the investors to gain approval on his plan.
Paul brought to a shareholder vote in June 2008 his plan to buy four jackup rigs with an optional additional drillship, and Vantage Drilling was adopted as the company name. The deal including the drillship was approved and Vantage Drilling's first contract, utilising the Emerald Driller jackup, began in February 2009.
Douglas Halkett, chief operating officer, discusses some of the issues that the company has faced since it was established: "The biggest challenge is simply that we were born about two years too late and thereby missed the 2006/2007 boom. By the time we really got going in mid 2008, and when we were trying to raise finance, the financial world started to fall apart. It became a major challenge trying to raise the money for completing all the units of our fleet, but the job got done and we retained all four jack-ups delivered from December 2008 to December 2009. We put them to work as soon as they were delivered despite occasionally difficult market conditions. The contracts we've gained have always been top quartile rate wise and now many of those are being renewed on longer terms."
The Emerald Driller is a perfect example of this. "After it was delivered it went straight to work in Thailand for Pearl Oil Thailand Limited and has remained working in Thailand ever since," illustrates marketing vice president Mike Derbyshire. "Following the end of its work with Pearl its contract was renewed with PTTEP Thailand and PTTEP Thailand, has recently renewed the Emerald Driller's contract for a second time and for a further 21/2 years at an extremely good rate of $156,000 per day.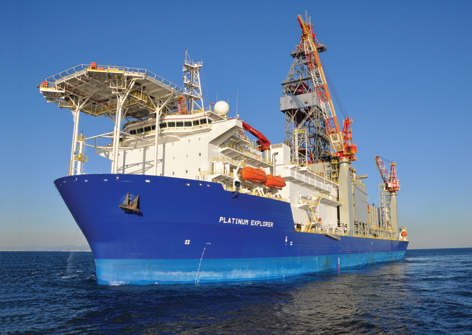 Mike goes on to explain that this is a common pattern across Vantage Drilling's entre fleet: "The Aquamarine Driller has gone through a similar process: it has just been renewed on a one year option with Petronas. Carigali. The Topaz Driller worked first for Total Malaysia and is now transferring to Total Indonesia. The Sapphire Driller worked at first in West Africa for Foxtrot before moving down to Gabon with VAALCO Energy, shifting to Cameroon on a contract with Bowleven, and is now returning to Foxtrot for a new project in Ivory Coast. All of our jackup rigs today are engaged in repeat business. By that we mean that when the contract has been renewed the vessel has stayed either within the same country or with the same client. This is a testament to the quality of our operations, to the quality of our new and modern fleet but above all to our management teams in the field and our crews offshore."
Vantage Drilling's fleet currently comprises two operational drillships, Platinum Explorer and Titanium Explorer, with a third vessel, Tungsten Explorer, to be delivered in May 2013. The Platinum Explorer is employed on a five-year contract with ONGC in India. The newer of the two current drillships is the Titanium Explorer. It is a self-propelled ultra-deepwater drillship currently equipped for depths down to 10,000 feet but with potential for drilling in depths of 12,000 feet. A notable feature is the vessel's high capacity top drive, which offers greater load carrying capacity than standard units. This advantage made it incredibly attractive to clients in the Gulf of Mexico where the wells drilled require much higher capacity equipment. The Titanium Explorer is in acceptance testing in the Gulf of Mexico for Petrobras on an eight-year contract.
Consistent long-term contracts have kept Vantage Drilling's entire jackup fleet busy since it began, and the company is very happy with the performance of its fleet so far despite an unpredictable market. When the Emerald Driller began its first contract the market rate was $171,000 per day; by the time the second rig began its first job in July 2009 the rate had dropped to $100,000. The company benchmarked this as the lowest acceptable figure and has since built upwards to more comfortable rates between $155,000 and $185,000. As the upstream market continues flourishing once more, the future looks promising.
"The Tungsten Explorer, our third drillship, is being very heavily marketed at the moment," says Mike. "We are very happy with where business is currently. The deepwater market is virtually sold out for the rest of 2012 as well as most of 2013 so, when the Tungsten Explorer is delivered in May, it will have one of the best availabilities in the market. We are very confident in securing a good contract for her."
Douglas goes on to say that, in light of its success so far, Vantage Drilling's long-term outlook is very positive: "The plan now is to continue to grow wherever it makes sense for the company and its shareholders."
Vantage Drilling
Services: Drilling Contractor
---