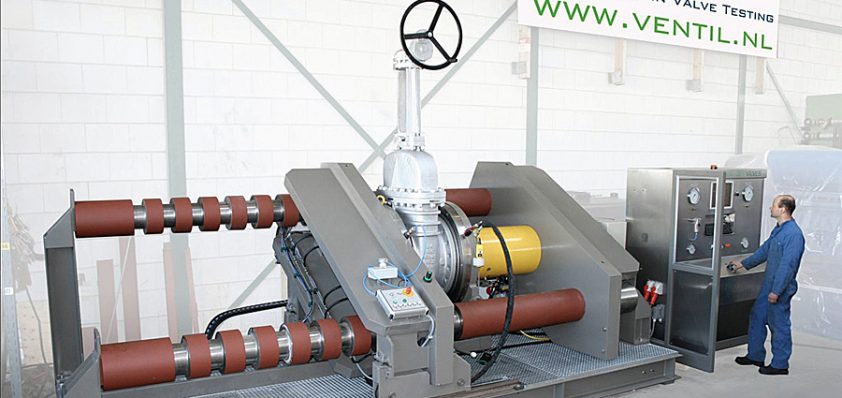 Ventil Test Equipment
Issue 12 2010
---
Raising the benchmark
For more than 45 years Ventil Test Equipment has been dedicated to the design and manufacture of high-quality valve test benches for pressure and leakage testing in safety valves, control valves and shut-off valves.
This expertise means that Ventil is the producer of choice for many leading valve manufacturers and valve repair companies. The company also supplies directly to end users in the nuclear, and oil and gas industries, including major multinational companies such as Shell and Saudi Aramco. Although a relatively small company, Ventil has offices in Moscow and the US alongside its headquarters in the Netherlands, providing it with a local presence in some of the world's leading industrial locations. Certainly it is no surprise that the company's test benches can be found in over 60 countries across the globe, including Australia, the US, Russia and South America.
As part of its overall philosophy Ventil undertakes a large proportion of the machining and manufacture of its equipment parts in-house, utilising its well-equipped workshop in the Netherlands. Compared to subcontracting, this approach enables Ventil to retain full control of the manufacturing process, to reduce the lead time on parts, and to be flexible where required in meeting deadlines or certain specifications. The company recognises the different test requirements of its clients, offering tailored manufacture in order to produce a solution that meets these. Commenting on
another key strength of Ventil, Rob Jaspers, sales manager, says: "We are very strong in automating test benches, and this is one area where we differentiate ourselves from our competitors. We have our own IT department, which develops in-house software and electronics as part of this service. This automation is particularly valuable when supplying machines to the manufacturing industry, which is often achieving high volumes of production. Being able to automate this means that the clients' save on personnel and labour costs, the process itself is quicker, and any aspect of human error is removed." Economic savings are not the only benefit offered by Ventil's test benches, from an environmental perspective the majority of fugitive emissions from control and safety valves are caused by leaking valves. Through the use of test benches to monitor valve performance these emissions can be substantially reduced.
In order to expand its service capabilities, at the beginning of 2010 Ventil launched a new line of valve repair machines, under the name V-Tec. Designed to complement its line of valve testing equipment, in the event of valve failure, the company now has a range of grinding and lapping machines for repair purposes, including some developments which are very new on the market. "Another example of a new development is the Ventil PreVenTest system, which is an on-line safety valve test," explains Rob. "Normally when you test a safety valve you have to remove it from the plant or facility, which means a complete operational shutdown. Our new system enables the tests to be carried out on all types and sizes of spring-operated safety valves, whilst the plant is still live. This provides substantial cost savings as production is uninterrupted, and the valve itself doesn't have to be removed and transported to the test site. With the PreVenTest system only safety valves that require repair will have to be removed, whilst ensuring that all others are meeting their set performance standards." The system can also be upgraded to an intrinsically safe ATEX certified version for use in potentially hazardous environments.
Eighteen months ago Ventil not only invested in new premises in Holland, which effectively doubled its factory size, but also established a new office in the US. Describing the reasons behind this investment Rob says: "This move enabled us to establish a presence in the US market and to provide the level of service the market is demanding, on a local basis. There is a lot of activity, and potential, within the US market, so having an office with a manufacturing plant in that sector enables us to take advantage of that. From that one site, we are not only acting in the US but also Canada, Mexico and South America."
In terms of recent projects, Ventil has a major contract in place with Metso Finland for the supply of seven machines to its new manufacturing facility in Helsinki. With this is mind, Rob reflects on the current conditions of the market: "Although we did experience some slowdown from the recession, in terms of sales we weren't severely affected. We believe there is always work out there if you have a good product and at the moment the market is very strong. It seems that following the difficulties of the economic downturn businesses are seeing a substantial upturn and this is reflected in our order books."
Turning his attention the future of Ventil, Rob outlines his strategy for progressing the business over the coming years: "One key area we are looking into is expanding our position within the Russian market. Although we currently maintain a presence there through our Moscow office, there is a lot of potential within the sector so we would like to grow our market percentage. We will continue to invest in and develop our product portfolio and look at widening our general product range. At present we have a young and ambitious team here in the Netherlands with a lot of new ideas and plans, which we will be launching over the next few years."
Ventil Test Equipment
Products: Valve test benches
---