VIRO Engineering
Issue 04 2010
---
A flexible approach
VIRO Engineering is a medium-sized engineering company, offering a comprehensive range of services to clients from many different industrial sectors.
VIRO's core business is product development, machinery and industrial projects. The combination of specialised engineers and multi-disciplinary project managers makes VIRO engineering a strong partner for both small businesses and multinationals. The company was started by Mr. P. Visser in Hengelo, the Netherlands, and remains to this day a family owned business, with P. Visser's son, J. Visser acting as shareholder. Employing 450 people, including ambitious technical experts with a higher vocational and academic education level, VIRO offers a challenging working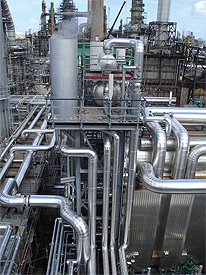 environment with plenty of room for growth and personal development.
In 1992 VIRO kick-started its move into industrial projects by working with a number of high profile customers, including AkzoNobel, Shell Global Solutions, Thomassen Gasturbines and Thomassen Compression Systems, as well as others within the petrochemical, chemical, energy and pharmaceutical industries. Roel Tang, establishment manager at VIRO Engineering, describes these early industrial projects: "The first two contracts we took on were a mechanical basic design package for a Cat Cracker installation in Japan, and a double compressor installation on a ship for the offshore industry in Australia. Today we are able to handle complete detail engineering projects and site construction support for our clients. As a consequence VIRO has built several modular plants for the offshore, chemical and petrochemical industry."
Moving on, Roel describes more recent developments within this area: "In March 2008 we set up a new office for industrial project and machinery in Schiedam, near the harbour of Rotterdam. Inside our organisation we now have all the necessary disciplines. One of our specialities is our group of more than 20 engineers who work in our engineering analysis department. The services this team provides include code calculation, stress analysis, FEM, and CFD calculations. As VIRO works for a lot of international companies, we are familiar with several international codes. Another strong point of our organisation is that we have an International Welding Inspector at level III, who can take care of our clients' welding classifications and inspections during the projects."
With a history of over 40 years, VIRO Engineering remains a strong business with international operations. Its key strengths include the delivery of complete solutions as a result of its decisive and integrated approach. Its core business is engineering and project management, and the company can offer tailor made services, such as engineering at hourly rates or fixed amounts, secondment, consultancy, turnkey, and system integration. Whether the task at hand is a simple one or a complex project where several disciplines must seamlessly co-operate, a complete solution is what the company stands for.
It can also take care of all phases of a project for its clients, from feasibility studies to start-up and maintenance. Comprising broad expertise and experience in various market segments, VIRO can offer clients specialist knowledge per engineering discipline, as well as the capacity to combine necessary disciplines effectively. Combining a result-oriented, pragmatic attitude and a creative approach, the company offers flexible services and tailor made products.
Many offshore shipping companies work in conjunction with the various VIRO engineering offices. The services provided vary from pleasure yachts, rescue capsules and commercial submarines to heavy offshore constructions. Working with large and heavy constructions, which withstand loads under extreme circumstances, VIRO engineering supplies the calculations, the basic engineering and the detail engineering. It also provides engineering for the process installations within the offshore location, offering a total solution with all its disciplines.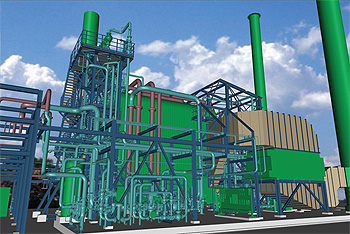 Roel describes how the company's flexibility has set it apart from competitors: "One of the strongest points of VIRO is that as a result of our flexibility, we can tailor our services to suit the client's needs. For example, when providing revamps, we are quite different to the big engineering companies, in that we are able to provide smaller modifications to vessels or structures and that area is growing and growing. We have many small jobs, as well as larger projects, and customers can contract our services for however long they need us, whether it is eight hours, or 8000 hours."
Viro uses PDMS as 3D design tool for the engineering of the projects. Recently the company has added a new design tool, called Tekla, which is a type of 3D building information modelling (BIM) software for steel detailing and fabrication. After detailing in Advance Steel or Tekla, the complete steel structure can be imported into the PDMS design and used for clash and integrity checks. A practical feature of PDMS is the generation of a clash free design. This saves a lot of time by reducing clashes and rework during the engineering and construction phases.
Looking to the future of the business, Roel outlines VIRO's plans for its progression in the coming years: "Moving forwards, we are focusing on combining our three areas of expertise to build complete projects. We come from a drawing office and we will merge with our engineering offices to offer a complete service to customers. We are now busy and we hope to earn a engineering contract in the coming weeks for a new solar cells plant. In the offshore sector, we are now working on a project in tidal energy. We have plenty of future prospects and are keenly looking ahead to grow the company further."
VIRO Engineering
Services: Engineering work
---