Visser and Smit Hanab
Issue 108
---
Making connections
The focus of Visser and Smit Hanab has, since its establishment in 1870, been in pipeline and cable routing.
Skilled in the associated drilling, it develops, builds and maintains technologically sophisticated and sustainable links, networks and systems for water, energy, chemical and petrochemical production. From the south of Holland, near to the port of Rotterdam its pipeline division is continuously operational in Europe, but its specialism, horizontal directional drilling (HDD) is called upon worldwide.
"Making connections is in our DNA," says company director Wilko Koop. "We believe in making connections not only between pipelines and cable networks, but also with our clients, seeking long-term collaborations in which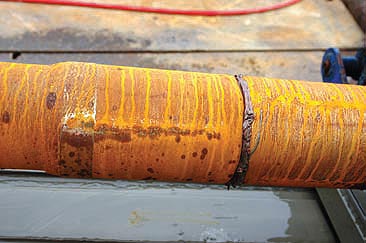 we invest in a sustainable society," he adds. With a strong history in underground infrastructure with high voltage cables and high-pressure pipelines the business has developed to become an attractive solution to clients within the oil and gas industry. "It is attributed to a combination of our specialist services that includes laying pipelines, the automatic welding system, which we developed ourselves producing good quality straight lines, and drilling techniques with micro-tunnelling and HDD activities.
"Clients are assured in undertaking a turnkey contract with our business that our specialist knowledge will support them through detailed engineering or produce solutions to questions and problems that are likely to arise during construction activities. We can help the client to make a constructible situation where the design would create limits based on the practices, the environment, the local population or other attributable circumstances," he explains.
Underground cables and pipelines, not indicated on maps or in the site history, are often discovered. Developing fine tuned solutions such as pre-bended drilling has helped to overcome such problems, which has in turn generated enthusiasm around the techniques. The market today is demanding longer lengths and larger diameters, something which, Wilko says, the business is quite efficient in dealing with: "HDD is broken down into several steps, pilot drilling, reaming and pipe pulling. We are able to drill exceptionally long lengths, but there is a limit. In this situation we undertake drilling from both ends, meeting in the middle."
In 2013 the company set a new European record, pulling 1700 metres of a high-pressure pipeline with a diameter of 48 inches. Making a total of 19 HDD drillings, the company's scope of works covered a 30 kilometre long section crossing rivers, canals, highways and railways. "The work was undertaken in a very soft soil area, high in peat, for which the best solution was HDD drilling. After a competitive dialogue our technical study was deemed to be the best and we were successful in the project," explains Wilko.
In the last ten years Visser and Smit has progressed into its role as a main contractor, specialising in automatic welding, horizontal directional drilling and micro tunneling, becoming well known in the market. "Everybody knows that if you have complex drilling you should ask VSHanab," Wilko points out. Staatsolie maatschappij, the state-owned oil company in Suriname, South America, was no exception. "We were asked to undertake a technical study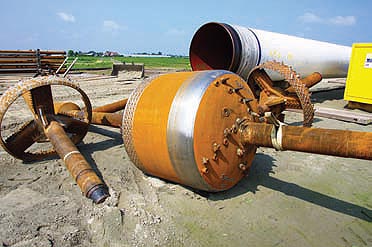 for the construction of a pipeline connection over five kilometres. We concluded that the best solution was to use drilling methods as the overall length passed through the property of 50 landowners. We were awarded the project and we are now in the construction phase," he adds.
One of the strengths that attract customers to the services of the business is that it is willing and able to innovate. Employing 60 own pipeline, cabling and drilling engineers it is able to meet the borders of all the possibilities. With drilling specialists on the job site and the combination of engineers in the design department, the business has developed the ideal blend of specialists. "The innovation and development of new techniques is made possible by undertaking all aspects of the project in-house. Problems can be explained and solutions quickly developed. Today we have solutions that appeared impossible three years ago and we are always trying to develop in this way.
"We work in close harmony with technical high schools and universities because we want to bring new, younger people into the business. We are financially strong with the capability to acquire new machinery, but financial strength is meaningless without the right people. We have clients operating across the world so it is important that our workforce is flexible," says Wilko. In today's market, clients are programming less time into projects, resulting in limited time throughout all phases. With the strong team of skilled employees, the business seeks to address the design stages with a clear understanding of what is required, generating more time for the construction phase itself.
Historically, gas transportation contracts would last in the region of 15 years and infrastructure investment was more likely due to the security of return. However in the current liberal climate contracts are being agreed for much shorter periods, which increases the risk of investing in infrastructure. With this trend in mind, Wilko concludes: "Upgrades are inevitable, but the time and willingness in investing in new connections is limited, so we are keeping a close eye on the market, and whilst we are not convinced, we remain hopeful."
Visser and Smit Hanab
Services: Develops and builds pipeline and cabling routes
---