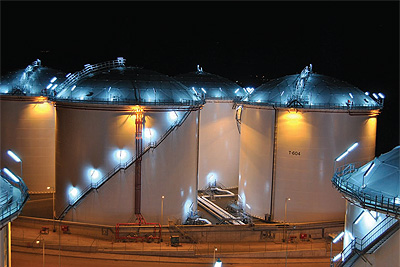 VTT Vasiliko Ltd
Issue 126
---
The key to the Mediterranean
During November 2014 VTT Vasiliko Ltd. (VTTV) opened a €300m oil storage terminal for business. VTTV operates as a subsidiary of VTTI B.V., which is an independent provider of energy storage worldwide. Located on the south coast of Cyprus between Larnaca and Limasol, the terminal's strategic location makes it the first of its kind in the Eastern Mediterranean region, connecting Europe and the Black Sea with markets in the Middle East and Asia.
The terminal itself is the result of four years of development, with planning beginning during September 2010 and involving preparation, design, tenders, contracts, construction and finally the serving of oil traders and other interested parties. Phase one of the VTTV terminal includes 28 tanks, totalling 544,000m³ capacity for a wide portfolio of products. Phase two of the terminal has recently received environmental approval and is currently undergoing commercial evaluation.


"What is interesting about VTTV is that we are not just fitting in with an existing market. We are creating a new one – a new energy hub in the Eastern Mediterranean that opens up a range of advantages for traders. This includes reliability in comparison to other Mediterranean locations, where the operating envelope of oil terminals can be narrowed due to bad weather. For VTTV in Cyprus, this is not an issue," explains General Manager of VTTV, George Papanastasiou. "We are also excellently located for the East-West trade routes that use the Suez Canal. Our jetty can accommodate Suezmax vessels as large as 160,000 tonnes, as well as small ships of just 5000 tonnes, meaning that we are very versatile. Additionally we also have the unusual luxury of owning a deep-sea marine jetty. Then add in the fact that we control our own towage and pilotage service and we are 'the masters of our own destiny.' Flexibility is a hallmark of our terminal, with VTTV being highly creative about how it markets its storage and services. After a long period of backwardation, contango conditions appear to be returning with the need for longterm storage."
Further to proving a vital stop to clients looking to utilise the terminal as a hub along the East-West trade routes that utilise the Suez Canal, the terminal's commercial team is also able to offer short-term capacity to suit specific markets. "For example traders are realising more effective economies of scale by building bulk, breaking bulk and using the VTTV jetty for shipto- ship transfers," George says. "The Republic of Cyprus is an important client that has, since May 2015, kept compulsory stocks at VTTV as the result of a successful tender process."
Its advantageous location allows VTTV to act as a vital link to customers transporting a number of products and cargoes. The terminal 'sits' in the middle of product flows between three continents and can accommodate the transition of fuel oil from the Black Sea to the east, the transport of distillates from the Middle East to the West and of gasoline from the West to the Middle East. As this market continues to develop VTTV will continue to expand to meet the changing needs of its clients. "With large refineries being built in the Middle East, the market expects more vessel traffic moving oil products through the Suez Canal bound for the Mediterranean and European markets. With the expansion of the Canal, such cargoes will need to be re-sized at a convenient oil terminal to meet regional requirements," George elaborates.
"Our holding company, VTTI B.V. is one of the fastest growing oil terminal companies in the world, and this growth involves VTTV. Currently, we are evaluating an expansion with 13 tanks of total capacity 305,000m³ for fuel oil and crude oil and examining accommodating a Floating Supply Regasification Unit (FSRU) at the jetty that will regasify LNG for the needs of the local market."
Presently the VTTV terminal offers storage capacity of 544,000m³ for gasoline, diesel, gas oil, jet fuel, kerosene, naphtha, MTBE and FAME. This comprehensive capacity to handle and store a broad base of products results in a service offering that will ensure the terminal's position as a key fuel hub for years to come. "I believe that the need for storage is still strong and it will continue to be for the years to come, as most industries are still very closely linked with oil," George says. "There are always challenges and opportunities and we are confident that we have the right means and resources to acknowledge, grab them and turn them into our favour."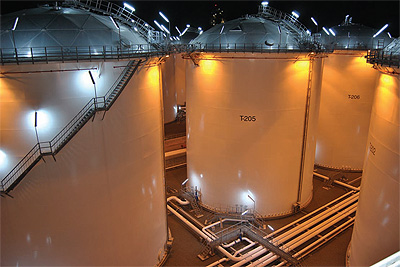 Although the terminal's strategic location and resulting flexibility represent key strengths for the business, George maintains that it is the staff under his leadership that most embody the great potential of the facility. "Our people are our greatest asset. It is only with the determination and dedication of our people that we can meet the requirements of our customers, generate long term value for our shareholders and contribute to the oil industry and the wider public," he reveals. "It is this expertise combined with terminal's strategic geographic location and the flexibilities it provides to its customers that demonstrate the great strengths that cannot be ignored of the newest terminal of VTTI."
The terminal will celebrate its first year in operation on 28th November 2015, marking a successful start for VTTV as a vital energy hub within the Mediterranean. Moving forward George is keen to highlight this success before continuing to develop the terminal over the coming years.
"The terminal's first 12 months in operation is a milestone that we want to remember and we are very proud to mark this success. We will definitely celebrate this achievement with our staff to look back into a year of operation, celebrate our successes, learn from our mistakes and set the targets for the year ahead," he says. "We faced many difficulties in reaching where we are now, because of lack of local industry knowledge, bureaucracy and sometimes legislation. We are very proud that hard work, persistence, and a clear vision towards the objective of delivering an oil terminal in the East Mediterranean has paid well. Over the coming years we will work to expand the terminal, diversify our customers' portfolio and evaluate regional opportunities including LPG and LNG, thus supporting Cyprus' aspiration to become an energy hub."
VTT Vasiliko Ltd
Services: Mediterranean energy hub
---