Wefco (Gainsborough)Ltd
Issue 09 2010
---
Process plant and storage specialists
Wefco (Gainsborough) Ltd is one of the UK's largest designers and manufactures of specialist steel structures with a focus on pressure vessels, columns and storage tanks for the oil and gas, utility and petrochemical industries.
Employing 55 people at the company's site in Gainsborough in the UK, Wefco's turnover is approximately £8 million a year. Often working to meet customers' specific requirements, Wefco is committed to developing innovative solutions to maximise client benefits. Maintaining a well-developed network of UK and European suppliers, Wefco's main customer base is within the UK although the company exports some products internationally.
One of Wefco's leading products is its underground double skinned petroleum storage tanks, which it produces in a wide range of sizes from 1000 gallon to over 120,000 litres. Capable of adapting its production techniques to suit large or small capacity tanks, Wefco uses semi-automatic welding machinery, shot blasting and coating systems to produce tanks of a class-leading quality. Wefco's other specialist area is the mechanical design and manufacture of carbon and stainless steel pressure vessels and drums. With approximately 8000 square metres of production space the company has the capacity to develop vessels up to 40 metres long and five metres in diameter. These can be in thicknesses from only five millimetres up to 100 millimetres. Wefco's jackup lifting facility means it can produce equipment that weighs in excess of 100 tonnes.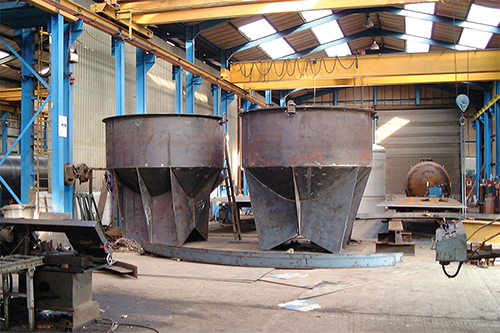 The company's product portfolio also includes storage tanks, which are built and tested within Wefco's onsite workshops. With road restrictions imposing size limitations, tanks with a diameter of five metres and up to 40 metres long can be transported in one piece. As well as shop-built tanks, Wefco also caters for site-erected storage tanks of up to 50 metres diameter, where necessary pre-fabricating pieces in its workshops for final assembly at the delivery site. Qualified technicians carry out non-destructive testing such as radiography, to test the structural mechanics of the tanks. Painting, lining and insulation services are also available in line with customer specifications.
A main subsidiary of Wefco is metalwork specialist Normanby Marine, which produces tie bars and accessories to suit almost any application. The company's tie bars are based on the internationally recognised metric thread system and all fittings are designed to operate at the same strength as the main bar. Normanby Marine's equipment includes a 20 tonne indoor crane and a mobile 50 tonne crane allowing the company to produce tie bars in a variety of shapes and sizes. Surface protection such as galvanising and wrapping to prevent corrosion is also available.
All of Wefco's products are manufactured from a single site, which gives the company the flexibility to overlap resources where required and have complete control over the quality and production rates. Wefco's quality systems are accredited to standard ISO 9001 and the company meets all European safety and quality codes. Recently Wefco completed an extensive re-organisation and expansion programme across its fabrication and machine shops to help widen its service provision. The site is now one of the largest facilities of its kind in the UK with a complete range of modern facilities and dedicated production lines for the manufacture of below ground double skinned tanks and above ground LPG vessels.
With an established reputation for quality of service, Wefco maintains a number of long-term supply agreements with major UK oil and petrochemical companies, and supermarkets. In March 2009 Wefco secured a three-year contract to supply below ground storage tanks for Shell. These play a key role in Shell's programme of works for forecourt development across the UK. Wefco's previous expertise in providing high-quality reliable tanks to Esso was key to the company securing the project, which is managed by Coteba Limited.
As many industries struggle with the pressures of the economic downturn, Wefco's strategy to remain proactive and to expand its service range into new industries and to continue our policy of offering competitive priced quotations with the emphasis on a quality product delivered on time within budget has enabled us to continue to move our business forward.
Looking ahead, Wefco is keen to expand upon its position to become a key player within the oil and gas market. With a proven ability to develop solutions that meet clients' set schedules and budgets and valuable expertise Wefco continues to set the standard for others to meet.
Wefco (Gainsborough)Ltd
Products: Carbon and stainless steel pressure vessels, columns and storage tanks
---