Wintershall
Issue 04 2010
---
Discovery channel
As an energy specialist, Wintershall has been active in the exploration and production of oil and gas for more than 75 years and, with headquarters in Kassel, it is Germany's largest producer of crude oil and natural gas.
Wintershall was actually one of the pioneers in the exploration for and production
of natural gas in Germany, in 1951.
The company is a subsidiary of the world's leading chemical company, the BASF Group, and its activities include trading and selling natural gas; marketing storage capacities for oil and gas, transportation capacities for gas and optic fibre capacities; and exploration and production of oil and gas.
In this latter of these, Wintershall concentrates its efforts on selected core regions where it possesses a high level of regional and technological expertise, namely Europe, North Africa, South America, Russia and the Caspian Sea area. The organisation's growing activities in the Arabian Gulf complement these operations.


Wintershall is well positioned to master its markets' challenges, which explains its excellent results. Production has grown considerably over the past decade, with production of crude oil and natural gas rising in 2009 by four per cent to 136 million barrels of oil equivalent, which represents a 70 per cent increase on the figure for 2000 of 80 million barrels of oil equivalent. Consequently, Wintershall aims to raise production to 140 million barrels of oil equivalent by the end of this year. Interestingly, the target for 2010 was previously set at 120 million barrels of oil equivalent but Wintershall's prowess in production is such that the company reached this target two years earlier than expected.
In terms of last year's efforts, Wintershall's exploration and production endeavours saw an investment of 740 million euros in exploration, capital expenditure and acquisitions in the search for, and development of, new oil and gas deposits. The business considered the key areas of investment to be field development projects in Germany, the Netherlands, Norway and Argentina.
In total, 29 exploration and appraisal wells were completed in 2009 during the course of exploration activities for crude oil and natural gas deposits. Wintershall identified new deposits in 17 of them: four in Norway, six in the southern North Sea, two in Argentina, three in Germany and two in North Africa. Encouraged by this success, the company remains ambitious in its plans to step up the search for new deposits in its core regions this year, and to forge ahead with the development of its known deposits, particularly in the North Sea and Norway, in the next few years.
In its pursuit, Wintershall has widened its focus to include the greenfield sector (areas where the existence of oil and gas has been established but no development activities have been carried out); the nearfield sector (exploration activities near known deposits); and frontier regions (areas that have not been investigated).
Aiding its accomplishments is Wintershall's commitment to innovation and the organisation understands that possessing technological know-how secures its enduring success. It is also the only way to master tasks under challenging geographical conditions, which has become one of Wintershall's distinguishing features. The company conducts its own R&D projects in selected fields, which revolve around reducing risks involved in exploration method; attaining a higher yield from deposits in challenging development and production conditions; developing technologies for deposits in difficult development and production conditions; and harnessing synergies with the research expertise of the BASF Group. This latter effort strengthens Wintershall's position as a partner with excellent technological knowledge in the race for access to crude oil and natural gas reserves.
Wintershall largely employs the use of forward-thinking technology, such as 3D seismology, and has constructed one of the world's most modern platform control centres for the chief control of its gas production platforms in the southern sector of the North Sea centrally. The company has been active in the Dutch sector of the North Sea since 1965 via its subsidiary Wintershall Noordzee BV and is one of the largest natural gas producers in the Netherlands, with an annual production of about two billion cubic metres.
A radio surveillance system at Den Helder in the Netherlands monitors the production operations of 18 offshore platforms, which Wintershall operates in the Dutch sector of the North Sea. The company operates 25 offshore platforms in the Netherlands in total and the new system secures the future commercial production of Dutch offshore reserves. Overall, the investment costs for the newly installed centre for Remote Controlled Operations (RCO) – winner of BASF's Innovation Award in 2008 – in the north of the country totals 11.5 million euros.
Six main platforms and their satellite platforms will be monitored centrally from the RCO centre using microwave radio relay technology, which means it'll no longer be necessary to staff the control rooms on the platforms through the night. Additionally, by switching to remote controlled operations, Wintershall can make substantial savings in materials procurement, maintenance, production planning, staff planning and logistics.
Speaking about the development, Dr Ties Tiessen, a member of the board of executive directors of Wintershall, comments: "With this radio monitoring system, we are taking a leading role in the progressive automation in the offshore sector. There are still many small and medium sized natural gas fields in the North Sea that can be developed. Radio monitoring makes it possible to produce with greater economic efficiency, which allows us to develop smaller reserves commercially."
In co-operation with the world's largest natural gas company, OAO Gazprom, Wintershall operates a second business sector, Natural Gas Trading, in addition to the exploration and production of oil and gas. Wintershall supplies the German and European gas markets through several joint ventures, the biggest of which is WINGAS GmbH & Co. KG.
This second foothold managed to maintain its strong position on the German and European natural gas market – despite the fall in demand for energy due to the generally weaker economic environment. In particular sales outside Germany and trading on the spot markets increased. The resulting growth in volumes sold was almost able to offset the slight decrease in sales in Germany triggered by the economic downturn: WINGAS even managed to achieve a slight increase in sales to 300.1 (2008: 298.4) billion kilowatt hours – thereby matching the record performance in 2008.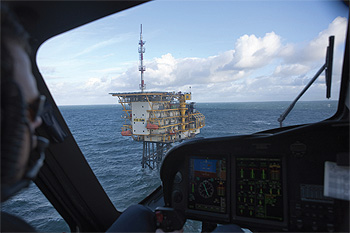 At the same time, the planning and approval procedures for Nord Stream and its OPAL and NEL pipeline links made a good progress. The construction of OPAL in Germany has started in late summer 2009. The first pipelaying of the Baltic sea pipeline Nord Stream has begun in April this year.
As previously outlined, South America has become a key focal point to Wintershall and the business has been active in Argentina since 1978, especially in the production of natural gas. Based in Buenos Aires, Wintershall Energia SA is its wholly owned subsidiary and has working interests in 15 oil and gas fields, making it one of the largest natural producers in the country with an annual production of about 25 million barrels of oil equivalent.
Wintershall has focused its attention here on searching for new deposits, specifically crude oil. Consequently, investments in exploration in Argentina have risen significantly. The company explores in regions that have not yet been developed geologically, such as the Cañadón Asfalto Basin, and in regions where hydrocarbons are already being produced, such as the Neuquén Basin. Here the company searches for new resources, primarily in deeper-lying rock strata in the foothills of the Andes.
The Aguanda Pichana field lies in the centre of the Neuquén Basin. Over 230 wells, 174 of which produce gas, have been drilled in this field since it was discovered in 1972. Wintershall is currently forging ahead with the tight gas development of the Aguada Pichana Central-West field with horizontal production wells and is carrying out seismic measurements in the Las Cárceles area. The nearfield exploration was successful and in February 2009 the consortium partners Wintershall Energia, Pan American Energy, Repsol YPF and operator Total signed an agreement with the Neuquén provincial government extending the licenses for the Aguada Pichana and San Roque concessions by ten years until 2027. This explicitly confirms Wintershall's intention to invest in Argentina long-term.
Off the coast of Tierra del Fuego, Wintershall Energia produces natural gas from the Carina and Aries fields – the largest natural gas production project offshore Argentina – together with TOTAL and PanAmerican Energy (PAE). Additionally, Wintershall Energia participates in the Cruz del Sur pipeline project, which delivers Argentinean gas from Buenos Aires to Montevideo in Uruguay.
Since March 2010, Wintershall has also held a 25 per cent share in the 6000 km2 Otway block and 25 per cent share in the Tranquilo Block in the Magellan basin in Chile. Tranquilo and Otway cover an area of 12,000 square km in total and are situated near the company's existing production operations at Tierra del Fuego. Wintershall Energia plans to carry out 2D and 3D seismic surveys here, as well as the drilling of three wells in the Tranquilo Block, in the next few years.
General manager Heiko Meyer sums up the Argentinean concept with the catchphrase 'seek out and harvest'. He is delighted about the plans to expand activities in South America: "We have the necessary know-how and experience. Argentina remains a good location for the company, and can serve as a base for growth in other regions of the continent."
During his visit in Buenos Aires for the World Gas Conference, chairman of the board of executive directors Dr Rainer Seele announced: "We must succeed in bringing the dormant reserves to life. It is important that we also operate the production activities ourselves. This is the only way for us to really influence the drilling costs."
In terms of its future plans, Wintershall is on course to invest billions of euros in oil and gas exploration and production to meet what it hopes will be European demand recovery. Indeed, Dr Rainer Seele said he expects the current global oversupply and weak demand to end in about three years when more Wintershall long-term projects can come into play. Over three billion euros has been earmarked for the next three years, for exploration and production in Russia, Norway, Argentina and Libya. Furthermore, WINGAS will spend more than 1.5 billion in continental Europe on a network expansion of gas pipelines and underground storage facilities. While Wintershall's earnings have been hit by falling oil prices, despite the rise in oil and gas exploration volumes and sales last year, the organisation looks ahead to the coming years with confidence. The recession has not deterred Wintershall from investing in R&D, which is the key to its success, and Dr. Rainer Seele has stated that he sees more opportunities than threats.
Wintershall
Services: Exploration and production of oil and gas
---