Yardbury Group
Issue 02 2011
---
United approach
Through its combination of mechanical, electrical, and hydraulic engineering activities, Yardbury Group offers a comprehensive blend of resources to the oil and gas industry.
The Group is an entity of three companies headed up by Yardbury Engineering & Oilfield Products, which was established in 1992 and is headquartered in Aberdeen, UK. Over its lifetime Yardbury Engineering has developed various competencies including machining services, repair and recertification of equipment, welding services, asset management, field personnel, and supply of drilling and wellhead equipment. In 1998 Yardbury Engineering acquired a well-established local hydraulics company, which became Yardbury Kinetics, and is currently located in Aberdeenshire. Finally in 2003, Deebridge Electrical Engineers, offering electrical equipment design, supply and repair services, was added to the portfolio to create Yardbury Group as it stands today.
Utilising the different capabilities of these individual businesses Yardbury Group's services range from conceptual design through manufacture and installation to maintenance and integrated life-cycle asset management. Bill Watt, sales engineer, explains how the group's structure benefits the business: "Each division of the group co-operates with the others as required to offer a multi-disciplined service, which is unique in the exploration and production industry. For instance Yardbury Engineering takes care of blowout preventer (BOP) and wellhead equipment, while Yardbury Kinetics looks after the hydraulic components and Deebridge Electrical Engineers handles the programmable logic controllers (PLC)."
Given its prime location for servicing this market, Yardbury Group's main customers are the drilling contractors, and exploration and production companies working in the North Sea. Yardbury Engineering also has contracts with major drilling contractors to re-certify and asset manage their pressure control equipment, as well as supplying new manufactured equipment, as demonstrated by the recent delivery of five new BOP stacks to one of the North Sea's major exploration companies. Commenting on the key aspects of the business that have helped make it so successful in this market, Bill says: "Our ability to react at very short notice is highly important to our exploration and production customers as each day of lost production can cost millions of pounds. We also offer a range of services unparalleled anywhere in the world, with technical expertise through all aspects of the business from office to workshop and field personnel."
Recently Yardbury Group opened a new asset management facility in the north of Aberdeen, offering both hardcored external storage, and warehousing facilities, within a secure fully enclosed site. The service is already being utilised by drilling contractors, and offers significant benefits to Yardbury Group's customers. The acquisition of the facility was prompted by a lack of comparable services in the local area, which left a niche gap in the market.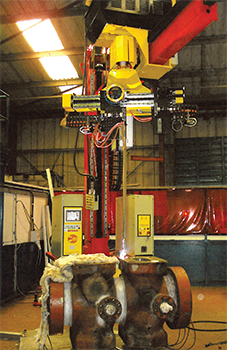 Bill highlights some of the other recent investments that have taken place across all three divisions of the group: "Yardbury Engineering has invested in two rotary head cladding welding systems, and through the use of this state-of-the-art equipment we are able to reduce the weld deposit and minimise final machining time, resulting in quicker completion schedules. This development complements the upgrades made to our CNC machines and the addition of a 32-tonne overhead crane. Deebridge Electrical Engineers has recently completed an upgrade to its facility, which incorporates better handling capabilities and enables it to handle a wide range of equipment such as larger DC motors. Finally, Yardbury Kinetics has testing facilities that are unrivalled by its competitors. They are used regularly in the process of equipment repair, and are even utilised by one of the world's largest engine manufacturers."
With the potentially hazardous nature of exploration and production activities well known, ensuring high-performance and efficiency throughout its activities is a crucial consideration for Yardbury Group. "Each project is managed to the highest standard in accordance with our ISO 9001:2008 accredited quality assurance system, which means that any errors are captured by our non-conformance procedures, thus preventing a repeat occurrence. Industry standard performance assessments are completed jointly by ourselves and the client, and in the unlikely event of any dissatisfaction we will undertake remedial action," says Bill.
Yardbury Group's continual development of its services in order to meet the ever changing needs of its clients and their operational markets stands it in good stead as more and more deepwater oilfields are discovered. The Group's vast experience of high pressure and high temperature operations enables it to remain abreast of these new challenges. Bill concludes with how Yardbury Group's ability to combine its portfolio of resources to provide total solutions, at a cost-effective price, means it is able to overcome any difficulties caused by the current economic climate: "Prospective clients that are looking for that something extra need look no further than Yardbury Group, as through our complementary services we can provide complete tailored solutions for industrial projects. Looking further ahead we would like to see Yardbury Group achieve a larger share of the market through continuous growth over the next five years."
Yardbury Group
Services: Mechanical, electrical and hydraulic engineering
---