Building a legacy
Based in Arendal, Norway, Deep Sea Supply Plc is an international operator of offshore supply vessels.
Currently, the business operates numerous tug vessels and platform supply vessels in key markets across the globe, with many more ships under construction. Founded in 2005, the company has expanded quickly, developing, as it has, an impressive portfolio, as well as a stellar reputation in the offshore sector. While the business could still be considered to be in its infancy, it is well on its way to becoming a leading owner and operator of supply vessels on a global basis.
Elaborating on the company's beginnings and its progression to the present day, Odd Brevik, Deep Sea Supply's managing director, says: "Having been established three years ago in 2005, we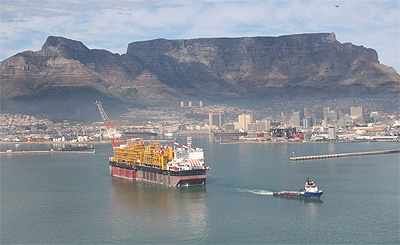 began our operations by purchasing six 15,000 brake horse power (BHP) anchor handling tug supply (AHTS) vessels from Tidewater Inc. in New Orleans – that's when our work really started. A few months down the line, in September of that year, we were listed on the Oslo Stock Exchange. In early 2006, we began negotiations with Sea Tankers Ltd, which resulted in the purchasing of 22 new building contracts, consisting of 14 AHTS vessels and eight platform supply vessels (PSV).
"Since that time, we have bought a number of further vessels and taken delivery of new constructions. In all, we have a fleet of 19 vessels that are currently sailing the seas, with another ten being built." The eye catching collection of ships that are currently operational are based in various locations and are utilised by many of the industry's blue-chip corporations, as Odd outlines: "It is fair to say that they operate on a worldwide basis; to illustrate, we have three vessels in the North Sea and quite a few in the Mediterranean – Libya, Egypt and Morocco to be precise.
"In addition to that, we have ships in DR Congo, Malaysia and Indonesia, while we have also been carrying out important work in places such as the Caribbean, Brazil and Australia. They are positioned to work for the major organisations in this industry – Shell, BP, Total, ENI, Exxon and Statoil are just some of the oil companies that we count as clients."
Having proven its ability to cater for such well-known businesses, the decision to extend its fleet looks like a shrewd one. In fact, with the majority of the ten new ships on schedule to be delivered in 2009 and 2010, Deep Sea Supply will soon be looking to establish a foothold in a new segment of the vast oil and gas marketplace, as Odd explains: "The new deliveries will put us in a better position as seven of the ten vessels are smaller anchor handlers, which is a market that we are not currently involved in. At present we only have one ship of this type; that is going to be enlarged to incorporate eight, which will be predominantly positioned in South East Asia and West Africa."
When completed, the new constructions will complement Deep Sea Supply's already impressive collection of ships, which will amount to a powerful and diverse fleet with age on its side. "I think that if I had to pick one area that set us apart from some of our competitors in the industry, I would point out that we have a very new, very modern fleet, with the average age of each ship standing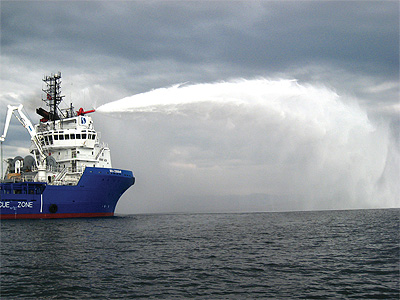 at less than four years – of 29 vessels, 20 have been new builds. Further to that, I would also highlight the fact that we are a very open, shareholder friendly company, which has paid out a great deal of dividend in the last year and a half.
"As a business, we have also benefitted from outsourcing some of our operations, such as technical management and crewing – the people who run our ships are not directly employed by us. The underlying reason for this is that when we were established we only had three staff so we couldn't start with a full set of crew or accounting staff – it was impossible. We do the accounting now but crewing and technical work are still outsourced. The advantage is that the vessels are still very well maintained but at an operating cost that is lower than that of our competitors," Odd states.
While the outsourcing of such duties is undoubtedly important to maintaining Deep Sea Supply's high level of performance, the managing director is quick to praise the company's full time staff who, he believes, are critical to continuing a high level of efficiency that has characterised the business thus far: "We have a very experienced set of shore staff and we do all we can to ensure that our sea staff are up to scratch. We believe in employing well-qualified, knowledgeable people because they represent the company – they market Deep Sea Supply in a sense. It is hugely important to have the right staff, which we believe we do."
It is this combination of an experienced management team, a new and expanding fleet and a trusted team of employees that has seen the company prosper in its short time in the oil and gas sector. And, while the economic climate of the day is certainly a challenge for all operators in the industry, Odd believes there will be plenty of further opportunities in the future. "It is, of course, difficult to make solid predictions about what will happen tomorrow or in the next year because of the financial situation. That said, we are currently in our best ever market position and are achieving our highest ever levels of revenue. We strongly believe that as long as there is still a need for oil, there will be a position in the market for us.
"In the long-term, the ambition is certainly to grow Deep Sea Supply. We are competing in a global industry so we feel it is important that develop our worldwide presence. We work in locations of importance, such as Brazil and West Africa, so the next step is to establish onshore facilities in these places. We would need an even larger fleet to support that type of operation but we believe there will be some good business opportunities to be had in the near future, so it is certainly a realistic target," he concludes.
Deep Sea Supply PLC
Services Offshore supply vessels